--News Direct--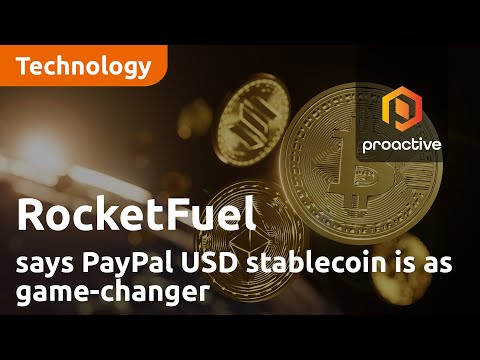 RocketFuel Blockchain Inc (OTCQB:RKFL) CEO Peter Jensen tells Proactive's Stephen Gunnion that PayPal Holding's launch of PayPal USD (PYUSD), a US dollar-denominated stablecoin, is a significant step, making it a pioneering fintech company embracing digital currencies for efficient payments and transfers.
Jensen explained that stablecoins are designed to be pegged to a fiat currency, offering stability and utility, unlike volatile investment-focused cryptocurrencies like bitcoin. He emphasized their benefits in cost-effectiveness, speed, and security for cross-border transactions and everyday payments.
Addressing regulatory concerns, Jensen noted that while the US initially exhibited hesitancy, global counterparts like Singapore and Europe have embraced digital currencies. The momentum is shifting in the US, with congressional discussions and bipartisan support for cryptocurrency legislation. This changing landscape is seen positively, as increased regulatory clarity would boost confidence and foster broader adoption of digital assets.
Regarding the potential competition between privately-backed stable coins like PayPal's and government-backed central bank digital currencies (CBDCs), Jensen highlighted the need for governments to establish their presence in the digital currency space.
Jensen confirmed RocketFuel's plan to support the PayPal USD stablecoin, anticipating its popularity due to its vast user base and the convenience it brings to cross-border transactions.
Contact Details
Proactive Investors
+1 604-688-8158
na-editorial@proactiveinvestors.com
View source version on newsdirect.com: https://newsdirect.com/news/rocketfuel-ceo-welcomes-new-paypal-usd-stablecoin-as-game-changer-for-payments-and-transfers-902433406