AMD will accept submissions from CG artists, media artists, and students until October 15. This year's contest highlights key environmental concerns such as ecology and sustainable technological development.
Santa Clara, California, United States - August 1, 2023 —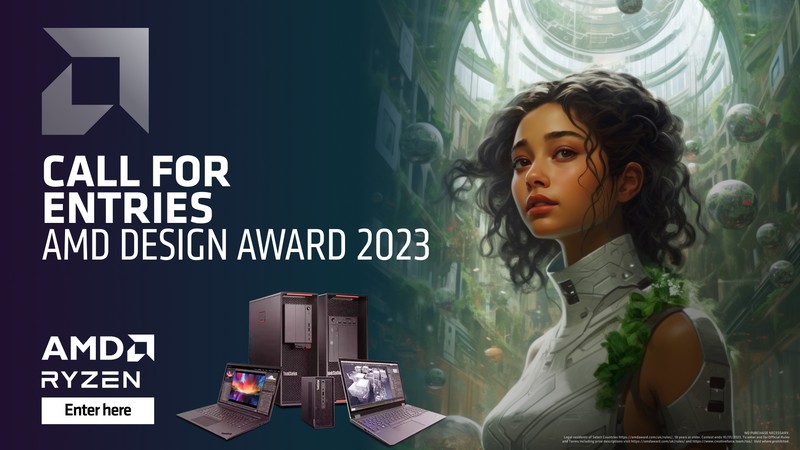 AMD (NASDAQ: AMD) will host an event that will be valuable to the world of digital design. The AMD Design Award 2023, a recognized competition focused on energy efficiency, calls for nominees until October 15, 2023. The winners will be announced on October 31st, 2023.
Advancing environmental sustainability
The AMD Design Award 2023 is a contest for CG and media artists as well as creative students that is aimed to support the next generation of creators, focusing on the renewable energy transition as one of the main challenges facing the planet.
Powering the products and services that help solve the world's important challenges, AMD embraces the responsibility to protect the planet and the opportunity to help others reduce their environmental impacts. The company's environmental programs and initiatives extend across its value chain, and it sets an ambitious goal with the AMD Design Award to create a world full of art where everyone can openly create content and share ideas using sustainable and energy-efficient computing. 
Prioritizes the usage of renewable energy sources
This year the AMD Design Award will be held for the third time. The 2021 and 2022 awards focused on fresh perspectives on human evolution and concepts for creating eco-cities on land and underwater. While last year, it was focused on a vision of an eco-friendly future, in 2023 it will shine a spotlight on crucial environmental concerns such as ecology and sustainable technological development. Prioritizing renewable energy sources usage is important because a growing number of people worldwide want to reduce their greenhouse gas emissions and use smarter ways to consume energy.
Starting from July 7th until October 15th, 2023, AMD will accept submissions from CG artists, media artists, and students - including creative industries students, 2D/3D computer graphic artists, and design studios. For the first time this year, AMD Design Award receives entries from media artists who play a vital role in pushing the boundaries of environmentally supportive visions into people's day-to-day lives by exploring the possibilities of technological sustainability.
Competition in 3 categories
The AMD Design Award 2023 Jury will evaluate graphic designs demonstrating high-performance digital solutions in three categories. In the "City" category, participants are encouraged to showcase groundbreaking solutions for Smart City infrastructure. The "Transport" category encompasses designs aimed at revolutionizing transportation systems, specifically targeting zero-emission vehicles and environmentally sustainable modes of travel. The "Social Poster" category was added to the 2023 Design Award this year. It invites participants to unleash their creativity and encourages them to create a social statement in a digital format to illustrate how citizens can use energy responsibly in the future.
Three winners in each category will enjoy prizes like workstations powered by the AMD Ryzen™ Threadripper™ processors, AMD Ryzen™ 7000 Series processors for Creators, AMD Radeon™ Graphics Cards, and high-performance laptops. The AMD Design Award 2023 jury will pay special attention to the social agenda behind the submissions. The winning student submission in each category will receive access to the world-class Learn Squared courses from key industry experts. Each winner of the contest will also receive a Windows 11 Pro for Workstations license, further enhancing their creative capabilities.  
For more information, visit the official website at AMDAWARD.COM.
About AMD
For more than 50 years AMD has driven innovation in high-performance computing, graphics and visualization technologies. Billions of people, leading Fortune 500 businesses and cutting-edge scientific research institutions around the world rely on AMD technology daily to improve how they live, work and play. AMD employees are focused on building leadership high-performance and adaptive products that push the boundaries of what is possible. For more information about how AMD is enabling today and inspiring tomorrow, visit the AMD (NASDAQ: AMD) website and blog.

Contact Info:
Name: Vivina Daswani
Email: Send Email
Organization: AMD
Phone: +971 50 627 9204
Website: https://amdaward.com

Release ID: 89103524
Should there be any problems, inaccuracies, or doubts arising from the content provided in this press release that require attention or if a press release needs to be taken down, we urge you to notify us immediately by contacting error@releasecontact.com. Our efficient team will promptly address your concerns within 8 hours, taking necessary steps to rectify identified issues or assist with the removal process. Providing accurate and dependable information is central to our commitment.