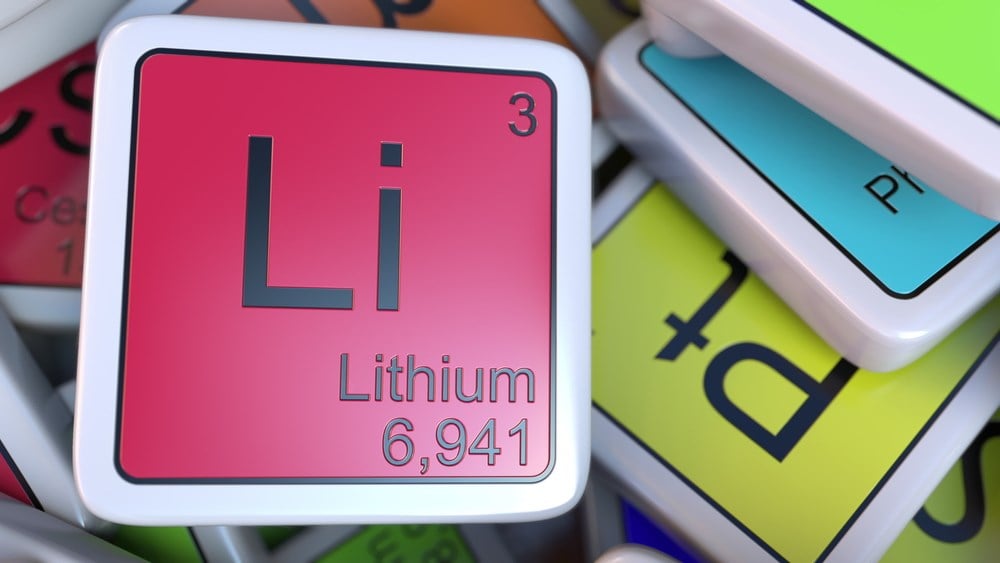 Development-stage integrated lithium company Piedmont Lithium Inc. (NYSE: PLL) stock has been trading in an ever tighter trading range. Lithium is crucial for operating electric vehicles (EVs) as they are the key material necessary to make rechargeable batteries. Piedmont has gained a large following and established itself as a future major supplier of lithium in the U.S. In contrast to industry giants like Albermarle Co. (NYSE: ALB), Piedmont has yet to generate revenues.
The company plans to supply lithium hydroxide to North America's EV industry and battery manufacturing chains by processing spodumene concentrate from its properties. Revenues from the delivery of spodumene concentrate from its Quebec, Canada, project are expected to be generated in Q3 2023. There are high hopes for its major Carolina lithium property to start production in 2026.
Project Portfolio
Spodumene concentrate is processed to produce lithium carbonate/lithium hydroxide. Lithium carbonate is the most widely used form of lithium used in batteries. Piedmont's project portfolio includes the Tennessee Lithium project, which includes a proposed merchant lithium hydroxide manufacturing plant in McMinn County, TN. Its Carolina Lithium project is a proposed fully integrated project for spodumene concentrate to lithium hydroxide in Gaston County, Texas.
The remaining projects are investments in lithium assets in Quebec, Canada and Ghana, West Africa. It owns 9.4% of Atlantic Lithium, which owns the Ewoyaa Lithium Project in Ghana. It also owns a 13.9% equity stake in Sayona Mining. Ghana is projected to start production in late 2024.
Revenue Generation
Commercial production of spodumene concentrates from the Sayona mine project in Quebec, Canada, in March 2023.
Revenues are expected to be generated with its first customer shipments in the third quarter of 2023. Spodumene concentrate production is expected to begin in Ghana, subject to permitting and approvals in 2025.
Lithium hydroxide conversion at Tennessee Lithium is expected by 2026. It's North Carolina Lithium project spodumene concentrate, and lithium hydroxide production will begin in 2027.
North Carolina Review
On May 31, 2023, North Carolina regulators requested additional information to approve its mine permit application. This is the third request since it began its review in 2021.
Piedmont was given 180 days to supply additional details like what would the waste rock storage pit be lined with and detailed plans for arsenic testing. The company has faced opposition from residents and groups over water and noise pollution fears. The North Carolina project would be one of North America's largest sources of EV lithium.
This includes the five-year supply agreement with Tesla Inc. (NASDAQ: TSLA) in late 2020. Tesla agreed to purchase 160,000 tonnes annually of spodumene concentrate from its North Carolina mines, making it the first U.S. domestic lithium supply chain order.
Due to delays, It announced a new agreement in January 2023 for the supply of 125,000 metric tons of spodumene concentrate annually starting in the second half of 2023. Piedmont's senior vice president Monique Parker commented, "We remain extremely pleased with the significant progress we have made in our planning to date and are committed to taking the necessary time to complete the state permitting process appropriately."
Piedmont Lithium analyst ratings and price targets are at MarketBeat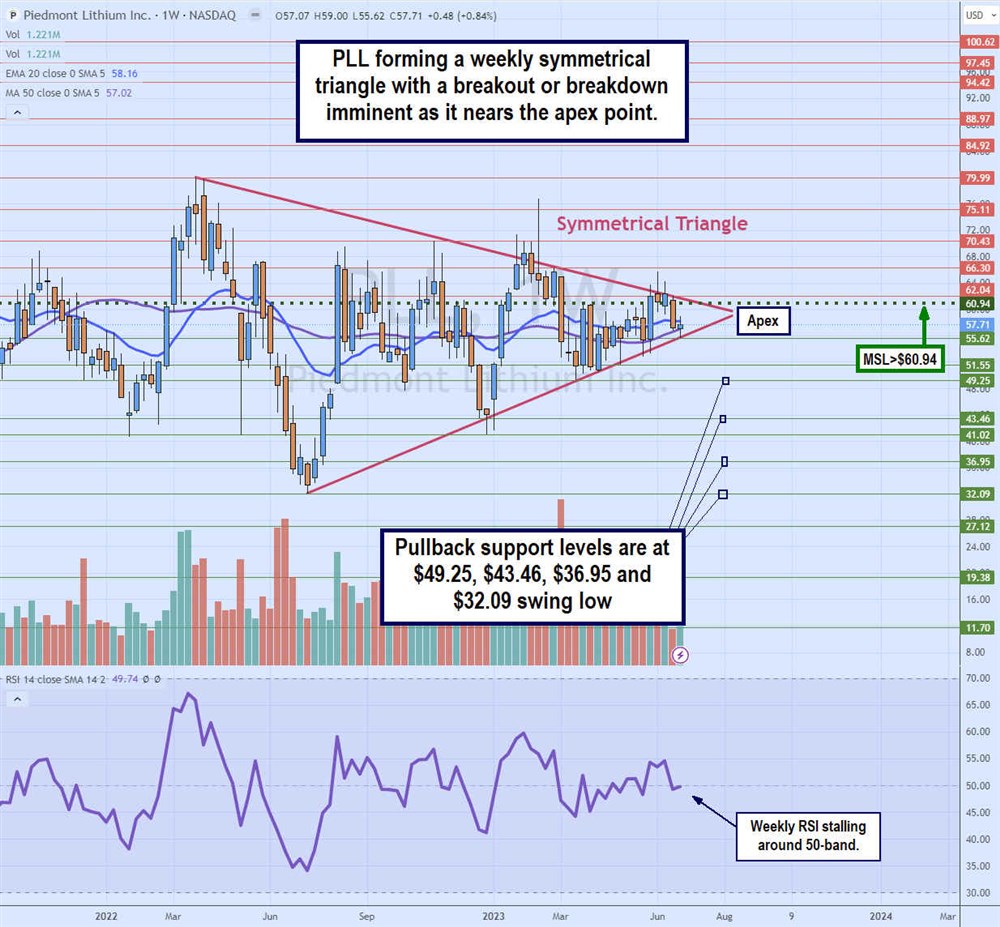 Weekly Symmetrical Triangle
The weekly candlestick chart on PLL illustrates the symmetrical triangle that commenced after peaking at $79.99 in March 2022. PLL fell to a low of $32.09 in July 2022. Shares chopped to lower highs and higher lows. Connecting a trendline for the highs and lows forms a cone meeting at the apex.
PLL has been making a tighter trading range and is approaching the apex, where it will either break out or break down. The last weekly market structure low (MSL) trigger was $60.94. The weekly RSI has been chopping around the 50-band. Pullback support levels are at $49.25, $43.46, $36.95 and $32.09 swing low.