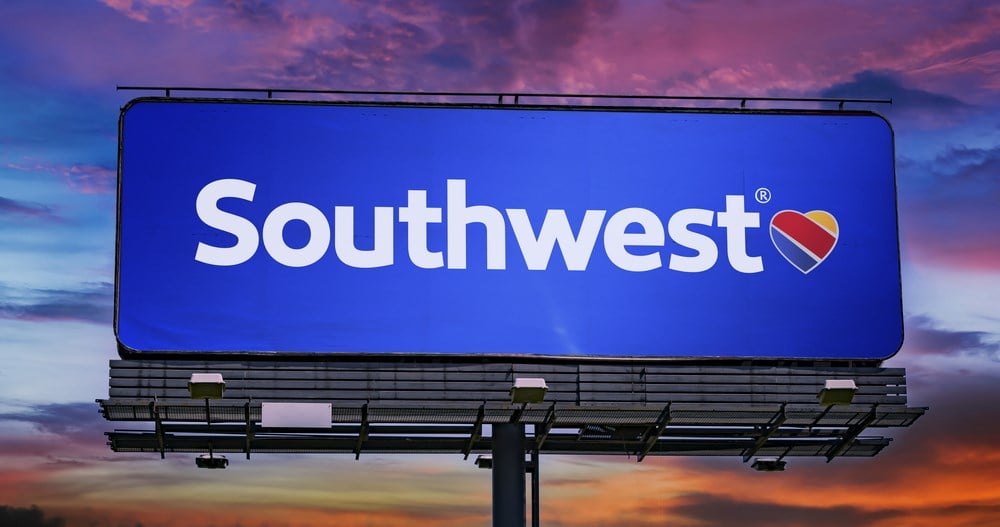 Shares of Southwest Airlines (NYSE: LUV) are traded lower by as much as 9.0% during Thursday's trading session, a reaction that seems an exaggeration following the company's second quarter 2023 earnings results. Southwest stock has been enjoying some newfound momentum and sentiment, especially after making it to the 'popular' list.
The Goldman Sachs Group (NYSE: GS) had added the airline to its periodic 'conviction list,' which is the bank's chosen name that will likely do well in the coming months due to a variety of bullish factors. The stock had risen by as much as 33% since the announcement, as markets began to see just how much potential this airline holds.
Today's reaction may be coming from so-called profit-taking activities, which can be considered normal after such a massive rally in such a short period of time. However, some key developments need to be understood within the earnings release in order for investors to navigate today's turbulence best.
Management Highlights and Concerns
Recovering tailwinds pushing the travel industry higher were reflected in the company's top-line report, which pointed to a record in quarterly revenues amounting to $7.0 billion. An annual advance of 4.6% will seem like an average achievement for the industry. In many ways, it is when taken just by itself.
One factor that has grabbed negative attention from investors is a 10.6% annual contraction in the company's earnings per share, mainly driven by cyclically rising operating costs. A 25.5% increase in labor costs due to labor shortages and workers demanding better compensation packages severely compressed the company's ability to expand its operating profits.
Oil, oil, oil. Fuel costs seem to be a significant concern going forward, as market sentiment points to higher oil prices in expectation of an economic slowdown; rising fuel costs will have a direct negative impact on Southwest's profit center. Management renewed its full-year 2023 cost guidance to reflect a net rise in fueling costs, alongside heating maintenance and labor costs as well.
It is important to note that most of the airline's revenue comes from U.S. domestic leisure travel, and some rising costs have been offset by higher-than-expected leisure travel activity in the nation. More critical are the expected trends in travel activity, which can give investors a window into future expectations. 
Management has deployed capital toward capacity expansion during the quarter, looking to grow the company's flying capacity by as much as 12% this quarter. A similar 16% increase has become the objective for the first quarter of 2024, allowing for potentially higher demand.
Taking a beat out of the negative focus on rising costs, increasing capacity due to rising demand expectations should be a cause for celebration. As more flights are available alongside a more extensive fleet, these elevated costs will be spread across a more significant number of operations. Going back to the concept of economies of scale, this new capacity will likely offset the expected rise in costs... good job Goldman.
Buy the Dip?
Southwest analyst ratings are pointing toward a consensus price target of $43.87, representing a total upside of 32.7% from today's prices. A double-digit upside on one of Wall Street's favorite airlines sounds like an excellent deal for any investor looking into a value play. Technically speaking, there are some lights flashing for the possibility of purchase soon.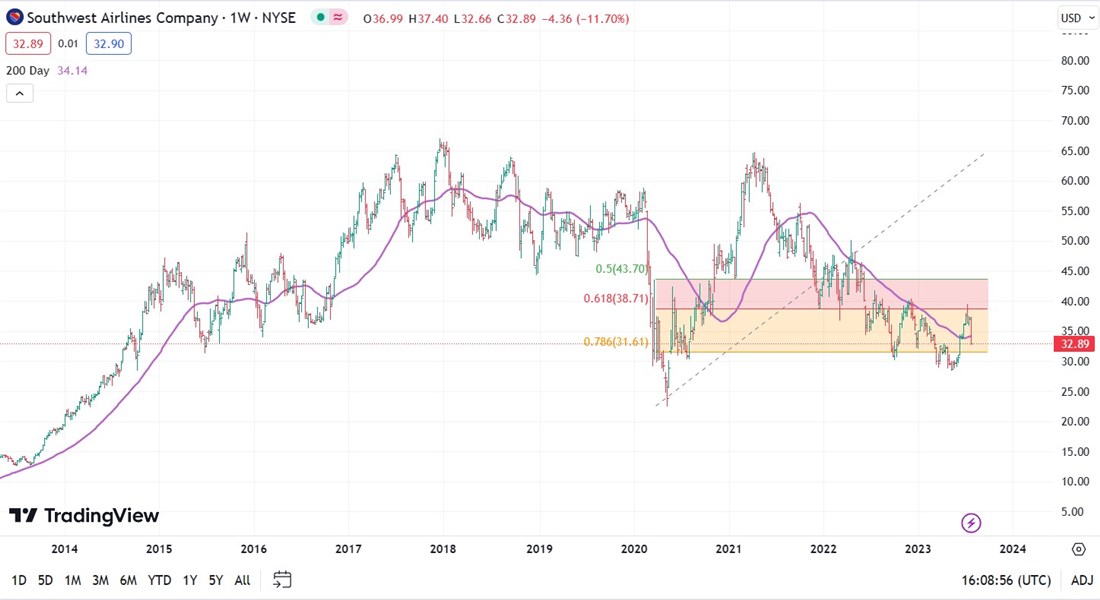 The above image will showcase where investors may find sensible entries and support. The amber and red shaded areas will represent Southwest stock's key 'golden' Fibonacci retracements. The space between the 61.8% and the 78.6% retracements are typically zones where markets begin to pile in for a reversal. A significant landmine also fills this zone.
The thick purple line is attached to the infamous 200-day moving average, a proxy for whether a stock will invert its previous trend or extend it. Considering Southwest stock has been under this moving average for the better part of a year, crossing it for the first time this July marked a significantly bullish event.
Now that the stock is testing this moving average once more and perhaps looking to reload another bull run by briefly trading below it, investors should be on the lookout more than ever for a possible purchase. Leaning on the fact that this is the market's favorite airline will help with any lack of confidence after today's dip.
Traders typically gauge a stock's popularity in the market by analyzing where the future expected earnings are valued via the forward price-to-earnings ratio. Southwest stock trades at an 8.6x forward P/E, significantly superior to competitors like Delta Airlines (NYSE: DAL) and American Airlines (NASDAQ: AAL), who trade at a respective 6.0x and 4.9x multiple.
Some value investors may argue that this only makes Southwest the more expensive alternative for exposure in the sector; however, there is a reason why the market is making the stock more 'expensive.' When you want to be sure that a certain product or service is of top-notch quality/value, this usually comes with a premium price to other alternatives. Stocks are pretty close to this reality.
Now is not the time to get greedy; markets are placing a higher perceived quality on the future earnings of Southwest above its competitors. Technical factors and analyst ratings are all rooting for the stock to come back to previous highs, and when Goldman says it has a conviction on a particular company, investors better listen.