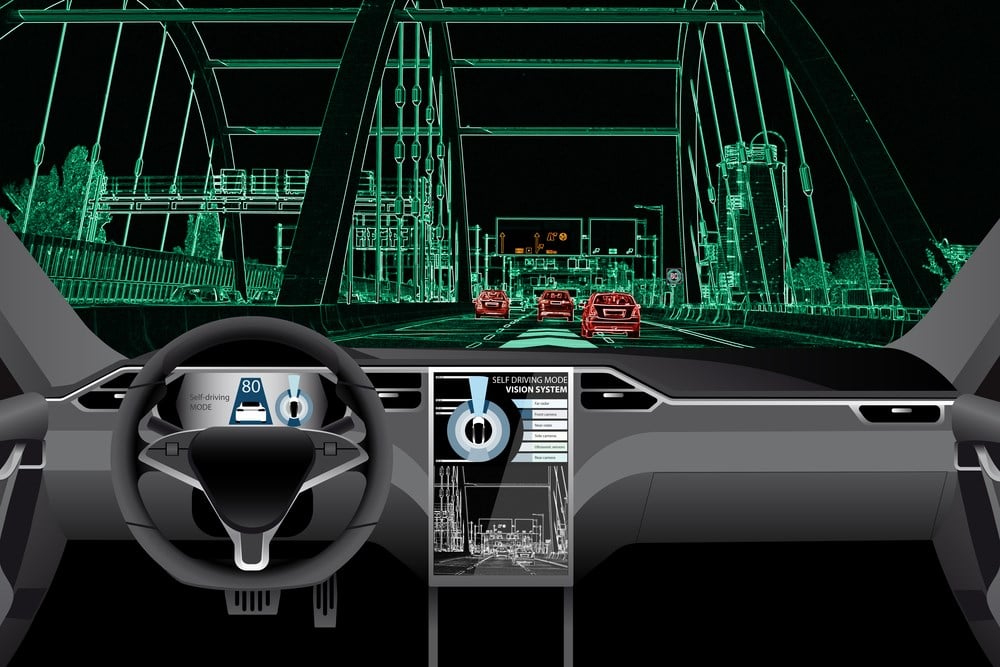 In 2021, many investors learned a painful lesson that the time it would take to make self-driving cars a reality didn't match up to the hype. But that doesn't change the fact that the underlying technology behind autonomous driving is still sound. And many companies have big plans to make self-driving cars a reality sooner rather than later.  
That was evident in the recent earnings report from Tesla, Inc. (NASDAQ: TSLA). During the conference call, Elon Musk announced the company would be investing $1 billion into its autonomous driving initiative "Project Dojo." That means investors have yet another reason to invest in TSLA stock. 
Investors may also consider investing in companies like Alphabet, Inc. (NASDAQ: GOOGL) or General Motors Company (NYSE: GM) which own pieces of Waymo and Cruise, respectively. However, if you own those companies, you own all of the company and not just their investment in autonomous driving technology.  
A different idea for investing in this sector is to buy stocks of companies that will be integral to making autonomous driving a reality. One obvious choice is semiconductor manufacturers. These companies make the chips that will drive the development and scalability of this technology. Another area will be artificial intelligence (AI). 
With that in mind, here are three stocks that are a good way to invest in autonomous driving technology.  
The Leader Continues to Expand On Its Lead 
Nvidia Corporation (NASDAQ: NVDA) has been one of the best-performing stocks in the entire market, not just the tech sector. With the stock more than doubling in 2023, it's fair to ask if all the growth is priced into NVDA stock. 
But the growth of autonomous driving suggests that the company may just be getting warmed up. Semiconductor chips are the backbone of autonomous technology. NVIDIA DRIVE is the company's software-defined, end-to-end platform that delivers what automakers need "to develop autonomous vehicles at scale." The chipmaker is already the supplier of choice for several EV makers, including Tesla and Baidu. 
This Company is an Autonomous Driving Leader in China 
Baidu, Inc. (NASDAQ: BIDU) is one of China's leading technology companies. The company is best known for its leadership in artificial intelligence and in particular generative AI. The company's ChatGPT alternative, Ernie Bot, is generating attention from many companies – which means revenue for Baidu. 
But the company also has an EV division that includes a significant investment in autonomous driving with its Apollo system. In 2022, Baidu introduced its sixth-generation fully-autonomous vehicle. And the company is expected to launch an EV with autonomous driving capability as part of the company's Apollo Go robotaxi fleet in 2023.  
However, this isn't just a China story. Baidu is developing partnerships with many automakers, including Ford Motor Corporation (NYSE: F) and Toyota Motor Corporation (NYSE: TM).  
Investors should be advised that this could be a double-edged sword. Baidu's Apollo technology is drawing the attention of U.S. lawmakers, who are raising concerns about the proliferation and unknown impact of Chinese technology in data collection.  
Pay Attention to This Undervalued Chipmaker 
Qualcomm, Inc. (NASDAQ: QCOM) has not been participating in the AI rally. QCOM stock is down 10.6% since reaching its 52-week high in February 2023. But it may be time for investors to rethink their outlook for the chipmaker. 
Qualcomm is best known as being the company that supplies chips for Apple, Inc. (NASDAQ: AAPL) and its iconic iPhone. But the company is becoming a strong competitor in the field of AI. And that includes the autonomous vehicle market. In January, it launched its Snapdragon Ride platform. Snapdragon can provide anywhere from Level 1 to Level 5 autonomous capabilities. So far, several automakers are choosing the Snapdragon system as part of their EV production.  
And investors can get QCOM stock at a favorable valuation of just over 13x earnings. In 2023, year-over-year earnings are expected to climb 20%. That almost matches the stock price growth of 17%.