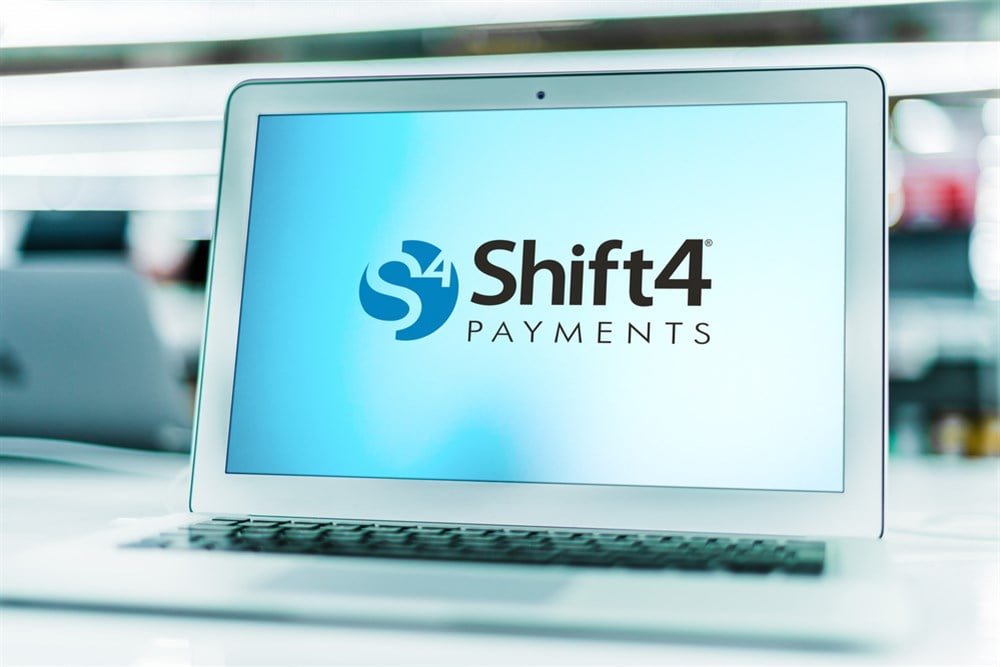 Payment processing specialist Shift4 Payments Inc. (NYSE: FOUR) formed a bullish base below resistance at $76.40. Its second-quarter earnings report on August 3 is a possible catalyst for a significant price move. 
Shift4 is part of the payment processors sub-industry, which includes large-cap luminaries Visa Inc. (NYSE: V), Mastercard Inc. (NYSE: MA), American Express Co. (NYSE: AXP) and Discover Financial Services (NYSE: DFS) as well as digital natives like PayPal Holdings Inc. (NASDAQ: PYPL), Block Inc. (NYSE: SQ), Global Payments Inc. (NYSE: GPN) and Toast Inc. (NYSE: TOST).
Among stocks in that group, Shift4 is currently the best price performer, advancing 7.93% in the past month and 3.68% in the past three months. The stock is up 21.90% year-to-date. 
It went public in June 2020, just in time to take advantage of the all-things-online economy. In the subsequent year, the stock rallied 350% from its IPO price of $20. 
Analysts See Double-Digit EPS, Revenue Growth
The company will report its second quarter on Aug. 3, before the opening bell. Analysts expect earnings of 53 cents a share on revenue of $639.56 million. Those would mark year-over-year increases of 20% and 26%, respectively. Although that's solid growth and nothing to sneeze at, those would mark the smallest increases in the past eight quarters.
It's normal for sales and earnings at a newly public company to settle down to more normal double-digit growth after red-hot increases soon after its IPO.
Wall Street has pegged full-year earnings growth at 61%, with the company expected to add another 33% next year. This year's estimate has been revised lower, and next year's higher.
The company has had an erratic track record regarding meeting, beating or missing views, as you can see using MarketBeat's Shift4 Payments earnings data. In the first quarter, it topped both earnings and sales expectations. In the previous quarter, revenue fell short. In the quarter before that, which ended in September 2022, the company missed on earnings but beat on revenue. 
The stock has been trading north of its 50-day moving average ahead of its next report. 
Serves Customers in a Range of Industries
Shift4 provides payment processing technology and services for businesses, facilitating secure transactions and streamlining payment processes. It operates in North America, Europe and Japan. Its customers hail from various industries, including hospitality, sports and entertainment, retail, nonprofit and e-commerce. 
Shift4 has a market capitalization of $5.61 billion, after pulling back hard along with the broader market in 2022, then beginning a fresh rally in July 2022. 
In March, Shift4 said it added PayPal's checkout tools to its platform. The agreement allows PayPal's buy now, pay later and Venmo services for corporate clients and Shift4Shop merchants. Shift4 is promoting PayPal as a checkout option to its merchants in exchange for a bigger chunk of revenue when the PayPal option is chosen. 
Institutional Buyers in Charge
MarketBeat's Shift4 Payments institutional ownership data show buyers with the upper hand. In the past 12 months, 171 institutions acquired shares for a total value of $845.20 million, while 83 institutions sold off $600.15 million in shares. 
As Shift4 is a fairly small company, it's not surprising to see some volatility, which you can notice on the Shift4 Payments chart. It's especially evident if you use a bar or candlestick view, illustrating intraday or intraweek price swings. 
Despite recent volatility, Shift4 has been finding support above its 21-day moving average since July 6. It tested that line on July 21, bouncing higher to finish at $67.40, a decline of 1.14%, or 78 cents. Despite the loss in the session, it regained some lost ground from earlier in the day. 
The stock also has some ground to make up before retaking its March 31 high. Still, the upcoming earnings report could catalyze a fresh bounce, perhaps offering an early entry point if the stock moves sharply higher in heavy trading volume.