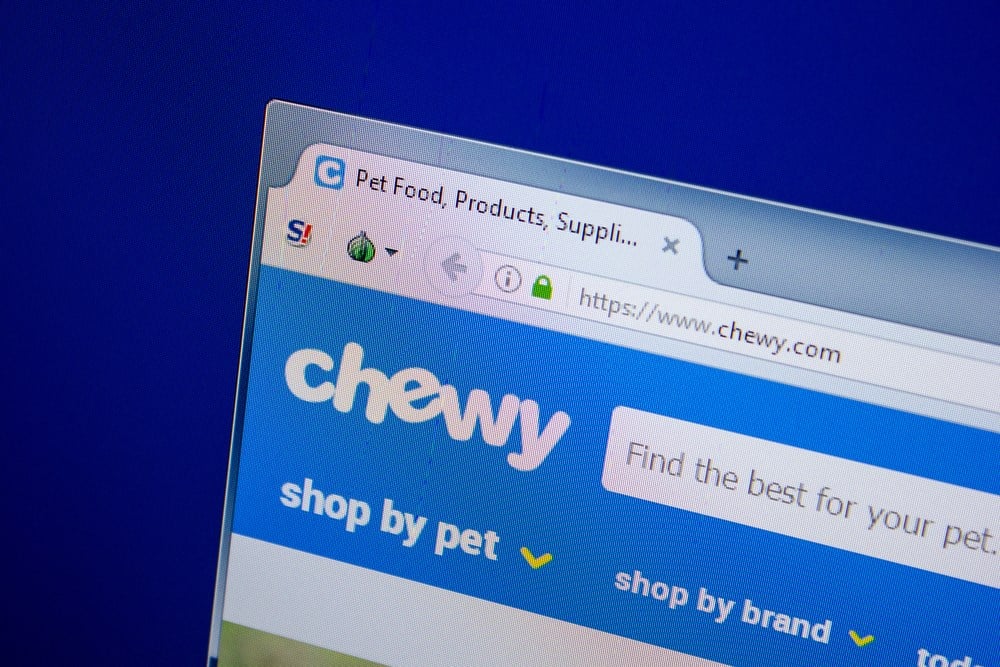 A reversal has been brewing for Chewy, Inc stockholders (NASDAQ: CHWY), and it looks like it is about to take off. An upgrade from Goldman Sachs highlights the company's recent strengths and suggests a complete reversal is possible. In this scenario, the market will regain the top of its consolidation range and break to new highs.
If the next few earnings reports show the strengths that investors are starting to expect, the market for Chewy, Inc stock could double in value by early 2024.
Chewy.com Looks Tasty To Goldman Sachs Analysts
Goldman Sachs (NYSE: GS) upgraded Chewy to Buy from Neutral, citing a better risk-to-reward profile with shares at their current level. The firm is increasingly optimistic about Chewy's ability to maintain 10% or better top-line growth, and there is an opportunity for significant outperformance.
Growth channels such as International, sponsored ads, and insurance offer ways for Chewy to grow the top line, deepen penetration of existing customers, and widen its margins. In its view, Chewy's margins may also expand above target due to its supply chain improvements and lean into private label brands. 
The analysts were warming to Chewy before the upgrade, which has amped the outlook. Marketbeat.com is tracking 20 analysts with published ratings who have it pegged at Moderate Buy. The Moderate Buy rating is steady over the past year but comes with a price target that has declined by 15% in the last 12 months.
The caveat for bearish traders is that the price target is firm compared to last month and shows a bottom in the sentiment. The $50 target from Goldman is $7 above the consensus and 30% above the pre-upgrade price action. 
Institutional activity is also telling and consistent with a bottom-in-the-price action. The institutions and large private owners hold about 97.5% of the stock and have been buying on balance for the last 12 months. That activity is consistent with bottoming action that began in late spring 2022 and is confirming this year with a higher low. 
Chewy.com Could Outpace Consensus In Q2 
Chewy is expected to report Q2 results in late August, and the bar has been lowered in recent weeks. Five analysts have lowered their revenue and earnings targets, while only 3 have raised theirs. The consensus is for revenue growth to accelerate to 13% compared to last year's 12%, and the company may outpace the target.
Likewise, adjusted earnings are expected to double compared to last year and may outpace the consensus by a significant margin. 
A recent channel check by Sensor Tower suggests Chewy.com com sales could accelerate more than expected. The latest app download data shows Chewy.com leading its peers with a 19% increase in app downloads.
That was later compounded by Amazon's (NASDAQ: AMZN) record-setting Prime Day, which was seen as a boost for all eCommerce-related names. As for Amazon, it says sales grew 6.1% on a 3.4% increase in the average purchase size. 
Chewy.com Rallies On Upgrade 
Chewy.com shares rallied on the upgrade and gained over 5.0% in premarket trading. The move confirms support at the 150-day EMA. That is near the mid-point of the consolidation range and has the market set to extend the gains.
If the market follows through on this signal, a move up to the top of the range near $50 should come next. A move above $50 will be bullish and could take the stock up to $60 and $70 by the end of the year.