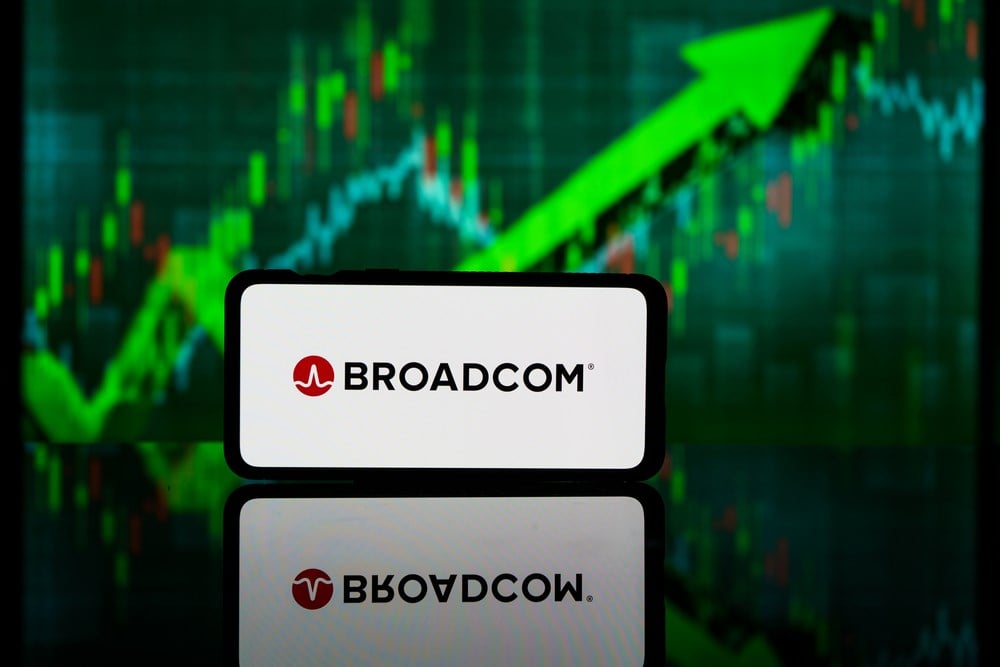 Semiconductor giant Broadcom Co. (NASDAQ: AVGO) stock has rocketed 35% in the past month, fueled by the artificial intelligence (AI) mania. Broadcom is a significant benefactor from its customers' robust deployment of generative AI. While Broadcom doesn't make AI chips like Nvidia Co. (NASDAQ: NVDA) or Applied Micro Devices Inc. (NYSE: AMD), it makes products that enable AI applications' smooth function.
The broad interest in AI has caused its AI business to grow to 15% of total semiconductor revenues, up from 10% just two quarters ago. The company expects AI to account for 25% of revenues in 2024. The company enables AI accelerators to operate robustly with low latency, handling extreme amounts of data transmissions between servers and applications.
What is an AI Accelerator?
AI accelerators are AI processing units (APU), AI chips and neural network accelerators. They're designed to speed up AI applications, machine learning and deep learning. Nvidia is the gold standard and leading producer of AI accelerators. Broadcom's networking products are essential for AI workloads. Broadcom continues investing in its Ethernet switching portfolio, which holds a strong market position. These enable the robust transmission of heavy data loads, which helps to accelerate AI workloads.
Its next-generation Tomahawk 5 and Jericho3-AI switch products offer the industry's highest-performance fabric of large-scale AI clusters. It does this by optimizing formidable and costly AI resources. Its switches operate on an open distributed desegregated architecture capable of supporting 32,000 GPU clusters operating at 800 GB per second speeds. They are used to connect AI accelerators with other hardware and software to manage AI applications better.
Beat and Raise
June 1, 2023, Broadcom released its fiscal second-quarter 2023 results for the quarter ending April 2023. The Company reported an earnings-per-share (EPS) profit of $10.32, excluding non-recurring items, versus consensus analyst estimates of $10.12, a $0.20 beat. Revenues rose 7.8% year-over-year (YoY) to $8.73 billion, beating analyst estimates of $8.70 billion. The company bought back 5.6 million shares for $3.4 billion. The company expects AI sales to surpass $1 billion in the next quarter.
CEO Insights
Broadcom CEO Hock Tan commented, "Broadcom's second-quarter results were driven by demand for next-generation technologies from hyper scale, while enterprise and service providers continued to sustain." He continued,  "Our third quarter outlook projects year-over-year growth, reflecting continued leadership in networking as we support a measured ramp into large-scale AI networks." The company is highly disciplined with its inventory, as it only ships to end-user demand.
This enabled Broadcom to finish Q2 with less than 86 days on hand, consistent with the last eight quarters. He mentioned how Broadcom is extending its "best-in-class networking technology into the generative AI infrastructure" while supporting standard vendor interoperability connectivity. Networking revenues are expected to continue its 20% revenue growth.
Raised Guidance
Broadcom raised its fiscal Q3 2023 guidance for the quarter ending in July 2023 by 5% YoY, with revenues of $8.85 billion versus $8.71 billion consensus analyst estimates. The company expects cash flows to remain strong in Q3.
Broadcom's SEC filings and 10-K form are on MarketBeat.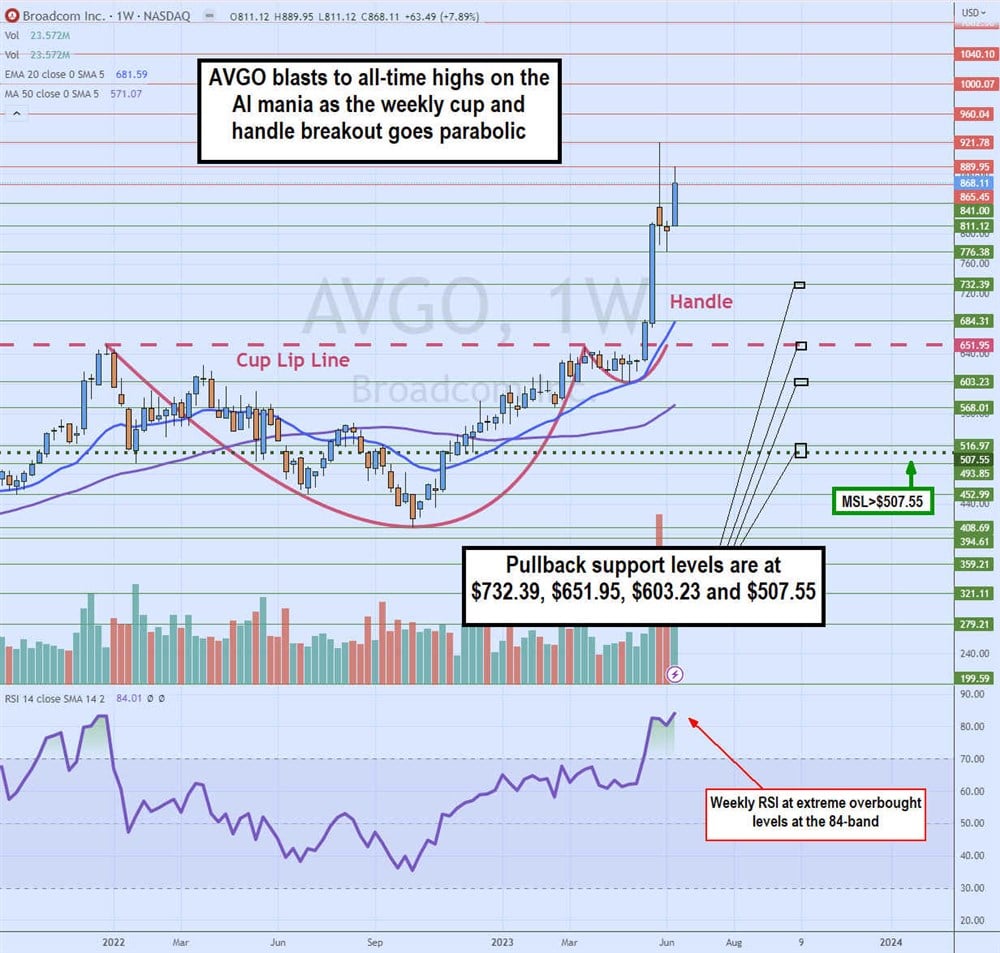 The definitive beginner's guide to reading stock charts can be found free on Marketbeat.
Weekly Cup and Handle Breakout
The weekly candlestick chart on AVGM illustrates a robust cup and handle breakout as shares went parabolic, exploding to $921.78 on the $651.95 cup lip line breakout. The AI mania is driving up AVGO shares. The weekly cup lip line formed after peaking at $651.95 in December 2021. AVGO sold off to a low of $408.69, forming a swing low and a rounding bottom. Shares triggered a breakout through the weekly market structure low (MSL) trigger at $507.55. AVGO retested the cup lip line again at $651.95 in March 2023. A shallow pullback to the $603.23 set the stage for a handle breakout on the lip line that surged shares to a high of $921.78 in May 2023. The weekly RSI is at the 84-band, indicating extreme overbought conditions. Pullback support levels are at $732.39, $651.95 handle low, $603.23 and $507.55 weekly MSL trigger.