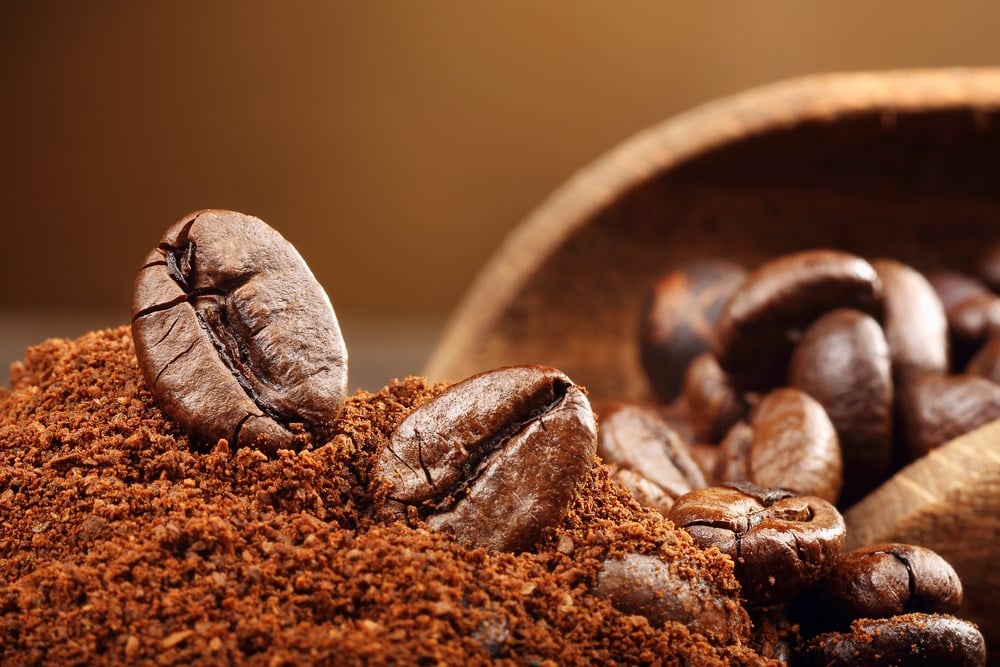 Farmer Brothers (NASDAQ: FARM) is a major coffee roaster and supplies distributor in the U.S. The name may not sound familiar because it's a private-label manufacturer. They supply the products under the name brands of its clients, which include household names like Starbucks Co. (NYSE: SBUX), McDonald's Co. (NYSE: MCD), Dunkin, Panera Bread, Taco Bell, Subway, and Yum! Brands Inc. (NYSE: YUM).
Under the Radar
Farmer Brothers specializes in sourcing sustainable coffee and products from community farms. In addition to coffee, they sell teas, juices, energy drinks, smoothies, mixes, syrups, condiments and spices, and sell and service coffee machines. You've likely had their coffee without knowing it, as they sell to restaurants, hotels, schools, convenience stores, hospitals and casinos. The company has implemented a new artificial intelligence (AI) powered pricing engine as part of its pricing strategy to optimize pricing structures.
TreeHouse Foods Deal
On June 7, 2023, Farmer Brothers announced the sale of its non-store direct ship business to major private label products maker TreeHouse Foods Inc. (NYSE: THS). The sale includes its Northlake, TX, facility. The company will transition its direct-store-delivery (DSD) business to Portland, Oregon. Its corporate headquarters will remain in Northlake, TX, and will continue to lease its space at the current location. Farmer Brothers DSD business ships its products through its national network of five distribution centers, 80 branches and almost 240 routes reaching over 45K delivery points. The company expects annual revenues to fall to around $350 million but with "vastly improved" product markets.
Farmer Brothers Benefits
While selling its non-DSD business and facility will result in a revenue fall, the company believes its best to focus on a much more profitable DSD business with its largest, most profitable customer base. Farmer Brothers CEO Deverl Maserang commented, "Exiting the direct ship space will allow us to focus almost exclusively on direct store delivery, which is our most profitable and highest growth potential business. It will enable the company to focus on cost savings and internal efficiencies while using proceeds to pay down its asset-based lending (ABL) debt and retire its term loan. It will also help Farmer Brothers explore additional growth opportunities.
Room for Improvement
On May 10, 2023, Farmer Brothers released its fiscal third-quarter 2023 results for the quarter ending March 2023. The Company reported an adjusted earnings-per-share (EPS) loss of ($0.57), excluding non-recurring items, versus consensus analyst estimates for ($0.40), a ($0.17) miss. Gross margins rose 20 bps were 23.1%. Revenues rose 4% year-over-year (YOY) to $124.2 million, missing analyst estimates by ($9.77 million). The company launched a SHOTT line of shelf-stable, real fruit syrup concentrate with DSD customers. The company has raised its coffee prices and seen an improving new customer pipeline in its DSD business.
CEO Insights
CEO Maserang commented, "We have begun receiving improved, actionable data from our new artificial intelligence (AI)-based pricing engine project launched in the second quarter. This re-engineering will enable us to optimize pricing structures with our customers and, we believe, facilitate margin expansion." He aims to return gross margins in the high 20% range in the short term and the low 30% range in the long term. He also wants to improve its IT applications and supply chain optimization.
Farmer Brothers ESG ratings and sustainability data are on MarketBeat.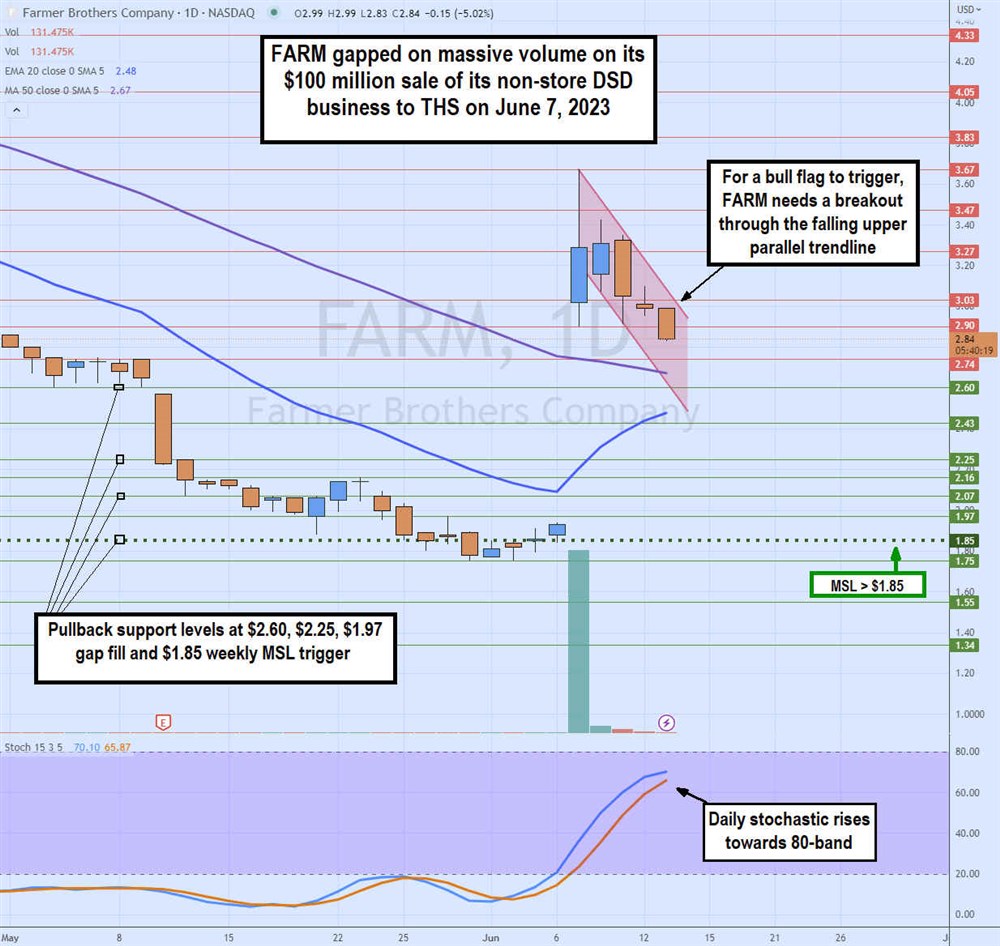 Daily Flag
The daily candlestick chart on FARM shows the massive 115 million share volume gap and spike to $3.67 on the June 7, 2023, announcement of its $100 million divestiture to TreeHouse Foods for its non-DSD business and facility in Northlake, TX facility. Shares have since been falling in a parallel channel forming a potential flag on the pullback.
The daily stochastic continues to rise toward the 80-band. The weekly 20-period exponential moving average (EMA) support is rising at $2.48, and the daily 50-period MA sits at $2.67. A flat bull breakout would need FARM to breakout through its descending upper parallel trendline above $3.00. Pullback support levels are at $2.60, $2.25, $1.97 gap fill and $18.50 MSL trigger.