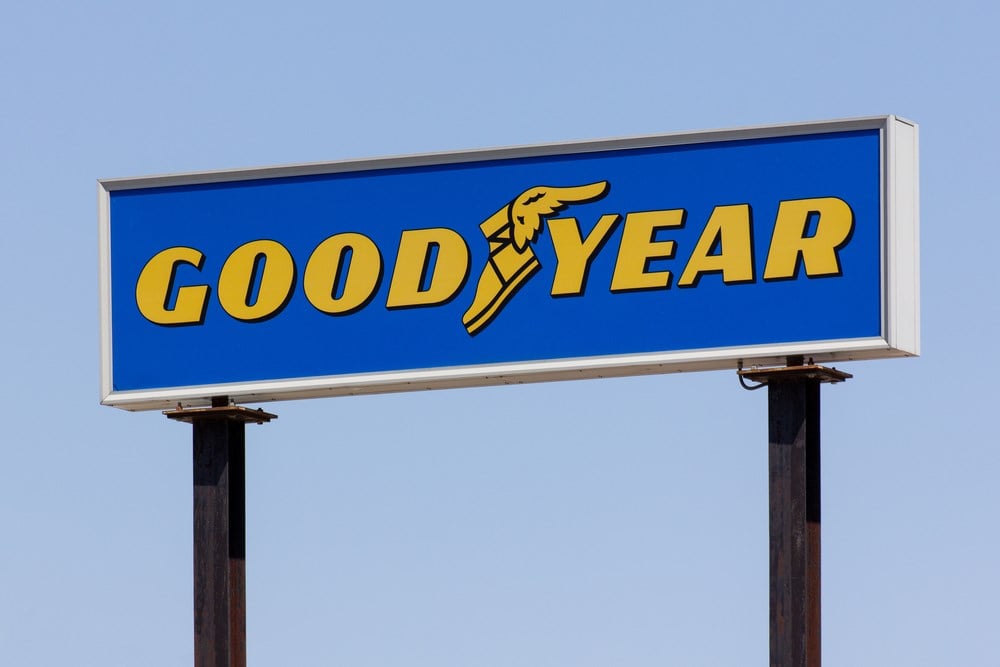 The Goodyear Tire and Rubber Company (NYSE: GT) stock has been choppy between $9.66 and $12.50 until the last seven months when activist investor Elliott Management called out the board of directors. Elliott sent Goodyear a letter on May 11, 2023, stating that it must pursue critical steps detailed in its Accelerating Goodyear plan. Elliott also disclosed ownership of more than 10% of the outstanding shares making it one of its largest shareholders.
Elliott also requested five board seats. The activist firm believes Goodyear stock can be worth more than $21 per share. Goodyear is the largest replacement tire company in the U.S., surpassing Compagnie Générale des Établissements Michelin SCA (OTCMKTSL MGDDY). Their auto service and repair stores compete with  Driven Brands Holdings (NASDAQ: DRVN).
Cost Inflation
Cost inflation has been the most significant damper on Goodyear Tire's results as raw materials, labor, transportation, fuel and logistics costs have been elevated in Europe from the Russia-Ukraine war. Management has been wrong about cost inflation coming down in three of its last four earnings reports. It does see an easing.
Limp Q1 2023 Results
On May 4, 2023, Goodyear released its first-quarter fiscal 2023 results for the quarter ending March 2023. The company reported an earnings-per-share (EPS) loss of ($0.29) versus consensus analyst estimates for a loss of ($0.26), a ($0.03) miss. Revenues fell (-0.07%) year-over-year (YoY) to $4.94 billion, missing consensus analyst estimates of $5.04 billion. Production units fell to 3.7 million reflecting lower industry demand. Overall tire volume fell (7.5%) in the Americas, and replacement volume dropped (9.9%). Management expects total volume to be slightly below prior-year levels for Q2 2023. It expects an improvement in price/mix to exceed raw material cost increases with a net benefit of around $200 million.
Listless Management
Goodyear Tire released a press release with no earnings details other than a link to its website and conference call information. The conference call provided no insights and went straight to a Q&A session. It's no wonder that investors are thrilled to have an activist investor like Elliott Management step up to the plate and force some changes. 
Enter Elliott Management
Elliott Management is an aggressive activist investor with a long track record of success. It forced Hertz Global Holdings Inc. (NYSE: HTZ) to restructure its debt by selling its European rental business to pay $2 billion back to creditors in 2021. Most recently known for forcing Twitter to accept a buyout offer from Tesla Inc. (NASDAQ: TSLA) CEO Elon Musk. On May 11, 2023, Elliott sent a letter to Goodyear Tire's board of directors outlining steps it believes will help unlock value for shareholders. It wants to appoint five "new highly qualified independent directions" to the board to bring cultural change and restore confidence with investors.
A History of Disappointment
Elliott pointed out that they have disappointed investors as the only remaining publicly traded U.S. tire manufacturer. Its stock has underperformed the S&P 400 by more than 90% in the past five years and (143%) over the past ten years.
Sell the Stores
Elliott also suggests monetizing its company-owned store network, which is worth Goodyear's market cap based on multiples of auto aftermarket businesses. This means considering selling the store locations. Lastly, Elliott wants Goodyear to implement an operational review committee to develop an operation and margin improvement plan. Elliott believes the steps will unlock a value of more than $21 per share.
Analyst Actions
On May 15, 2023, BNP Paribas upgraded shares of GT to Neutral from Outperform with a $13 price target. Nomura downgraded shares of GT to Neutral from Buy with a $17 price target.
The MarketBeat MarketRank™ Forecast projects 92.86% earnings growth to $1.62 per share with a 2 out of 5-star rating. Goodyear Tire & Rubber analyst ratings and price targets can be found on MarketBeat.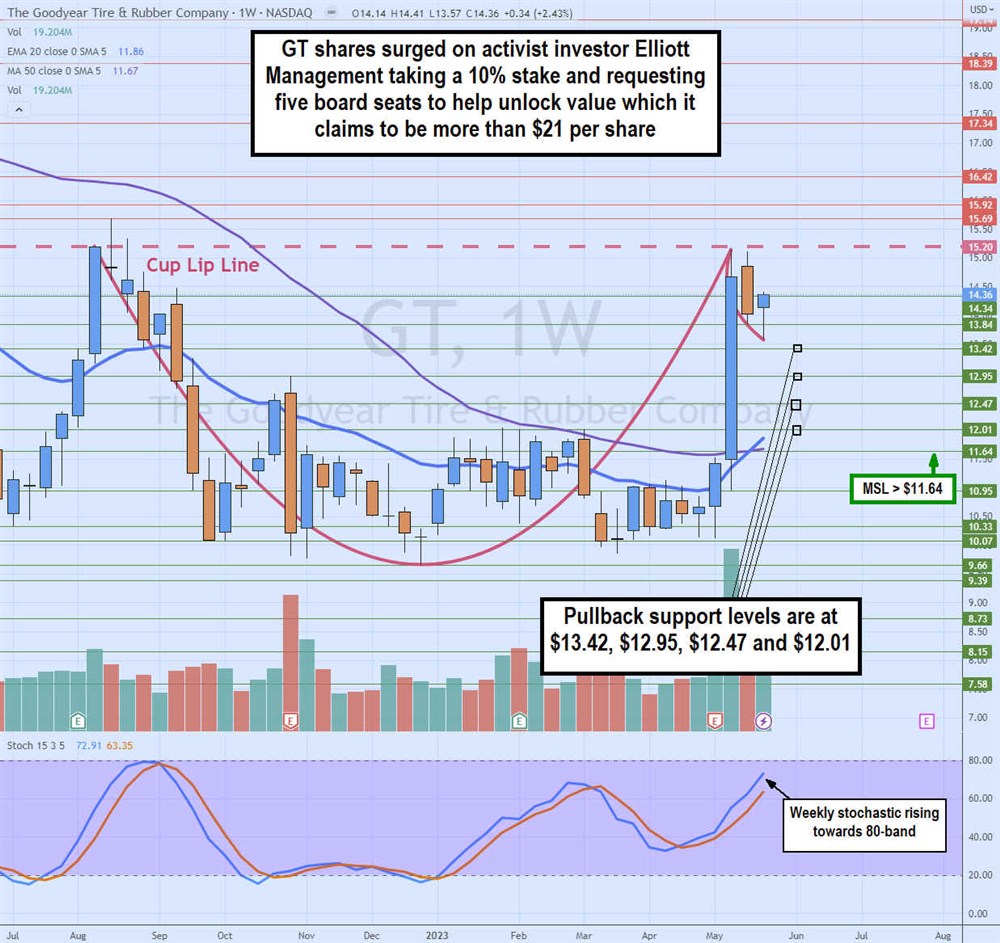 Weekly Cup and Handle
The weekly candlestick chart on GT illustrates a cup and potential handle pattern. The cup formed as the $15.20 lip line materialized in August 2022. Shares descended for the next four months, hitting a low of $9.66 in December 2022. The weekly market structure low (MSL) formed at $11.64 but could not trigger or hold above the trigger as each attempt peaked near $12 and managed to fall back under. GT shares chopped between $12.10 and $9.66 for the next seven months.
GT stock finally triggered the weekly MSL exploding to the upside to retest the lip line at $15.20 on the May 11, 2023, letter from Elliott Management to the board of directors suggesting actions to get shares above $21. This also caused the weekly stochastic to rise through the 60-band. The $15.20 cup line retest completed the cup portion as the handle forms on the pullback. Pullback support levels are at $13.42, $12.95, $12.47, $12.01 and $11.64 weekly MSL trigger.