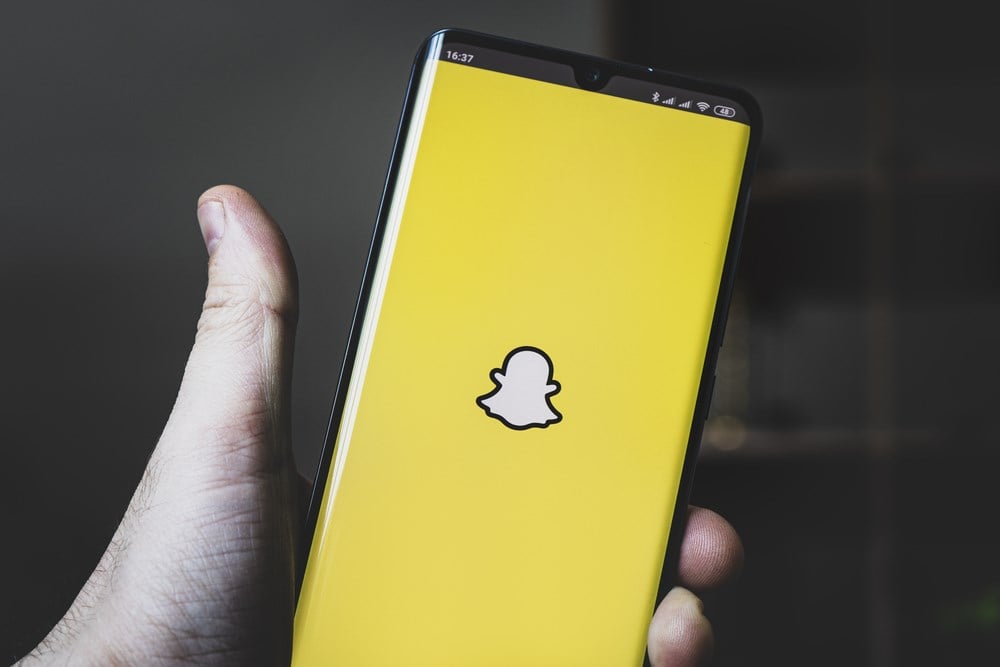 Video messaging media company  Snap Inc. (NYSE: SNAP) stock was punished with a (27%) haircut after releasing its Q 2023 earnings report. While the social media company hit an all-time high daily active user (DAU) base of 383 million global users, shares continued to fall (90%) from their all-time highs. Its Q1 2023 DAUs rose 15%, but revenues fell (7%). Rising DAUs clearly don't equate to rising revenues nor profits, as is the case with Roblox Co. (NASDAQ: RBLX), which also has a sizeable underaged user base.
In this case, there's almost an inverse correlation. Snap stock may not get much more mileage from a Tik Tok ban. Snap rolled out its artificial intelligence (AI) chatbot MY AI to "surface useful information at the right momentum during conversations." It sounds intrusive, but anything is worth a shot at this point.  
Sentiment Waning
Investors are fed up with management's earlier optimism consistently falling short again. Meta Platforms Inc. (NASDAQ: META) recovery in revenue growth and ad spending may have set too high a bar for Snap to jump over. The company claims the digital advertising market may show signs of stabilization while the macro environment has weakened considerably over the past year (again). The company opted not to provide forward guidance and squirrely shared "internal forecasts" for Q2 revenues below analyst estimates. Instead, it limbo-ed under.
No Growth in the U.S.
Snap is seeing most of its growth outside the U.S., where average revenue per user (ARPU) is considerably less. The U.S. user base has remained flat for the past three quarters at 100 million. Europe is growing at a slower pace. The Rest of World (ROW) shows the most growth but generates much less money. Snap had a whopped (19%) drop in ARPU in Q1 2023. Snap claims that's due to changes made to grow click-through conversions. Specifically, users only see advertisements when they click. Snap is showing less stabilization in its ad business. Its brand-oriented advertising fell (12%) YoY. While its DAU grew 15% YoY, margins shrank 500 bps YoY.
Novelty Turns into a Noose
Snapchat was always a visual platform suited for videos and picture content. As much as the company attempts to remain sticky with its users, the core feature of disappearing messages seems more like a novelty at best. Snapchat is known to be used for illicit activities like drug dealing that benefit from disappearing messages leaving no footprints?
Families have sued the company over these allegations. Its users are primarily teens with much less spending power than larger social networks like Facebook, Pinterest Inc. (NASDAQ: PINS) and Alphabet Inc. (NASDAQ: GOOGL), with predominantly older users with more discretionary income.
Q1 2023 Earnings
On April 27, 2023, Snap released its first-quarter 2022 results for the quarter ending in March 2023. The company reported an earnings-per-share (EPS) profit of $0.01, excluding non-recurring items, beating consensus analyst estimates for a loss of ($0.01), a $0.02 beat. Revenues fell (7%) YoY to $989 billion versus $1.01 billion consensus analyst estimates.
Strangely, Snap CEO Evan Spiegel claimed revenues increased 7% YoY in the conference call, despite the company generating $1.063 billion in Q1 2022 versus $989 million in Q1 2023. Snapchat+ subscriptions grew to 3 million subscribers. The company didn't provide forecasts due to economic uncertainty but gave internal revenue targets for Q2 2023 between $1 billion to $1.09 billion versus $1.098 billion consensus estimates.
ROW Who?
Revenues declined (16%) in North America and (3%) in Europe while growing 34% (ROW). This equates to little for the bottom line when most of the revenues come from the U.S. and Europe. The total of its Rest of the World revenues equates to just 15% of North American revenues. Facebook and Google derive 20% to 30% of their revenues from ROW. While Snap made $1 billion in stock buybacks in 2022, its share count remained flat as its stock-based compensation (SBC) continued, despite being well out of the money.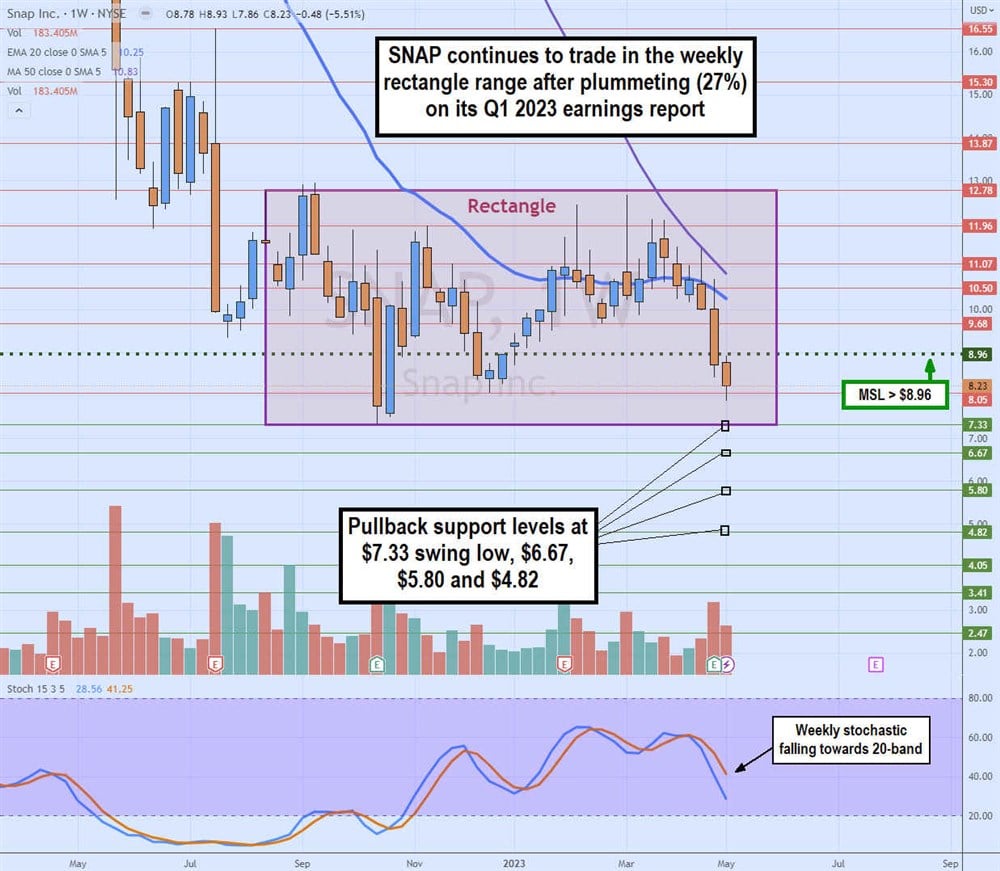 Weekly Rectangle Trading Range
The weekly candlestick chart for SNAP illustrates the weekly rectangle trading range that commenced in August 2022 after peaking at $12.78. Shares fell, hitting a low of $7.33 in October 2022. SNAP triggered the weekly market structure low (MSL) in January 2023, causing shares to climb to a high of $12.67 and test the upper flat-top trendline in March 2023.
However, the weekly stochastic lost steam and fell off the 60-band as it rejected the weekly 20-period exponential moving average (EMA) at $10.25. The Q1 2023 earnings reaction caused shares to plummet further towards the flat-bottom trendline as the weekly stochastic continues to fall towards the 20-band. Pullback support levels are at a $7.33 swing low, $6.67, $5.80 and $4.82.