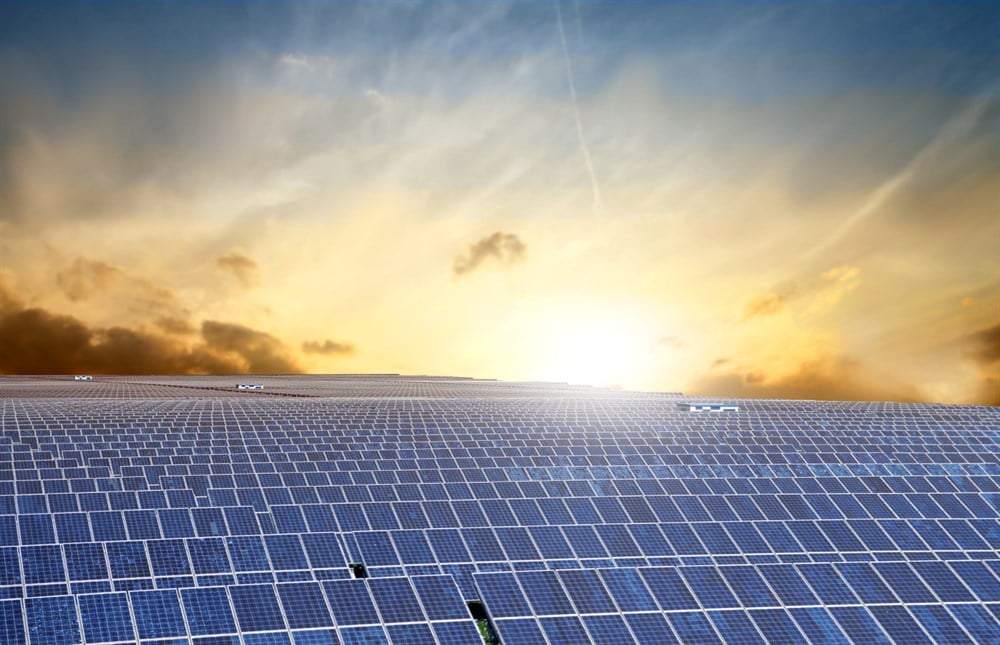 Shoals Technologies Group Inc. (NASDAQ: SHLS) is an electrical balance of system (EBOS) solutions provider for the solar, energy storage, and electric vehicle (EV) infrastructure industry. EBOS are all the components of photovoltaic power systems minus solar panels. This can include cables, inverters, splice boxes, wireless monitoring systems and junction boxes. Competitors in this segment include First Solar Inc. (NASDAQ: FSLR), Eaton Corp. Plc (NYSE: ETN) and Emeren Group Ltd. (NASDAQ: SOL).
Solar Project Support
Shoals streamline the assembly and installation of large solar projects. The company also provides product and engineering support, supply chain management and support services. They sell to and contract with the engineering, procurement and construction firms (EPCs) in charge of large-scale solar projects.
Robust Backlog and Awards
Shoals launched in over 15 states as the 20% to 30% installation cost and time savings proved to be a strong value proposition. Its Big Lead Assembly (BLA) product integrates several functions into a single unit. This reduces the number of field connections, saving time and labor costs and bolstering system reliability. The company converted six EPCs to its "combine as-you-go" system for 42 clients and 15 clients in transition. Demand for Shoals remains robust as its backlog and awards grew 75% YoY to $527.5 million.
Beat and Raise
On May 8, 2023, Shoals released its first-quarter 2023 results for the quarter ending in March 2023. The company reported an earnings-per-share (EPS) profit of $0.14, excluding non-recurring items, beating consensus analyst estimates of $0.10, a $0.04 beat. Revenues soared 55% YoY to a record $105.09 million versus $97.56 million consensus analyst estimates. System Solutions sales grew 95% YoY, representing 87% of total revenues, up from 69%. Net income rose 286% to $17 million, up from $4.6 million in the year-ago period.
Gross margins grew 720 bps to 45.9%, and adjusted EBITDA margin expanded 1,000 bps to 34.4%. Margin growth was driven by greater leverage on fixed costs, a high mix of system solutions revenues and boosted operating efficiency.
Shoals interim CEO Jeff Tolnar commented, "Shoals had an exceptional first quarter, delivering record revenue and earnings. We grew revenue 55% year-over-year, with System Solutions revenue increasing 95% compared to the year-ago period, which contributed to significantly higher gross margin."
Raising Full-Year 2023 Guidance
Shoals expects full-year 2023 revenues to come in between $480 million and $510 million, from earlier guidance of $470 million to $510 million. Consensus analyst estimates for revenues is $491.84 million. Adjusted EBITDA is expected from $145 million to $160 million. Adjusted net income is expected from $92 million to $102 million.
Analyst Actions
On May 9, 2023, Guggenheim upgraded shares of Shoals to a BUY from Neutral with a $30 price target. Northland Capital upgraded SHLS to Outperform with a $30 price target. Shoals Technologies Group analyst ratings and price targets are at MarketBeat. 
Weekly Descending Triangle
The weekly candlestick chart for SHLS has been in a descending triangle since peaking at $33.43 in November 2021. The weekly stochastic continued to get rejected on bounces until it fell to the 20-band as SHLS formed a swing low at $18.38 to form the flat-bottom trendline of the triangle. Shares triggered a daily market structure low (MSL) breakout through $20.27, which made a lower high on the bounce at $23.83. Each sequential bounce has been to a lower high, forming the triangle's falling diagonal trendline.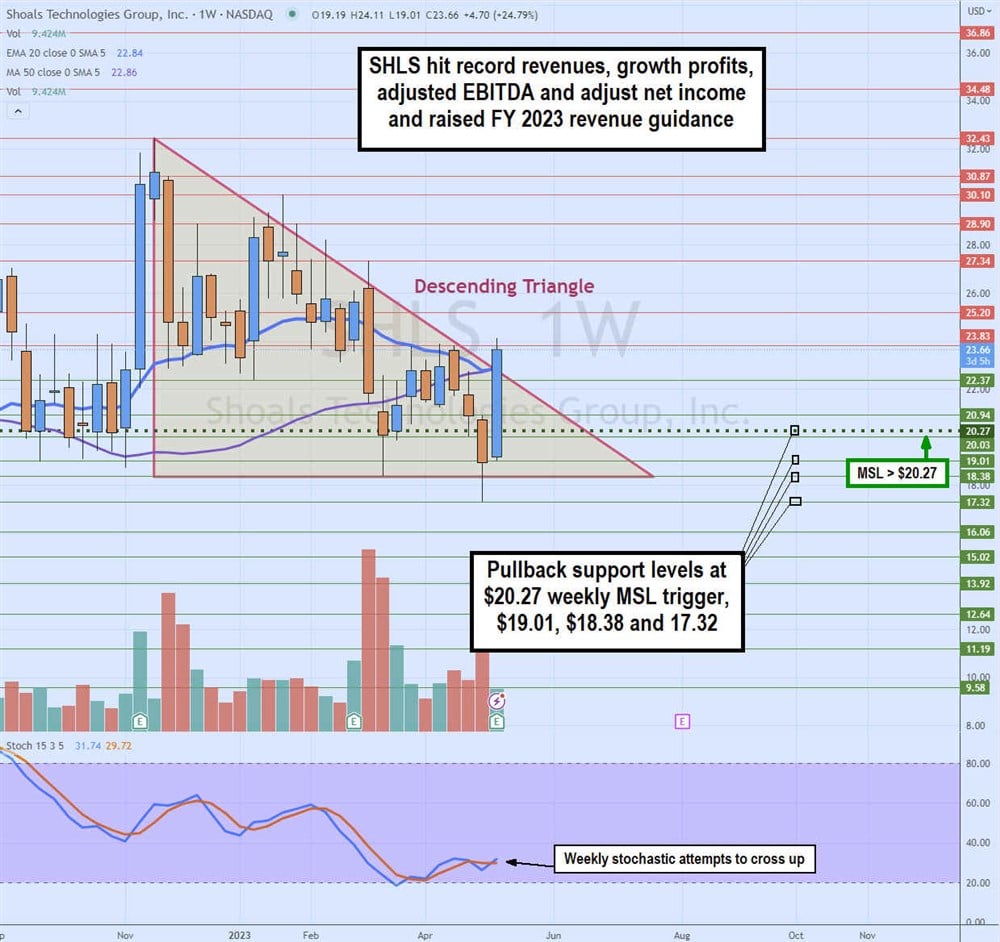 SHLS shares fell through the weekly 20-period exponential moving average (EMA) at $22.84 and the 50-period MA at $22.86 as it fell through the flat-bottom trendline to form a new swing low at $17.32. As the weekly descending triangle breakdown attempted to form, shares rallied heading into the Q1 2023 earnings report and gapped after the blowout numbers.
SHLS attempts to break out of the descending triangle above $22.86 as the weekly stochastic attempts to cross back up towards the 40-band. Pullback support levels are at a $20.27 weekly MSL trigger, $19.01, $18.38 and $17.32 swing low.