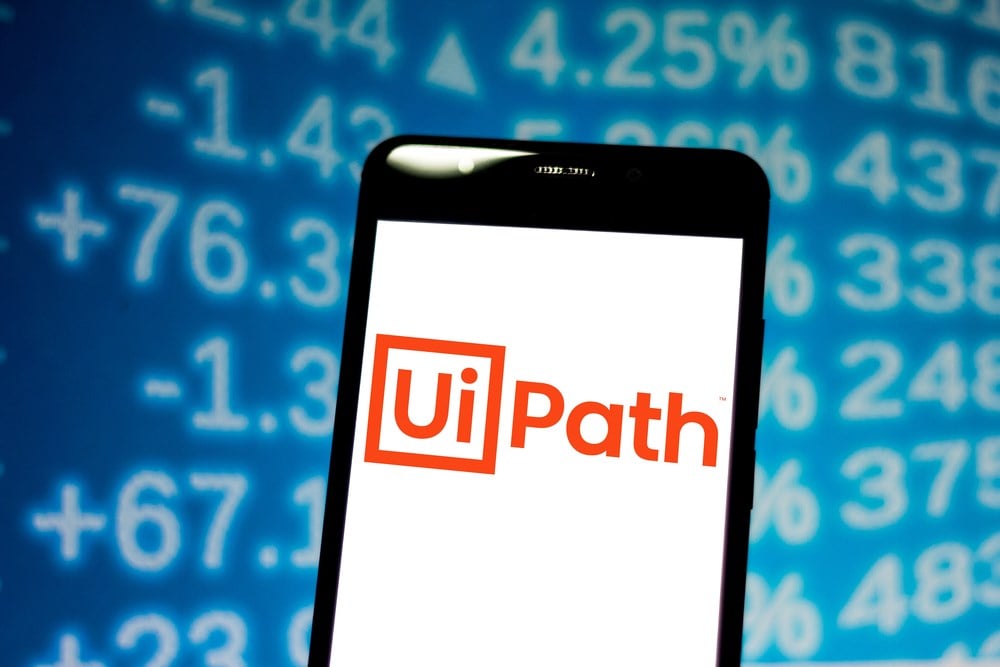 UiPath Inc. (NASDAQ: PATH) shares took an initial dive on its fiscal Q1 earnings release. The culprit was lowered fiscal Q2 2024 revenue guidance that spooked investors. However, the company raised its fiscal full-year 2024 guidance, which the market overlooked on the initial gap down. UiPath is a benefactor in artificial intelligence (AI) adoption.
Enterprise AI platform provider  C3.ai Inc. (NYSE: AI) noted in its recent earnings report that the interest in AI among enterprises is unprecedented. Colgate Palmolive Co. (NYSE: CL) has more than 70 automation and expanded to broader platform capabilities migrating to an integrated platform to consolidate vendor spending and utilize governance capabilities. Notable new client wins in the quarter include Liberty Bank, New York City Health and Hospitals, Vermont Credit Union and Navia Benefit Solutions.
Google Bard Takes the Lead in the AI Wars
The AI wars continue to keep AI in the headlines. The battle between Microsoft Co. (NASDAQ: MSFT) with Open.ai ChatGPT versus Alphabet Inc. (NASDAQ: GOOGL) and Google Bard AI continues to develop daily. Each company is trying to one-up the other. While ChatGPT took the initial lead, its limitations regarding current and real-time information stick out like a sore thumb. Google's search engine has much more relevant data than Microsoft's Bing, giving Bard the edge regarding training data.
Chat-GPT's Frustrating September 2021 Cut-Off Date Limitation
This is evident with Google's launch of its Bard AI, having an edge regarding more current financial and stock market-related information. In contrast, the premium ChatGPT-4.0 continually and frustratingly points out that it can't provide "real-time updates or analyze events" that occurred after its September 2021 cut-off date. Isn't AI supposed to be "learning" new information constantly?
Bard Asserting Early Dominance
Google Bard AI takes the win regarding current and recent financial and business information. A simple query, "Why did PATH stock drop on its fiscal Q1 2024 earnings report?" will yield different results. Chat-GPT makes excuses and gives generic reasons for what may have caused the shortfall, while Bard AI provides specific bullet points and facts pulled from its earnings report.
Profitable and Growing
On May 24, 2023, UiPath released its fiscal first quarter 2024 earnings report for the quarter ending in April 2023. The company saw earnings-per-share (EPS) of $0.11, excluding non-recurring items, versus consensus analyst estimates of $0.02, beating by $0.09. Revenues rose 18.2% year-over-year (YoY) to $289.6 million, beating analyst estimates for $271.24 million. Annual run rate (ARR) grew 28% YoY to $1.248 billion. Net new ARR was $45 million. Dollar-based retention was 122%. This means existing clients are adding new products and services.
Co-CEO Comments
UiPath Co-founder and Co-CEO Daniel Dines added, "As a leader in AI-powered automation, customers are partnering with UiPath to harness the combination of generative AI and automation in an enterprise-grade platform," He continued. "For years UiPath has invested in ML models and domain-specific AI for understanding interfaces, mining tasks, and processing documents and communications. Combining this foundation with the recent advancements in generative AI further strengthens our platform, unlocking a new wave of opportunities to democratize automation, increasing the number of use cases and driving faster time to value and overall ROI."
Mixed Guidance
UiPath lowered guidance for Q2 fiscal 2024 revenues between $279 million to $284 million versus $284.32 million consensus analyst estimates. The company expects ARR from $1.301 billion to $1.306 billion as of calendar year July 31, 2023. UiPath raised fiscal full-year 2024 revenues between $1.267 billion to $1.272 billion versus $1.25 billion consensus estimates. ARR is expected between $1.427 billion to $1.432 billion.   
UiPath analyst ratings and price targets can be found on MarketBeat.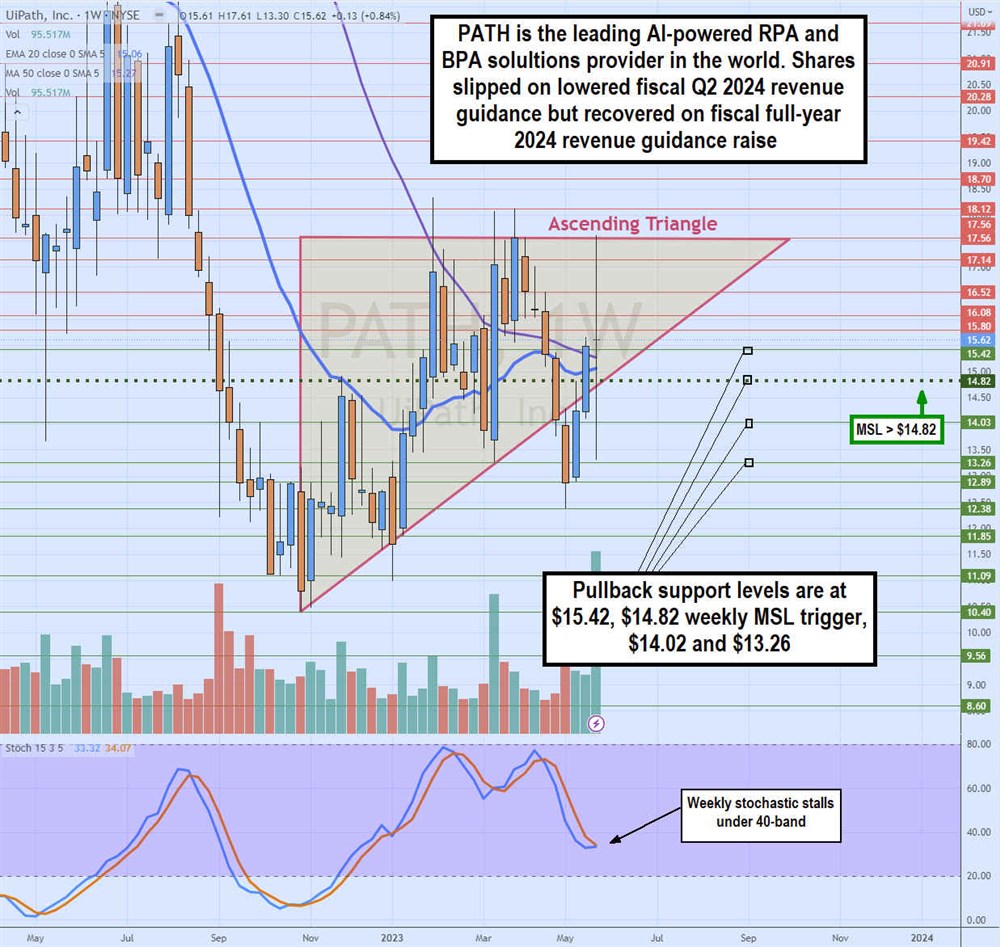 Weekly Ascending Triangle
The weekly candlestick chart for PATH illustrates the weekly ascending triangle pattern. The triangle commenced on the swing low of $10.40 in October 2022. Share staged a rally to a high of $18.34 in January 2023. The weekly stochastic oscillates from the 10-band to the 80-band peak before crossing back down. The stochastic coiled back up through the 60-band as shared surged again to test the $17.50 to $18.12 range four more times to put in a flat top trendline for the ascending triangle. While triangles require a flat top and rising trendline, which illustrates the higher lows against a flat top, PATH fell below the rising triangle trendline towards $12.38 before bouncing on the weekly market structure low (MSL) breakout through $14.82 to $16.52, heading into earnings. The fiscal Q1 earnings release triggered a sell-off towards the $13.26 support level before a snapback bounce to $16. Pullback support levels are $15.42, $14.82 weekly MSL trigger, $14.02 and $13.26.