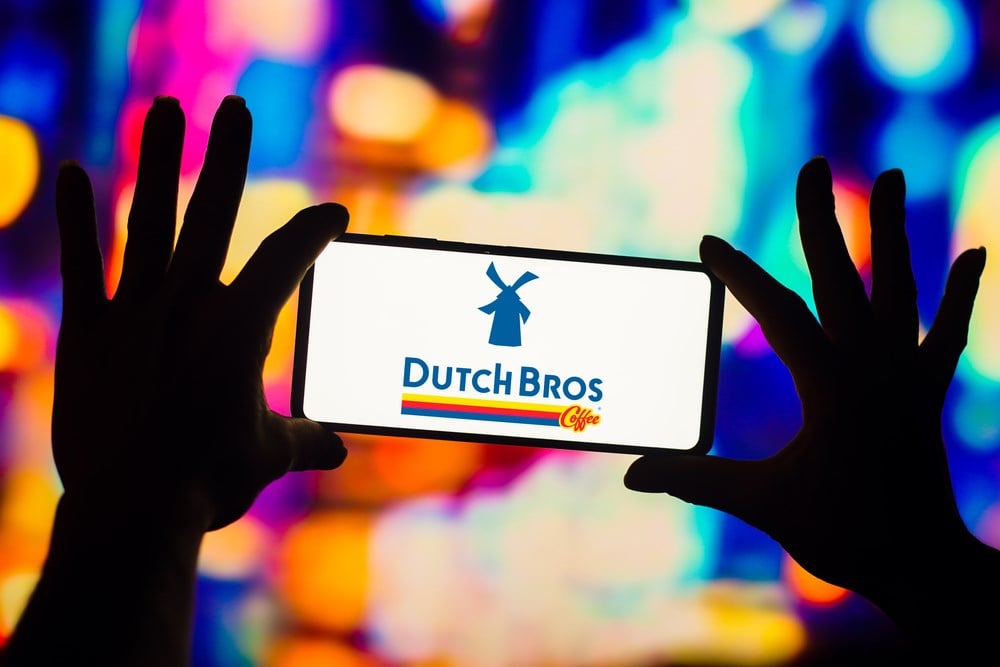 Dutch Bros Coffee (NYSE: BROS) share value suddenly jumped nearly 4% on April 5 as Wedbush analysts upgraded the stock from Neutral to Overweight (also known as Outperform or Moderate Buy).  It seems analysts believe the long-term growth potential for the Portland-based company is considerably more attractive than its aggressive near-term expansion might appear. 
Long-term Growth Potential
BROS's share price is $32.80, and while that is up 16.39% YTD, it remains down -38.6% since one year ago. Furthermore, that metric puts share value in the bottom third of the 52-week range, nearly 50% down from the historical high (Nov 2021).  Of course, BROS' $484 million IPO (the largest in Oregon history) is only a few years old, so even these shortcomings are not too surprising. 
Analysts have given BROS a price target of $43.75, representing a 31.5% upside. Oddly, the price target has not budged much in the last year, mostly because the share price has been between $30 and $40 since late May last year. 
Earnings have also remained flat for the better part of the last year. But while they are still negative, analysts expect BROS earnings could be in the green soon. They project that within the year, earnings could grow from -$0.08 to $0.34. That is a premium of 500%. 
Finally, while same-store sales did decline 0.6% in Q4 2022, comps remain up 15.2% on a 3-year basis. That said, Dutch Bros expects to bring in between $950 million and $1 billion in revenue; same-store sales are projected to come in the low single digit. 

Aggressive Expansion
Dutch Bros Coffee is already among the largest coffee chains in the country, with 671 stores nationwide. The chain opened a record-breaking 133 stores in 2022 and expects at least another 150 stores by early 2024 (at the latest). They say this should lead to 1,000 total locations by 2024 and, eventually, 4,000 within the next decade. 
The current store roster operates in 14 states; at least 60 percent of the new 2023 locations will be in the two largest states (by size): California and Texas.  Many other new stores will be in states where Dutch Bros already has some claim. They also plan to expand to new markets like Alabama and Kentucky. 
As a result of this expansion, revenue in Q4 2022 grew 44% YoY, a threefold increase since 2019 (on a yearly basis). More importantly, revenue broke $200 million for the first time. This has contributed to a 35% average unit volume boost (AUV) since 2017. The company expects stores opening in 2020 and 2021 to exceed $2 million AUV. CEO Joth Ricci believes AI and other new technology will help the company to determine which markets to consider. Brand equity and recognition should also help. 
This is particularly true regarding tech, as the Dutch Bros drive-thru accounts for 90 percent of sales, and no doubt ordering through the app is a large contributor to this. And because the company has worked to make this system more efficient, the drive-thru continues to be a cornerstone of their business. 
Blowing out the Competition
Only two chains have more stores in the US: Starbucks Corporation (NASDAQ: SBUX) and Dunkin' Brands Group, Inc, and only one of those are publicly traded. Starbucks is a much bigger company with a market capitalization of $120.23 billion, more than 100 times that of Dutch Bros ($1.46 market cap). SBUX is also a Moderate Buy, but its $108.74 price target is much higher than BROS and represents an upside of about 4%. Earnings are also only expected to growth 19.35%.
SBUX has also seen a similar marginal consistency in price targets compared to BROS. For over a year, quarterly earnings have kept below the price target by a margin of between $5 and $30. In December 2022, SBUX finally beat the estimate ($101 vs. $100), only to slip below the threshold again in March. Indeed, the most recent $0.75 EPS missed the target by two cents. Though last year, EPS was $0.72, so still improving. Revenue is also improving after a slight dip in 2022 Q1. 
Yes, SBUX is paying out a fair annual dividend of $2.12 at a yield of 2.03%, while BROS is not paying a dividend. However, SBUX stock remains down -0.41% over the last quarter, while BROS is up 10.47%. Similarly, SBUX is only up 4.84% YTD, while BROS is up 16.39%. Since they both have Outperform ratings, BROS may indeed be a more attractive long-term investment.