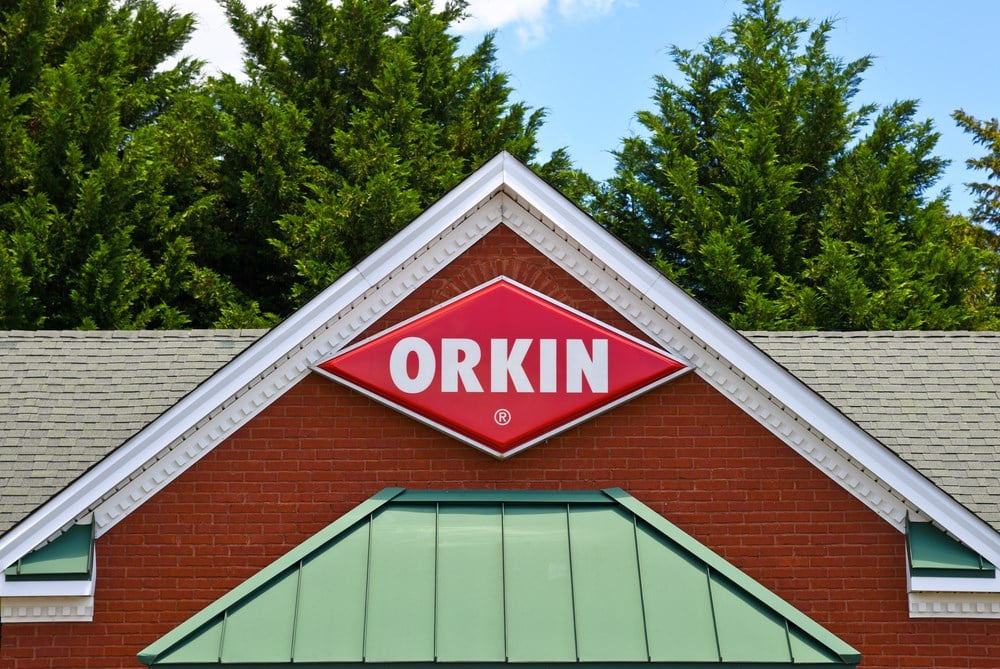 You probably see those pest control vehicles rolling through your neighborhood on a regular basis, but it's almost certain you didn't realize there might be an investment opportunity there.  Rollins Inc. (NYSE: ROL) is the corporate parent of a brand portfolio that includes Orkin, Critter Control and many others. 
This is one of those stocks that fall into that "under the radar" category, but as a consistently solid performer, is worth knowing about. 
Rollins shares gapped up at the open on April 27, advancing more than 6% early in the session on heavier-than-normal turnover. The move followed the company's better-than-expected first-quarter results. Rollins reported earnings of of $0.18 per share, topping estimates by a penny. That was 20% higher than last year's earnings.
Revenue came in at $658.02 million, also topping estimates, which called for sales of $643.78 million. Sales were 11% higher than the year-earlier quarter.
Rollins earnings data show the company beating bottom-line views in the past three quarters. 
With a market capitalization of $20.41 billion, Rollins is among the little-heralded S&P 500 stocks. It's tracked in the index's industrials sector. 
Rollins is clearly not one of those glamorous stocks that investors and analysts get excited about. In some sense, that's a shame, because the stock has more features than bugs at this point, making it a worthy watchlist candidate. 
Better Buzz Than Its Sector
For starters, it's posted better price gains on a one-month, three-month and year-to-date basis than either the S&P 500 or the industrials sector, as tracked by the Industrial Select Sector SPDR Fund (NYSEARCA: XLI).
The Rollins chart shows the stock approaching a buy point above $43.06. It's been etching a cup-shaped pattern since early November, and is working on its seventh week in a row of upside trade as it moves up the right side of its base. 
Despite hailing from a sleepy sector, at least relative to traditional growth areas such as tech and retail, Rollins has some attributes of a growth stock. It has a long track record of profitability, and it's grown earnings in six of the past seven years. Its three-year earnings growth rate is 17%, while its three-year revenue growth rate is 11%. 
It's also been a proven price performer over the long haul, with the following returns:
3 years: 16.83%
5 years: 13.53%
10 years: 19.67%
15 years: 18.51%
Those elements of steady performance can be found in its beta of 0.55, meaning that Rollins stock is less volatile than the typical tech or consumer discretionary growth company. MarketBeat data show that the Rollins dividend yield is 1.24% and the company has been increasing its shareholder payout. 
Small Swarm Of Analysts
Likely because it's not in a red-hot industry, Rollins analyst ratings show a sparse amount of coverage. Among the small number of analysts who do track the stock, the consensus rating is "moderate-buy" with a price target of $44.25, representing a 5.89% upside. 
One reason a pest control company may have scant analyst coverage is simply due to its business: It's just more exciting for analysts to cover the Silicon Valley roller coaster ride or even the newest retail or banking developments than to keep updated on what's happening in the world of removing ants and mice. 
Among analysts who do cover the stock, the Royal Bank of Canada upgraded the stock in September to outperform sector performance, saying the company's business was recession resilient. That designation certainly rings true; even consumers and businesses pinching pennies are likely to shell out to remove a vermin infestation. 
Worldwide Pest Purge
Rollins' nearest publicly-traded competitor is U.K.-based Rentokil Initial plc (NYSE: RTO). While Rollins operates primarily in the U.S., it has operations in Canada, Mexico, the Caribbean, Central America, South America, Europe, Asia, Africa, and Australia. Rentokil, meanwhile, derives most of its revenue from Europe, although it, too, operates globally. 
Rentokil has also posted strong price gains recently, as revenue skyrocketed following its acquisition of Terminix. However, Rollins also has growth through acquisition strategy, and its earnings performance has outpaced Rentokil's in recent quarters. 
Analysts expect solid earnings growth from both companies, which is a good sign: In general, it's better to invest in a stock that's part of a strong industry rather than simply being a one-off.