Bank of America has come a long way since its humble beginnings. It has grown from a single branch to over 3,800 financial centers and 16,000 ATMs. It serves over 67 million customers with 56 million verified digital users. While primarily serving customers in the U.S., Bank of America also has a presence in nearly 35 countries worldwide. As an investor, you may wonder, "Is Bank of America a good stock to buy?" 
In this article, we will review buying Bank of America stock and stock performance so that you can better decide whether an investment is suitable for you. 
Overview of Bank of America Stock
Bank of America was founded in 1904 as Bank of Italy by Amadeo P. Giovanni in San Francisco, California. It was created to accommodate the financial needs of the city's growing immigrant population and was one of a handful of banks that survived the San Francisco earthquake in 1906. 
The company officially changed its name to Bank of America and Italy in 1922, primarily serving the Italian American community. In 1928, the company merged with Bancitaly Corporation, which owned Bank of America. The company officially changed its name to Bank of America. National Trust and Savings Association and became the first bank in the U.S. to have multiple branches in California. 
The company continued to acquire banks and, in 1998, merged with NationsBank out of Charlotte, North Carolina, to become one of the country's largest banks. Bank of America acquired Merrill Lynch during the financial crisis of 2008, significantly expanding its wealth management footprint.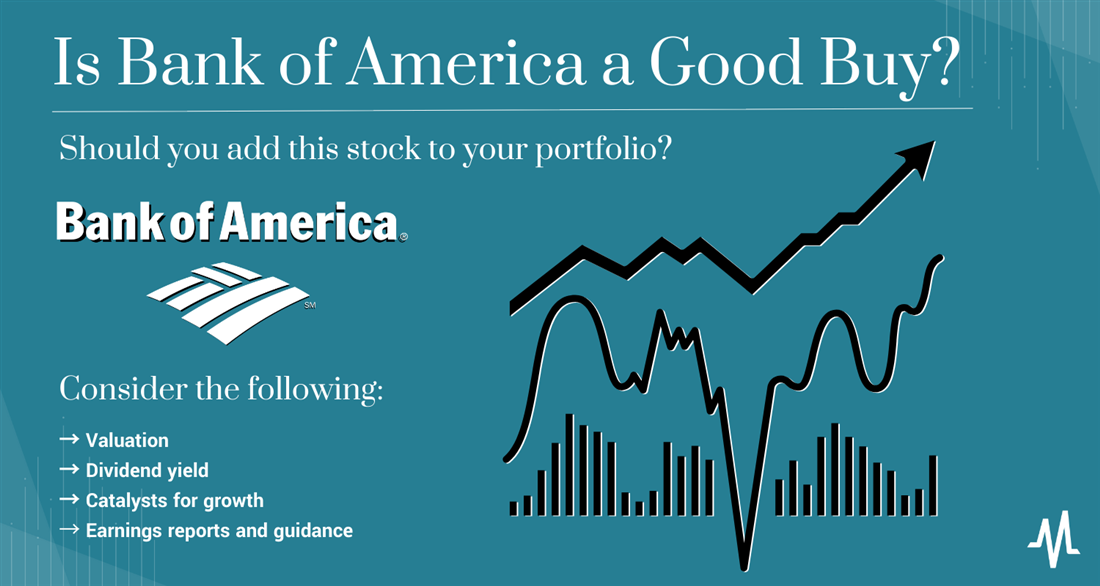 Bank of America Performance
Bank of America Co. (NYSE: BAC) stock opened at $50.08 in January 2022 and closed at $33.12 at the end of December 2022, down (33.9%) for the year. It underperformed the S&P 500 index, which fell (19.7%) in 2022. Inflation hit its highest level in 40 years at 9.1% in June 2021. This prompted the U.S. Federal Reserve (Fed) to hike interest rates aggressively. 
The Fed backtracked its earlier stance that inflation was transitory or temporary due to the pandemic. Demand spiked for products while supply was light. This resulted from the pandemic lockdowns where factories and production plants came offline to contain the spread of COVID-19. Economies ground to a halt in 2020, and stock prices collapsed. Bank of America stock fell to a low of $17.95 in March 2020.
The spread of COVID-19 vaccinations enabled economies in the U.S. to re-open in the latter half of 2020. However, lockdowns heavily disrupted the global supply chain, causing a shortage of computer chips and leading to an automobile shortage since new cars rely on computer chips. The cacophony caused new car prices to skyrocket and caused used car prices to soar higher. The labor market also got tight as restaurants couldn't find enough workers, and people were job-hopping for higher wages. Stocks soared higher until 2022, when normalization kicked back in again. 
The Fed rate hikes caused investors to take risks off the table and transfer money into fixed-rate instruments like money markets and treasury bonds. The 10-Year Treasury yield rose to over 4% for the first time in over a decade. While banks stocks were also benefactors from rising interest rates due to growing net interest income, they would suffer from the drop in loan demand. Higher interest rates result in less borrowing since the financing gets more expensive, which caused housing prices to fall in most areas. Bank of America stock closed 2022 at $33.12, which was still higher than the low of $29.40 made in October 2022.  
What Sets Bank of America Apart?
Bank of America sets itself apart from its competitors in many ways. While there is a national trend of closing physical branch locations, Bank of America has the second largest brick-and-mortar branch offices at 3,900 compared to JPMorgan Chase & Co. (NYSE: JPM) at 4,700 locations. Bank of America provides a wide range of banking products for consumer and commercial banking clients and financial services, including wealth management and investment banking. The acquisition of Merrill Lynch in 2008 has elevated the caliber of its wealth management, research and investment banking services. 
Bank of America enjoys the reputation of being a reputable and secure money center bank for individuals and companies and a socially responsible and profitable enterprise for shareholders. It was one of the first large banks to embrace digital banking by developing a mobile app. Its digital innovation continued with the creation of a peer-to-peer funds transfer service, Zelle. Zelle enables Bank of America customers and non-customers to transfer funds to each other seamlessly in minutes. It also developed a virtual financial assistant named Erica.  
Factors Influencing Bank of America Stock
Many factors can affect the value of Bank of America stock. You may have heard that a stock's price represents the future value of the underlying company. There are also periods of disconnect, where the stock may get ahead of itself or fall behind its peers. Here are some factors that can influence Bank of America's stock price. 

Valuation
The valuation of Bank of America stock compared to its historical levels and industry peers can impact its price. Investors may sell shares to lock in profits if the valuation gets too expensive. Short-sellers may take the opportunity to short the stock due to its overvaluation in hopes of profiting from a sell-off. If the valuation is near the low range, it may present more upside opportunities like undervalued banking stocks. Knowing Bank of America's historical price-to-earnings (P/E) ratio range helps you gauge whether its stock trades near the higher or lower part of the range. Bank of America stock has had an average P/E of 12.61 in the last five years. It had a low P/E of 6.6 on March 23, 2020, and a high P/E of 20.85 on March 30, 2021. 
Dividend Yield
The dividend yield can be a compelling factor for income investors. A high dividend yield can spark more interest in buying the stock, raising prices and lowering the yield simultaneously. Bank stocks are in a unique situation where the rising interest rates make risk-free money market accounts have yielded more significant than the stock. This could convince investors to open a CD or money market account at Bank of America with no risk to the principal instead of owning the stock of Bank of America and risk price declines. 
Catalysts for Growth
The banking industry is highly regulated. Banks make money by paying depositors 2% interest and charging borrowers 4% interest on loans while pocketing the difference, called the spread, which is part of the bank's net interest income. Dividing the net interest income by the average earning assets calculated the interest margin. Higher net interest margins equate to sustainable profits, dividends and earnings growth. Rising interest rates can bolster net interest margins, a key catalyst for growth. 
Earnings Reports and Guidance
The quarterly earnings report and forward guidance is the most influential factor affecting stock price movement. Usually, when a company beats its consensus analyst earnings estimates, it can initially positively affect the underlying stock. The earnings guidance for the next quarter or fiscal year makes the final impact on the stock's price before the company conference call, which can shed more light on the company's operating performance. Keep in mind that stocks sometimes react differently than expected. 
For example, Bank of America can beat earnings estimates and raise guidance only to have its stock fall lower. This could happen if the shares made a run-up into earnings triggering a sell-the-news reaction despite the good earnings report. 
Bank of America in 2023
The Fed's interest rate policy will impact Bank of America stock and the benchmark indexes. Investors are glued to the monthly consumer price index (CPI) report, usually released on the 12th or 13th of each month, to determine the inflation rate. As the CPI fell lower, it nudged the Fed to consider slowing the pace of interest rate hikes and concluding them altogether. The latter may be wishful thinking, with the Fed's target inflation rate at 2%. 
The downward trajectory has seen the CPI go from 9.1% in June 2022 to 5% in March 2023, so it's been on the right path lower. If inflation continues to fall in 2023, it could be bullish for Bank of America stock and the benchmark indexes. As interest rates fall, Bank of America may see a pickup in loan volume, which can improve both top and bottom-line results. 
Future of Investing in Bank of America Stock
The future of investing in Bank of America stock will largely depend on industry trends, economic conditions and financial performance. Remember that a stock's current price indicates how the market feels the company will perform in the future. Sentiment has a significant impact on stock prices. Positive sentiment from an improving economy and falling inflation can help Bank of America's stock climb. Negative sentiment from a recession and a credit crisis stoking contagion fears would damage the stock. Note the state of the industry tracking the top finance stocks on MarketBeat.
Is Bank of America too Big to Fail?
After the 2008 financial crisis, regulators made sweeping changes for large banks in the U.S. Bear Stearns' implosion and Lehman Brothers' fall had investors wondering, "Are bank stocks safe?"
The Dodd-Frank legislation of 2010 created the Consumer Financial Protection Bureau (CFPB) to help consumers against abusive and predatory financial products and practices. Smaller regional banks under $100 billion of consolidated assets were subject to only some of the large banks' legislation. The Volcker Rule restricted banks from proprietary trading and clamped down on private equity and hedge fund investments. It improved upon capital and liquidity requirements and heightened supervision and regulation. 
Basel III is a set of international regulations that include higher minimum capital requirements like higher common equity tier 1 (CET1) capital, the addition of liquidity coverage ratios (LCR) and net stable funding ratio (NSFR) to ensure adequate liquidity for banks to be able to cover short-term and long-term obligations. The Fed conducts annual financial stress tests for large banks and publishes its results for customers and investors. Bank of America is arguably a bank that still qualifies as "too big to fail" since it's the second-largest bank in the country. 
FAQs
Here are some answers to frequently asked questions. 
Will Bank of America stock go up?
Bank of America stock can go up or down. It depends on your entry price, investing time frame horizon, market conditions, earnings reports and forward guidance. A recession would not be good for Bank of America stock, but the stock market has recovered from every single recession in the past to reach new highs. Keep this information in mind when considering "Is Bank of America a buy?" 
Is Bank of America a good stock to buy for the long term?
Still wondering "Should I buy Bank of America stock?" Bank of America stock can be a good buy for the long term depending on your entry price and market conditions. Historically, the stock market, in general, has appreciated. If inflation stays under control without heading into a recession, it could be bullish for Bank of America stock. Consider diversifying with other finance and insurance stocks on MarketBeat. Check with a registered investment advisor for more insights if you still wonder, "Is BAC a good stock to buy?"
Is Bank of America a good investment?
Bank of America stock can be a good investment depending on your entry price and holding time horizon. Historically, Bank of America stock has a five-year performance of down (1.4%), but its 10-year performance is up 154%. While historical performance does not indicate future performance, stocks have a history of repeating price actions and patterns. If you're asking yourself, "Is Bank of America stock a buy?" read its recent quarterly earnings report and check its weekly candlestick chart to gauge its current price trend.