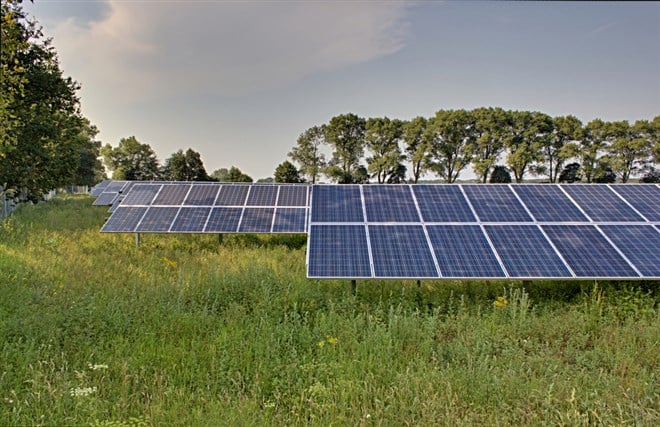 First Solar, Inc. (NASDAQ: FSLR) shares have tripled since June 2022 — largely due to inflation. 
Huh? Well, not exactly.
When President Biden signed the Inflation Reduction Act (IRA) of 2022 into law last summer, it put a range of provisions in motion to lower prices, reduce the deficit and strengthen a shaky economy. A $158 billion investment in clean energy was among the biggest.
On top of pouring billions into home energy efficiency upgrades and supply improvement, the law extended the solar tax credit by 10 years. This has made rooftop solar panels a more economical alternative for consumers grappling with high utility bills. 
Along with funding for solar energy manufacturing, the landmark legislation has created a very bright future for solar companies like First Solar. The Solar Energy Industries Association has estimated that it could triple the size of the American solar power market over the next 10 years. 
First Solar is already reaping tremendous benefits. Recent financial results and new business wins reflect the early impact of the IRA. 
First Solar stock is red hot, rising 30% last week. Will it continue to shine?
How Were First Solar's 2022 Financials?
In the fourth quarter, First Solar saw higher sales of its solar modules as consumers and businesses took advantage of more affordable favorable prices and tax credits. Along with proceeds from divesting its Luz del Norte power plant in Chile, the company generated $1 billion in sales, a 67% year-over-year increase. Full-year sales were $2.6 billion versus $2.9 billion in 2021.
A net loss per share of $0.41 in 2022, followed $4.39 in profits in the year prior.
While First Solar's top and bottom lines weakened in 2022, a strong finish to the year is the reason for optimism. Management's forecast for $3.5 million in sales this year at the midpoint implies 35% growth. The guidance also calls for earnings per share (EPS) of $7.00 to $8.00 in 2023.
Looking beyond this year, First Solar shareholders have two more metrics to be excited about. First, the company exited the year with a record order backlog and noted "a significant pipeline of booking opportunities." Second, its cash position swelled more than 40% from the end of 2021 to $2.4 billion. This puts it in an advantageous spot for investing in new growth projects. 
What's New With First Solar in 2023?
Alongside last week's earnings release, First Solar announced a new deal with Europe's largest solar energy developer. Lightsource BP, a subsidiary of U.K. energy giant British Petroleum, ordered 4 gigawatts (GW) of thin film solar modules to power its U.S.-based solar projects. 
The purchase follows a similar-sized deal made with Lightsource BP in 2021. Although delivery of the modules is slated for 2026 to 2028, it shows that First Solar is lining up revenue streams well into the future, an attractive attribute of the equity investment.
First Solar is expanding its domestic manufacturing capacity to address its growing contracted backlog and prepare for future demand. Its third factory in Ohio is on track to come online by mid-2023, and construction of a fourth factory in Alabama is underway. The expansions are expected to bring the company's U.S. manufacturing investment to more than $4 billion, good quality for investors that prefer to 'buy domestic.' 
Is First Solar Stock a Good Investment?
Based on management's outlook, First Solar trades at 28x this year's earnings estimate. This is a premium valuation relative to the broader semiconductor industry but one that is warranted. Legislative tailwinds, backlog momentum and a strong balance sheet make it a P/E worth paying for. 
Granted, a better entry point may present itself after last week's run. Technical indicators have shifted towards the oversold territory, which, along with profit-taking, could shake out the weak hands soon. Longer term, however, First Solar has room to run and is on pace to return to record 2008 levels above $300 within the next couple of years. 
Last week, research group Guggenheim referred to First Solar as "potentially the biggest U.S. beneficiary of the IRA." UBS cited the benefit of tax credits in upgrading the stock from neutral to buy. Goldman Sachs also offered bullish sentiment and a Street-high $260 price target.
First Solar's power surge to end the year confirms the benefits of the Biden Administration's clean energy push are sinking in. Tax credits for homeowners and tax benefits for solar manufacturers are adding up to strong sales growth. Shifting back to profitability in a major way should keep the spotlight on First Solar stock in 2023.