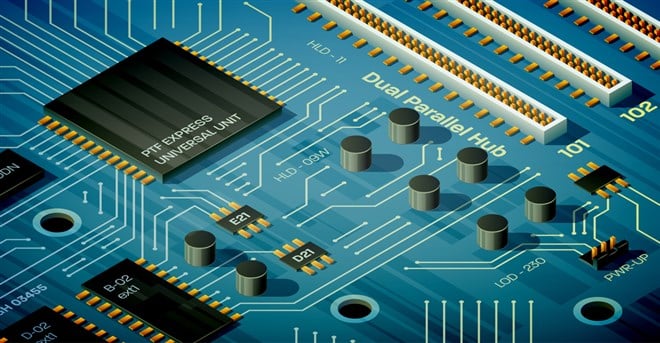 Texas Instruments (NASDAQ: TXN), Cirrus Logic Inc. (NASDAQ: CRUS), and Rambus Inc. (NASDAQ: RMBS) represent very different corners of the semiconductor industry. Still, all three have one thing in common: All are showing healthy chart patterns that may lead to price gains. 
Semiconductors are among the top-performing industries at the moment. The reasons for that are pretty clear, given that chips are literally everywhere in our day-to-day lives. It's pretty well known that chips are key components of smartphones, computers, phones, and cars, but usage is ramping up fast for 5G, artificial intelligence, machine learning, and robotics applications. Even more prosaic items, including LED bulbs, rice cookers, and electric toothbrushes run on semiconductors.
That fits the definition of "literally everywhere," and explains the rush to ramp up production not only in the U.S., but worldwide.
In early March, Bank of America issued a report forecasting that the semiconductor industry would strengthen in the second half of 2023. If that pans out, investors may see even more upside in chip stocks, which, as a group, are up 22.57% this year, as reflected by the iShares Semiconductor ETF (NYSEARCA: SOXX).
Here's a look at why Texas Instruments, Cirrus Logic, and Rambis are among the top industry performers.
Texas Instruments  
Texas Instruments is an old-school chipmaker. You might recall using TI calculators in high school or college, but the company is really known for digital light processing devices, system-on-a-chip processors, and robotics technologies. 
The stock has been forming a shallow area of price consolidation, sticking close to its 50-day average. The stock is up 7.81% in the past three months. That performance lags the overall tech sector as well as the SOXX ETF, but the stock's dividend yield of 2.8%, as well as a 19-year track record of increasing shareholder payouts, gives it some extra luster, even as shares consolidate.  
That long history of increasing dividends also tells you the stock has a strong record of profitability. Analysts expect an earnings decline this year, consistent with many forecasts about a soft market for chips in the first half. In 2024, earnings are expected to grow by 10%, to $8.36 a share. 
Cirrus Logic
Also based in Texas, Cirrus Logic specializes in integrated circuits for a variety of markets, including audio, industrial, energy, and consumer electronics. Its chips are found in smartphones, tablets, laptops, headphones, and home theater systems. The company also offers energy-related products such as LED lighting controllers and power management ICs, as well as industrial and automotive products. 
As you can imagine, those product lines offer opportunities for growth. MarketBeat analyst data show a consensus rating of "moderate buy" with a price target of $107.27, a 3.57% upside. Cirrus is a much smaller company than Texas Instruments, with a market capitalization of $5.947 billion. As such, it's not particularly surprising to see that it doesn't pay a dividend. Smaller companies tend to reinvest profits back into new projects to spur growth.
The Cirrus Logic chart shows a bullish flat base, essentially a sideways pattern, that began after the stock zoomed 14.14% higher following its most recent earnings report. Sideways trade is often a harbinger for more gains, as investors are holding shares they previously purchased.
Rambus
Among these three stocks, Rambus is the smallest, and also the one with the best earnings forecasts for the next two years. The company is expected to grow earnings by 56% this year, and by another 25% in 2024. 
Rambus, whose market cap is $4.924 billion, designs and licenses semiconductor and memory technologies. It specializes in high-speed interface and memory products that are used in the usual roster of electronic devices, including computers, phones, and game consoles.
Rambus has also developed high-speed interface technologies and memory controllers. It licenses its technologies to other companies, which use them in their own products.
The stock has returned 23.53 % in the past three months but has settled down to a gain of 3.95% in the past month. The stock has been forming a flat base with a shallow 12% correction, which appears promising, in terms of leading to more gains. 
Analysts have a "buy" rating on the stock, with a price target of $47.20, an upside of 3.21%