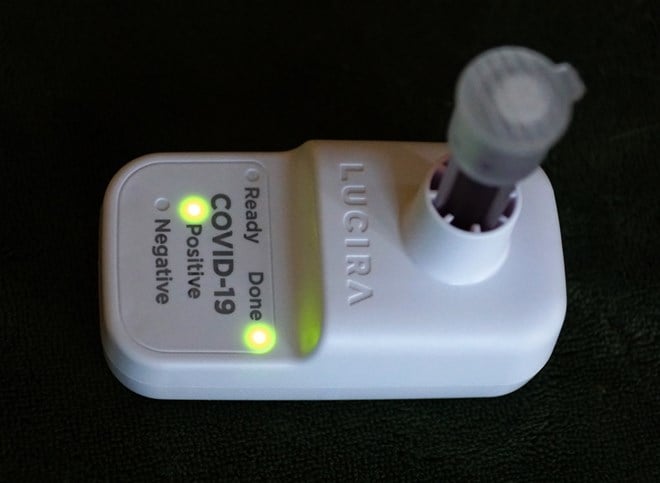 Lucira Health Inc. (NASDAQ: LHDX) shares spiked up 264% to close at $0.52 on a massive 278 million shares traded on the announcement of FDA approval for its combination at-home COVID-19 and a flu test. The over-the-counter (OTC) 30-minute at-home rapid test can detect influenza A and B and the SARS-CoV-2 virus using nasal swabs.
This appears to be good news, but digging just a little deeper reveals that it's a case of too little and too late. The company had expected the FDA approval in August 2022, but the protracted approval process left the company bleeding through cash with high expenditures.
Lucira Health went public through an IPO on Feb. 5. 2021, at $22.10 per share and currently has 40 million shares outstanding While it blames the FDA for its slow approval of its combo test, the company has still been selling its COVID-19 test, which competes with rapid tests from Abbott Laboratories Inc. (NYSE: ABT), Beckton, Dickinson & Co. Dickinson (NYSE: BDX) and QuidelOrtho Corp. (NASDAQ: QDEL). The delay caused them to miss the U.S. 2022 to 2023 flu season, despite Canada approving the combo test. The bottom line is that the demand has been falling as COVID-19 falls further into the rearview mirror.
Big Charge-Offs
On November 14, 2022, Lucira Health released its Q3 2022 earnings for the quarter ending in September 2022. The company reported net revenues of $34.4 million, up 130% year-over-year (YoY). GAAP gross loss was ($99.6 million), compared to ($1.5 million) in the year-ago period. GAAP negative gross margin was (289%) versus (10%) for the year-ago period.
The excessive GAAP losses were from charges for overstocked inventory, non-cancellable purchase commitments, and prepaid inventory. GAAP net loss was ($126.9 million) compared to a loss of ($27.5 million) in Q3 2021.
The company took a non-cash inventory charge of (-$107.2 million) due to a significant sale forecast reduction stemming from the unanticipated delay of its combination test from the FDA. Lucira ended the quarter with $39.8 million in cash, down from $106 million at the end of 2021. 
During the quarter, Lucira executed a marketing agreement with Pfizer (NYSE: PFE) to increase awareness of the risks of COVID-19 and treatment options. The company received approval and launched its combination COVID-19 and flu test in Canada while still awaiting U.S. FDA approval, filed under Emergency Use Authorization (EUA) in May 2022.
Voluntary Chapter 11 Bankruptcy
On Feb. 22, 2023, Lucira Health announced the voluntary filing for protection under Chapter 11 in the U.S. Bankruptcy Court for the District of Delaware. The company will continue to operate daily and use cash on hand to fund operations. It intends to sell the business under Section 363 of the Bankruptcy code. It will continue to support customers throughout the process. In October 2022, the Board of Directors approved actions to rebalance its cost structure and consider selling the company.
While the company was able to trim costs, reduce headcount, and renegotiate some vendor contracts, the delay in the approval and subsequent revenues from the 2022 to 2023 flu season left the company in shambles.
Lucira CEO Erik Engleson commented, "Unfortunately, as restrictions lessened in 2022, we saw lower demand for COVID-19 tests. This, combined with slower-than-anticipated regulatory approval for the new combined test kit developed for the 2022-2023 flu season, led to insufficient revenue and capitalization to offset expenditures. Despite every effort to reduce capital outlays and restructure our business, we took this action to protect and maximize the value of our assets."
What Happens Next?
Chapter 11 is a way to protect the company from creditors as it operates on a day-to-day basis while planning a reorganization. Many companies have emerged from Chapter 11. Unfortunately, the common stock shareholders are often left holding worthless stock as new shares are issued. This was the case for General Motors Co. (NYSE: GM) Chapter 11 filing in 2009. This was also the case with American Airlines Chapter 11 filing in 2011.
After restructuring the company emerged from bankruptcy in 2013. When American Airlines issued new stock, the previous shareholders were stuck with worthless stock. The recent case of rental car giant The Hertz Corporation (NASDAQ: HTZ) emerged from Chapter 11 and resumed NASDAQ trading on November 9, 2021. Old shareholders got a package deal of cash, 3% stock of the new company, and warrants for 18% of the newly reorganized company.
Lucira needs to raise cash. It's trying to preserve as much cash as possible to buy enough time to launch sales of its combo test and find a buyer for the business. The expedited sale of the business awaits approval from the U.S. Bankruptcy Court. Unlike the earlier examples, Lucira plans to sell the business rather than go it alone and emerge from Chapter 11. This may be driving speculators to pile into the stock.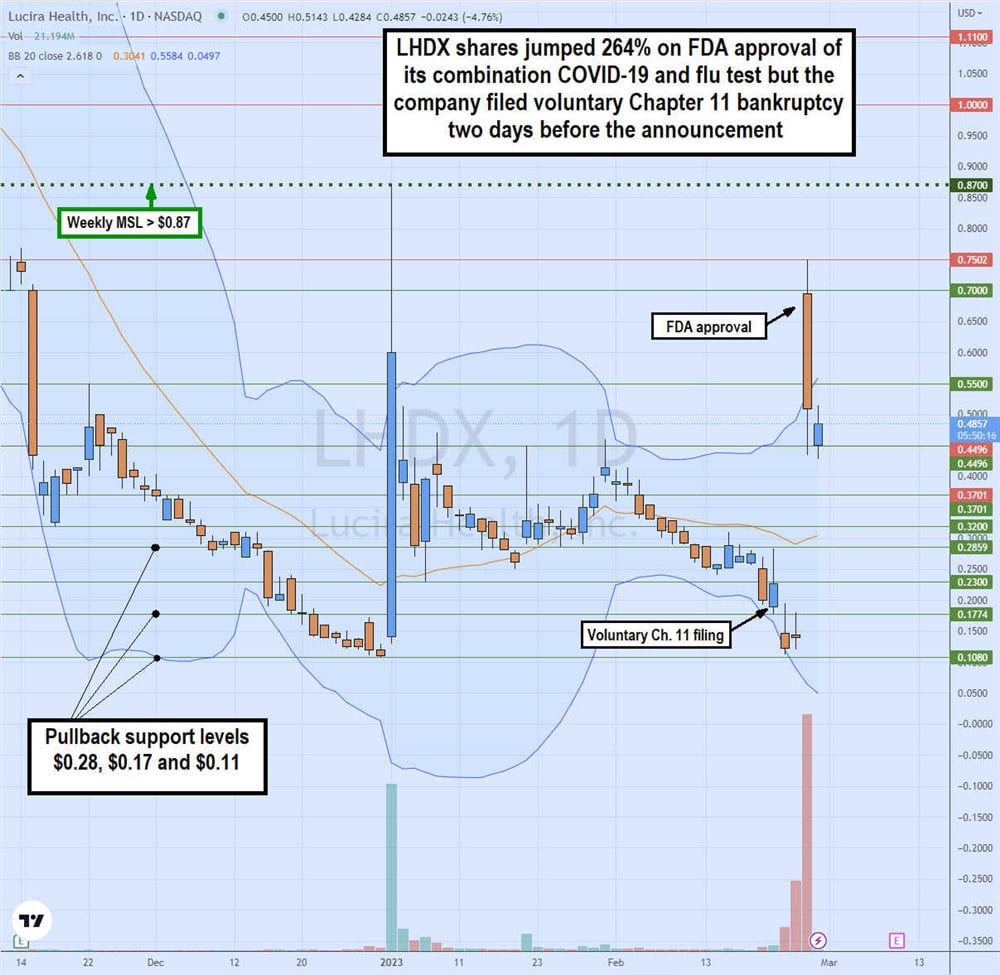 Gap and Crap or Gap and Go
The daily candlestick chart on LHDX illustrates the rollercoaster price action for Feb. 20, 2023. On Feb. 22, Lucira announced its voluntary Chapter 11 filing, causing shares to gap down and selloff to a low of $0.11 on Feb. 23. On Feb. 24, Lucira announced the long-awaited FDA approval for its combination COVID-19 and flu home test caused shares to surge over 700% off previous day lows to a high of $0.75 before closing at $0.52, up only 264% on a massive 278 million shares of the trading volume.
This was 6X of its total outstanding shares traded in a single day. The $0.87 is the weekly market structure low (MSL) trigger. Pullback support levels are $0.28, $0.17, and $0.11. Be aware that shares may be delisted during Chapter 11 but shares may spike on sentiment.