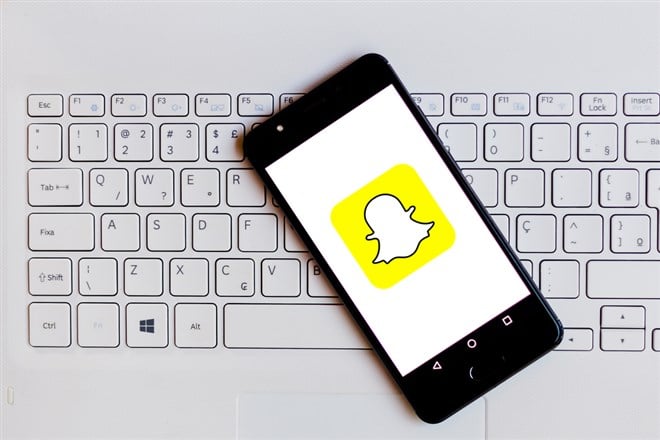 Social media platform Snap Inc. (NYSE: SNAP) stock took a (-15%) dive on its fiscal Q4 2022 earnings release. Its report had few optimistic highlights as it continues to suffer from the slump in global digital advertising. Its average revenue per user (ARPU) continues to slide from the year-ago period despite rising daily active users (DAUs). Like Roblox Co. (NASDAQ: RBLX), Snapchat is seeing more traffic but less spending.
Bulls argue that the growing MAU sets up the ARPU to snap back quicker on a larger scale when the digital advertising market rebounds. Snap also remains the cheapest large-scale publicly traded social media platform next to social commerce platform Pinterest Inc. (NASDAQ: PINS) for a potential acquisition since 90% of 13 to 24 year old are active users. The potential for a federal TikTok ban or a ban from app stores is another catalyst for a significant price spike in shares.
Growth Engine Backfiring
On Jan. 31, 2022, Snap released its fiscal fourth-quarter 2022 results for the quarter ending Dec 2022. The Company reported an adjusted earnings-per-share (EPS) profit of $0.14, excluding non-recurring items, versus consensus analyst estimates of $0.12, beating estimates by $0.09.
Adjusted EBITDA fell (31%) to $212 million and 16% margin. Revenues rose 0.1% year-over-year (YOY) to $1.3 billion, missing analyst estimates of $1.31 billion. DAUs rose 17% YoY and 4% quarter-over-quarter (QoQ) to 375 million. DAUs rose sequentially YoY in North America, Europe, and the rest of the world.
Time spent watching Spotlight rose 10% YoY, and 17 content providers had more than 50 million global viewers each. Snapchat+ hit over $2 million subscribers. An average of 250 million Snapchat users use augmented reality (AR) daily. The Company will continue investing in AR's future to expand its leadership position.
More DAU Growth by Less ARPU Breakdown
While Europe and the rest of the world are experiencing the fastest growth compared to North America, the ARPU is $2.90 versus $0.80 and $0.40 in Europe and the rest of the world, respectively. The DAUs in North America was 100 million, up 3% YoY with an ARPU of $2.90, down (-7%) YoY. Europe saw 92 million DAUs, up 12% YoY, and an ARPU of $0.80. In the rest of the world (ROW), Snapchat saw 183 million users, up 31% YoY with an ARPU of $0.40.
Erasing the Bar
Rather than cutting guidance, Snap opted not to provide revenue or EBITDA guidance altogether for fiscal Q1 2023 based on an uncertain economic climate. It did note that its Q1 2024 internal forecast is for revenues to fall between (-10%) to (-2%) in the quarter. This didn't help investor sentiment and caused shares to sink on the news.
CEO Comments
Snap CEO Even Spiegel said, "We continue to face significant headwinds as we look to accelerate revenue growth, and we are making progress driving improved return on investment for advertisers and innovating to deepen the engagement of our community." In the conference call, he explained that they focused on three strategic priorities.
These are to grow its community, deepen engagement with its products, and accelerate and diversify topline growth while continuing to invest in augmented reality. He did note the rapid deceleration in digital advertising growth. The Company had a tough year impacted by competition, platform policy changes, and macroeconomic headwinds.
Stock-Based Compensation
The Company continues to dilute shareholders with its stock-based compensation as share bonus expense was $451 million in the quarter, nearly 35% of total revenues. On the flip side, many of those expenses are related to sharing grants issued at $70 per share, which would overstate the expenses under GAAP reporting. However, the Company offset the dilution with its $500 million stock buyback program.
Senator Asks Apple and Google to Ban TikTok App
On Feb. 2, 2023, Colorado Senator Michael Bennett took to a big step forward by writing a formal letter to both Tim Cook, CEO of Apple Inc. (NASDAQ: AAPL), and Sundar Pichai, CEO of Alphabet Inc. (NASDAQ: GOOGL) owned Google to ban the TikTok app from its app stores. He cited data privacy and national security concerns. He noted that TikTok is the third-most used social media app in the U.S., with 61 percent of Americans ages 12 to 34 using TikTok.
The average users spend 80 minutes daily on the app, more than Meta Platforms Inc. (NASDAQ: META), Facebook, and Instagram combined. He stated that Chinese law mandates companies like its parent ByteDance to "support, assist, and cooperate with state intelligence work." ByteDance has had a history of aggressive data collection practices.
This could lead to the weaponizing of the app to influence its users. He noted that 27 state governments had passed full or partial bans on the app. He concluded his letter, "Given these grave and growing concerns, I ask that you remove TikTok from your respective app stores immediately." Both Companies have yet to respond. A federal TikTok ban or removal from the two dominant app stores could increase Snap shares.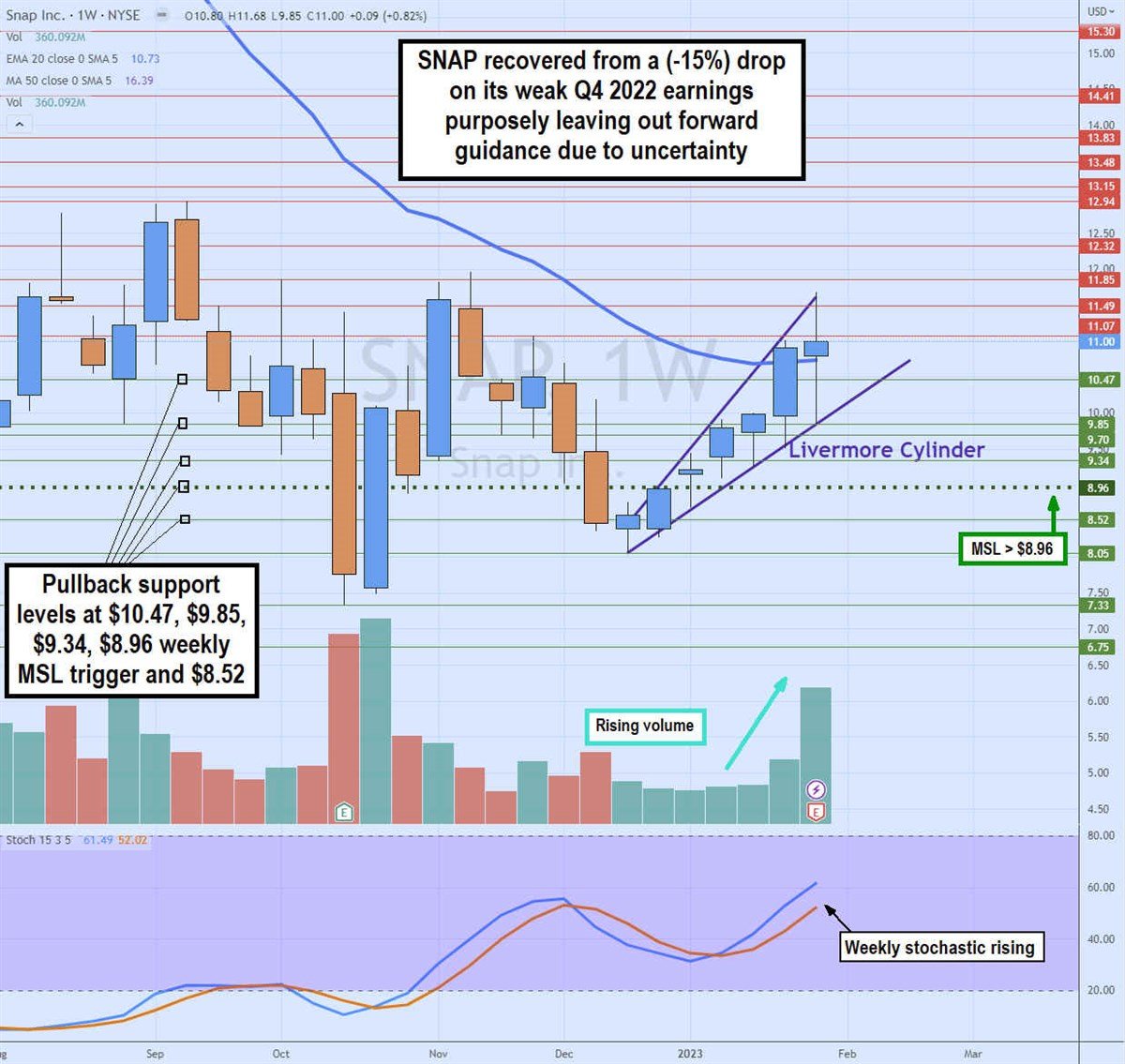 Livermore Cylinder Pattern
Despite the adverse reaction to its Q4 2022 earnings, SNAP shares bottomed out at $9.85 and rebounded sharply off that level. The weekly market structure low (MSL) trigger at $8.96 was left intact. SNAP bounced back up through the weekly 20-period exponential moving average (EMA) support at $10.73.
The weekly stochastic continued its rising higher. More notably, SNAP formed a rare bullish Livermore cylinder pattern, named after the iconic stock trader Jesse Livermore. A Livermore cylinder is an accumulation pattern where prices chop back and forth between rising, widening, and non-parallel trendlines as the volume increases.
This zig-zag action continues until the price eventually explodes through the upper trendline to new swing highs. Pullback supports sit at $10.47, $9.85, $9.34, $8.96 weekly MSL trigger, and $8.52.