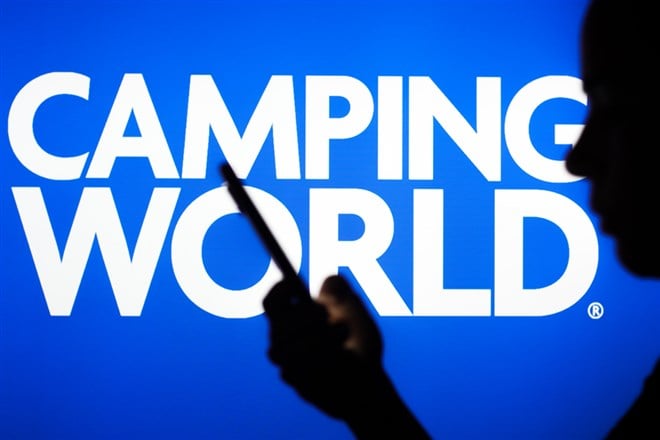 The market for Camping World (NYSE: CWH) fell sharply on February 21st, the day before the Q4 results were released, but this move was misplaced. Whether it was fear of slowing sales or an issue with the dividend, those fears were misplaced. The Q4 results aren't fantastic, and they come with a surprising loss, but also with proactive efforts to adjust to changing times that promise sustainability over the long term.
The risk with this stock is debt. It uses debt to leverage its growth, but it is now manageable. Provided this company can continue generating cash flow it should be able to continue expanding and then, down the road, work on its debt. 
Until then, Camping World pays a robust 10% dividend yield that management has indicated a desire to preserve. The debt is a concern, but coverage is sufficient at this time. The dividend payout ratio is running slightly high but is also covered at 60% of adjusted earnings. Investors should not expect a robust dividend increase, as has happened the last year or so. 
Camping World Sets Up For Sustainability 
Camping World issued mixed results for FQ4, but the takeaways are all positive. The revenue, which declined 7.1%, outpaced the Marketbeat.com consensus by nearly 500 basis points proving the resiliency of the business in the face of a broader industry slowdown. OEMs like Thor Industries (NYSE: THO) and Winnebago (NYSE: WGO) report much higher double-digit declines in new vehicle demand, expected to linger throughout the year.
Camping World's exposure to used vehicles and after-market sales helped to offset weakness in the new segment. New RV sales fell by more than 13%, but used sales fell only 4.8% and are supported by solid pricing. 
The surprising part of the report was the loss. The company's gross margin contracted by 459 basis points and SG&A expenses increased, but there is a mitigating factor. The contractions in the margin are largely due to clearance, inventory reduction, and other repositioning efforts. These efforts are not expected to be repeated in future quarters and will also help free up operating margins. 
Marcus Lemonis, Chairman and CEO of Camping World Holdings, Inc., stated, "The last several years of strong performance has bolstered our confidence in the long-term prospects of our business. In light of the short-term softening of demand and new vehicle margin compression, we recognized the need for aggressive annualized cost reductions, starting in the fall of 2022. This includes reduced headcount, the elimination or reduction of underperforming assets, locations, and business lines, while enhancing the wages and benefits of our employees."
The Analysts Are Still Buying Camping World 
The analysts have been supporting Camping World, and that trend is not changing. Only 1 new commentary has shown up on Marketbeat's analyst tracking page, but it is a reiteration of an Overweight rating with a price target of $31 that assumes 30% of upside for the stock.
This is from Stephens and compares to a Moderate Buy consensus rating and a price target of $32.50. That target has held firm over the last few months and is helping to put a bottom in the price action. 
Shares of Camping World have been trending sideways within a range since hitting bottom in mid-2022. The market just retested support at the low end of that range and support was confirmed. A rally may not come at this point in the action, but a continuation of the range is likely, as is the dividend.