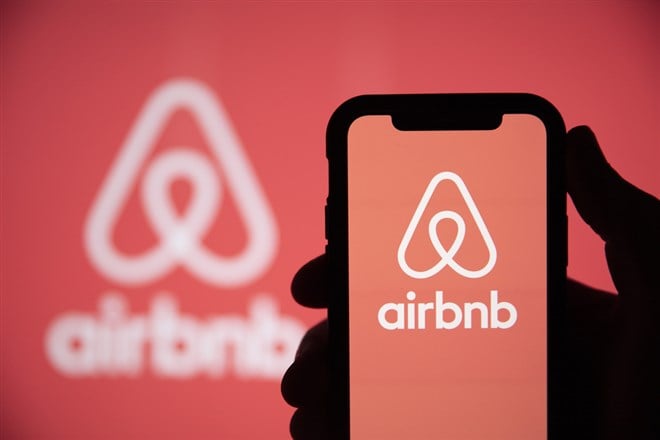 Digital lodging platform Airbnb Inc. (NASDAQ: ABNB) stock exploded upside on its Q4 2022 earnings release.  The Company posted strong top and bottom line results as shares spiked over 13% in reaction.  The post-pandemic recovery in the travel and leisure sector continued through the holiday season. 
Travel demand remained strong, as also confirmed by solid earnings reports from airlines like United Airlines Holdings, Inc. (NYSE: UAL), Delta Air Lines Inc. (NASDAQ: DAL), and American Airlines Group Inc. (NYSE: AAL).  TripAdvisor (NASDAQ: TRIP) and Booking Holdings Inc. (NASDAQ: BKNG) earnings continued this trend.  Heading into 2023, the Company is still dealing with recession fears, high inflation, and the war in Ukraine.
Airbnb finished its first most GAAP profitable year in 2022 with $1.9 billion in GAAP profits.  Its performance underscores the shift in consumer spending from goods like apparel and PCs to services like travel and leisure.  While the pandemic may be in the rearview mirror for the U.S., many other countries are still lifting COVID restrictions which provides room for growth for the Company.
Room for Growth
Airbnb has a long runway for growth as it continues to grow its listings to meet the demand for vacation rentals.  The competition for bookings between property owners is fierce, with more and more landlords getting into the game.  However, like Uber Technologies Inc. (NASDAQ: UBER), the Company has an asset-light model in which the property owners handle the property and the upkeep.  At the same time, Airbnb plays the middleman connecting travelers with hosts.
Uber only pays drivers when they complete rides, not if they are trawling or online waiting for a ping.  Airbnb is in the same boat as hosts compete to pull guests.  Airbnb is under no obligation to pay hosts anything if their property doesn't get rented.  There is plenty of drivers for Uber or hosts for Airbnb.  But unlike Uber, Airbnb is very GAAP profitable.
Regulatory Risks
One of the risks for Airbnb's business model is the potential for legislative policies in certain areas and neighborhoods that restrict or prohibit short-term rentals and sub-leases.  Regulation gets handled on a state and local level.  In New York City, short-term rentals of complete apartments are banned except when the owner is present. 
In Chicago, short-term rentals are prohibited except for specific neighborhoods.  In Santa Monica, short-term rentals under 30 days are banned.  Some areas may specifically have zoning or licensing requirements.  Much of the landscape had little regulation, but it's likely coming as hosting gains more popularity.
Despite regulation, Airbnb has plenty of rentals on its platform.  The Company continues to onboard new hosts with a simplified listing process.  It also has a program connecting new hosts with its Super Host one-to-one guidance through the first reservation.  It ended the year with 6.6 million active global listings, up from 5.7 million at the start of 2022.
Blow Out Q4 2022 Earnings
Airbnb had previously noted in its Q3 2022 earnings that Q4 2022 bookings "would moderate slightly from Q3".  It caused the stock to collapse under $100. 
On Feb. 14, 2022, Airbnb released its fourth-quarter 2022 results for December 2022.  The Company reported a GAAP earnings-per-share (EPS) profit of $0.48 versus consensus analyst estimates for a profit of $0.27, beating estimates by $0.21.  Net income was $319 million for the quarter and $1.9 billion for the year.
Without FX headwinds of a strong dollar, the Company made $385 million in Q4 net income and $2.2 billion in full-year 2022 net income.  Revenues rose 24.2% year-over-year (YOY) to $1.9 billion, beating analyst estimates of $1.86 billion.  Nights and Experiences booked rose 20% YoY to 88.2 million.  Gross booking value (GBV) grew 20% to $13.5 billion.  Adjusted EBITDA was $806 million.
Strength Expected to Continue In 2023
The Company provided upside guidance for Q1 2023 revenues of $1.75 billion to $1.82 billion versus $1.69 billion consensus analyst estimates.  The Company is seeing strong demand in Q1 2023 as Europeans book their summer travel early.  Due to competition, Airbnb is seeing downward pressure on the average daily rate (ADR) and will be introducing new pricing and discounting tools. 
It should drive better affordability for guests and drive booking growth.  For hosts, it could be a race to the bottom regarding rental prices.  Uber and Lyft Inc. (NASDAQ: LYFT) started with a race to the bottom for cheaper fares to passengers as drivers got paid less, then raised fares while drivers still got paid less.
ABNB CEO Brian Chesky commented on many positive travel trends on the conference call, "First, guest demand at Airbnb remains strong.  Nights and experiences booked increased by 20% in Q4.  We had our highest number of active bookers in Q4, demonstrating guest excitement about travel on Airbnb despite evolving economic uncertainties.  During the quarter, we also continued to see guest booking trips further advance supporting a strong backlog for Q1."
He noted that guests came back to the cities and cross-border.  Cross-border growth of nights booked rose 49%, and high-density urban nights rose 22% YoY. Guests are booking longer stays.  Long-term stays make up 21% of total bookings.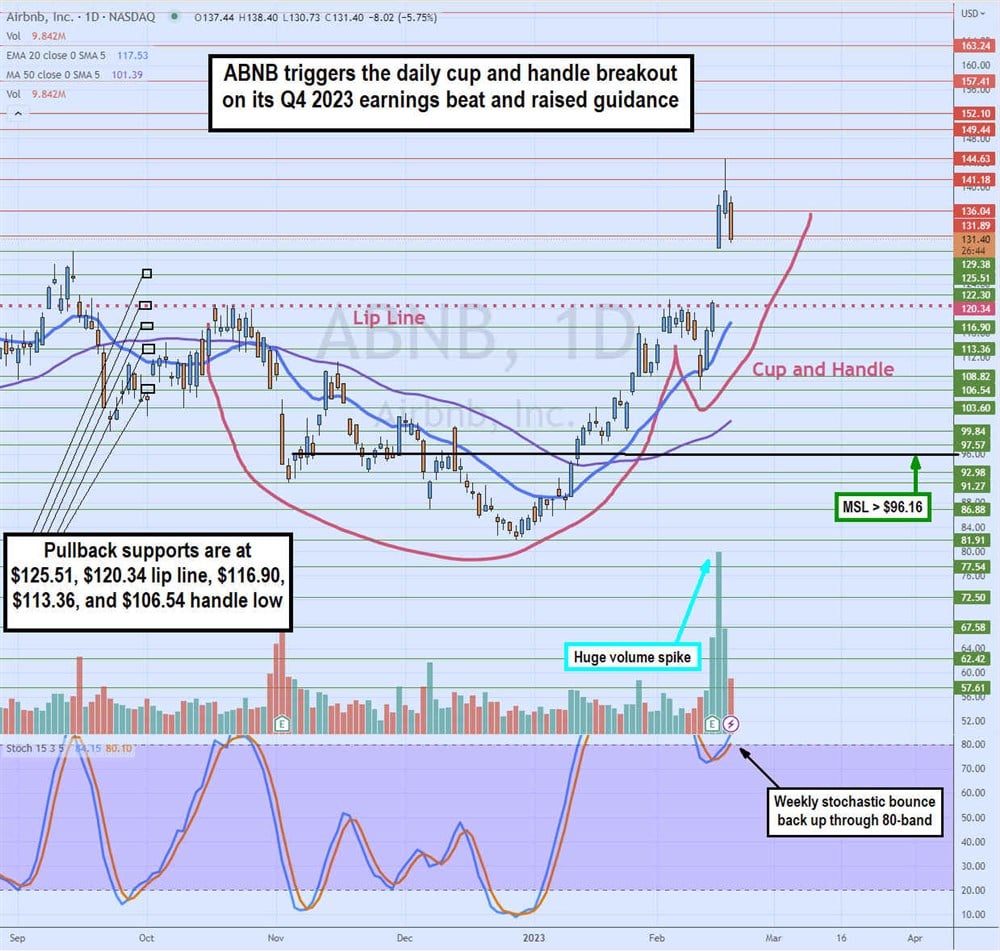 Daily Cup and Handle Breakout
The daily candlestick chart for ABNB depicts a classic cup and handle breakout.  The lip line resistance formed at $120.34 on Oct. 21, 2022.  Shares continued to fall to a low of $81.91 on Dec. 28, 2022.  It eventually formed a rounded bottom as the daily stochastic bounced back up through the 20-band and triggered the daily market structure low (MSL) breakout through $96.16. 
The stock rallied back to retest the $120.34 lip line and complete the cup on Feb. 7, 2023.  ABNB shares retraced down to $106.54 before bouncing to form the handle breakout on its Q4 2022 earnings release.  ABNB gapped up through the lip line as it peaked at $144.63.  There is a gap fill at the lip line. 
Pullback support levels are at $125.51, $120.34 lip line and gap fill, $116.90, $113.36, and $106.54 handle low.