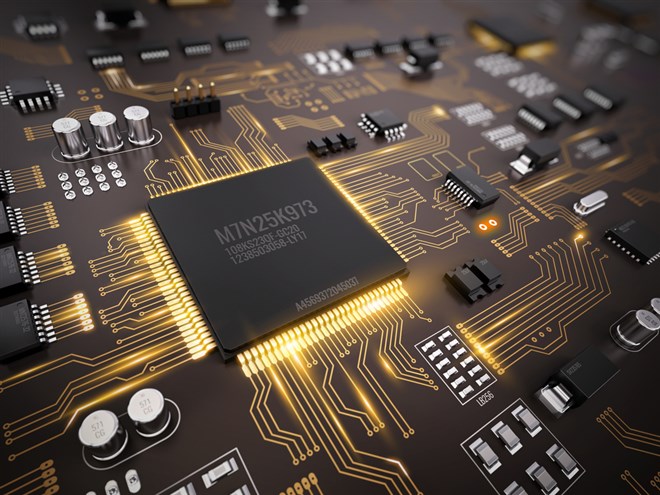 Allegro Microsystems (NASDAQ: ALGM) share prices are advancing at a brisk pace on the news the company's business is better than expected. The company, a semiconductor/integrated circuit manufacturer, provides sensor IC and app-specific analog ICs to the auto OEM and industrial market.
Demand in these markets is high and driven by the shift to EV, self-driving and autonomous vehicles and by the rapidly advancing state of technology within the industrial sector. Industries from energy to autos are leaning into technology to improve operations and increase efficiency, which this company is in business to provide. 
"Momentum in e-Mobility applications, including xEV and ADAS, as well as strong demand across our magnetic sensor and power IC product portfolios, continues to drive growth," said Vineet Nargolwala, President and CEO of Allegro MicroSystems. " … We also achieved another record quarter in our Industrial business, led by ongoing growth in Clean Energy and Industrial Automation end markets," he added. 
Allegro Microsystems In Hyper-Growth Mode 
Allegro Microsystems is not a new business despite the young age of the public company. The business has been around since 1990 but is just now coming into its own. The FQ3 revenue reached $248.8 million to set a company record. This is up 33.3% over last year and it beat the consensus estimate due to the product-rich mix that also drove margin expansion.
On a segment basis, the Automotive segment grew by 30% but was led by stronger 59.9% growth in the Industrial market. The most exciting news for investors is that gross margin expanded to record levels and drove solid bottom-line performance. 
Not surprisingly, the company's "Other" business, which is about 10% of revenue and includes computing, consumer and smart home, declined by double-digits. This is an echo of what we heard from AMD (NASDAQ: AMD) and suggests weakness could be felt by names like Intel (NASDAQ: INTC) which has already provided weak guidance, and NVDA (NASDAQ: NVDA), which is set to report later this month. 
Margin expanded at the gross and operating level and on a GAAP and adjusted basis to record levels. This drove a 94% increase in the GAAP earnings and an 84% in adjusted earnings that were well above the consensus. The $0.35 in EPS is more than 1000 basis points above the Marketbeat.com consensus and is accompanied by strong guidance.
While diversification will help AMD sustain its business through 2023, Allegro Microsystems' business-specific business model and low exposure to consumer trends, have it set up for growth. The company is not only guiding for growth but the guidance is above the consensus at the top and bottom line showing clear momentum in the business. 
The Analysts Are Supporting Allegro Microsystems 
The 6 analysts with current ratings support the price of Allegro Microsystems and may lead it higher. The Marketbeat.com tracking page has the sentiment pegged at Buy, which has been steady over the last year. What's different is the consensus target has rebounded smartly and is now near record levels. The post-release action has the price target even higher and suggests a break to new highs is in the works for the share price. 
The charts are in agreement with that outlook. The weekly chart shows a strong candle moving up from support within an uptrend that has already set an intra-week all-time high. Assuming the market can close at the current levels or higher, this market should continue higher in the near to mid-term and could easily surpass the current high price target of $44.