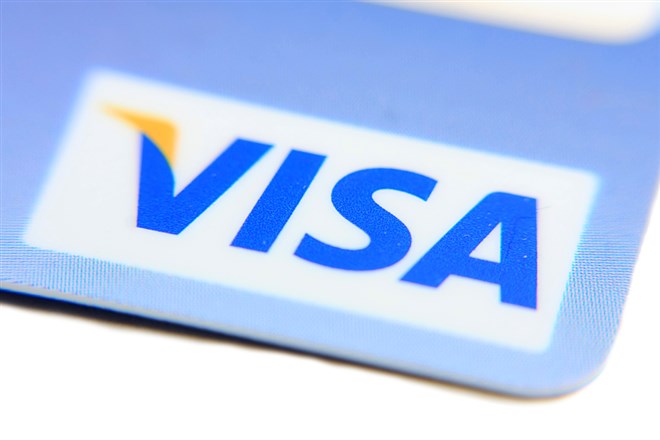 Despite decentralized payment systems continuing to gain market share and headline space, investors should be interested that shares of Visa Inc. (NYSE: V) are trending toward all-time highs. Having hit multi-year lows in September, shares of the card payment giant have tacked on a solid 30% since then.
These gains come despite an inflation crisis increasing the cost of living and decreasing consumer spending. This is, on paper, at least, a fundamental headwind to how the likes of Visa make their money.
But perhaps it's the eye-watering sell-off we've seen in Bitcoin and the like that is driving consumers back to simple old-fashioned card payments. So let's look at some bullish drivers and voices behind Visa's stock as we head into 2023.
Bullish Fundamentals 
For starters, analysts over at Keybanc just upgraded Visa shares to Overweight from Sector Weight last week. This came on the back of travel-related dislocation concerns fading, with a continued trend toward diversification backing up the bullish stance.
The team there upped their target price from $187 to $250, which points to an additional upside of some 10% from where shares closed on Friday. In addition, analyst Josh Beck and his team expect the card processor to post earnings per share of $2.01 for the first quarter of 2023, which will be a solid improvement on the $1.93 from last quarter. 
The team over at Wolfe Research also raised their price target for Visa from $240 to $255 earlier this month. If shares hit this in the coming months, it would be a fresh all-time high.
These moves were echoed by the team at Credit Suisse, who recently added Visa to their list of HOLT stocks, which includes their highest conviction outperforming ideas. This list includes names where Credit Suisse "analysts' estimates and target prices are above consensus and consensus, is not overly bullish."
Interestingly, and one for investors to take note of, Mastercard Inc (NYSE: MA) did not find itself on that list. This is despite them being upgraded by the team at Keybanc the previous week. 
In addition, a recently announced partnership with PayPal Holdings Inc (NASDAQ: PYPL) and their money transfer service, Xoom, is indicative of strategic thinking by leadership keen to drive further diversification. The expansion allows Xoom customers in the US to send money directly to eligible Visa debit cards in 25 countries and should go a long way to strengthening Visa's market share.
The service was meant for easier and faster access to funds than wire transfers. While you would think to switch to crypto payments for cheaper and quicker transactions, this mode of payment is still questionable in many nations worldwide. If all goes well, PayPal will introduce Visas in more countries globally. 
Weighing Up The Buy
Despite the strong stock performance and bullish voices in the mix, some risks exist. For example, Visa and Mastercard are the leading players in the global payment processing market and are effectively considered a duopoly.
As a result, they hold bargaining power over consumers and can charge what they like regarding transaction fees. As a result, the American Free Enterprise Chamber of Commerce is looking to rein them in and is about to launch a new campaign. 
In addition, further weakening of the economy and an official landing of a recession could hurt Visa's volume levels and, as a result, overall revenue. While they've managed to navigate this risk so far, who's to say the environment doesn't get much worse in the months ahead? Did many of us see 2022 being the year it was this time last year?
For all that, though, Visa shares are on one of their strongest uptrends in recent months and are less than a 15% move away from hitting an all-time high. That they've managed to do this despite a challenging trading environment is a testament to management's running of the ship and forward-thinking mindset, both of which bode well for the stock in the coming months.