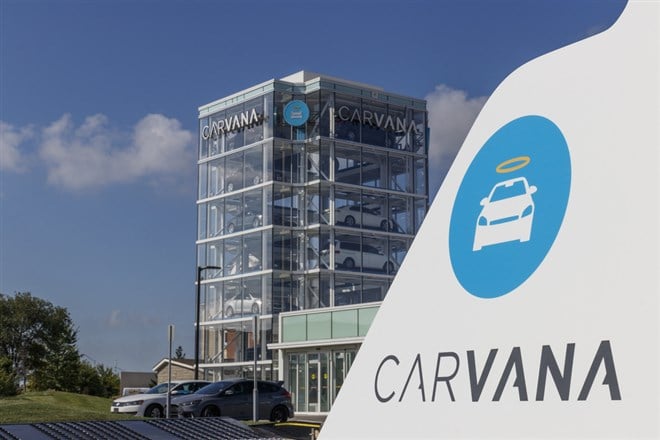 The Carvana Co (NYSE: CVNA) stock price has gone thru a process of recovery over the past five days and rallied especially strongly yesterday.
Shares of the online used car retailer jumped 46 percent in yesterday's trading session, while it's also up 74.95 percent since Jan 6.
This bounce in the company's stock price follows a massive sell-off in August last year, as seen below on the monthly charts. The share is currently down 97.78 percent from reaching that peak last year.
What's unusual about this rally is that there's recently been no news from the company to make sense of it. However, there has been one development that could have moved the needle. Let's take a look at what could have been.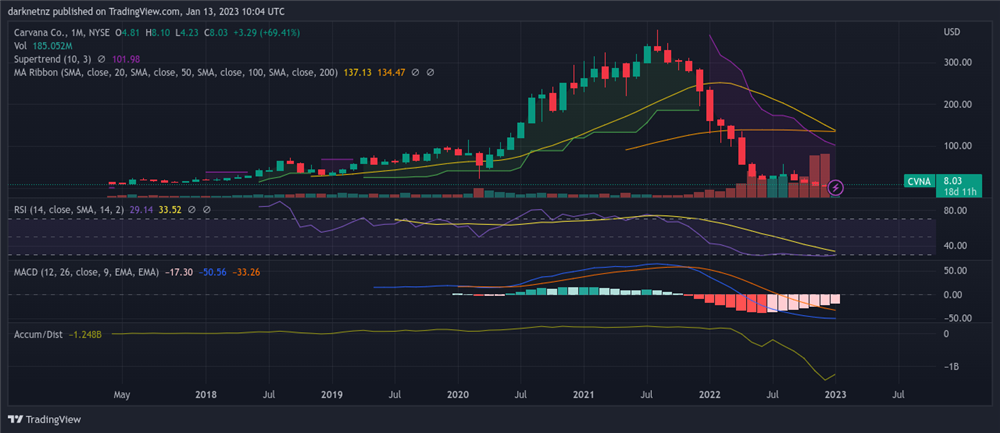 Wholesale used car prices look to recover
Coinciding with the rally was the announcement that used vehicle prices could be rising, according to data published by Manheim Consulting. Reading the Manheim Used Vehicle Value Index (MUVVI) shows that the prices of second-hand vehicles rose 0.8% from December to November last year due to seasonal adjustments.
However, putting this gain into perspective that prices are down 14.9 percent on a year-over-year basis, yet its rating of 219.3 is still higher than the pre-pandemic levels, with COVID-19 causing prices to surge.
Another factor that could play a part in this bullish recovery is that one measure of consumer confidence recovered. This came in the form of a boost to Manheim's Conference Board Consumer Conference Index, which gained 6.8 percent in the month of December.
Some bad news is that although prices made a modest upside increase when adjusted, used retail vehicle sales plummeted 7 percent in December from November last year.
These figures are important when considering Carvana's operating segments and broader business model. Carvana is an online used-car dealership that offers an alternative to traditional car-shopping experiences.
One of its most important operating segments is the sale of used vehicles through its online web properties. These properties have been somewhat empty due to the drop in used car prices and car sales across the board.
So a slight bump in car prices solves a small part of the issue for Carvana, but its top line may continue to suffer. Let's look at how else the company stands from a fundamental perspective.
What do Carvana's fundamentals look like?
In two words: not good. The company's consolidated net income loss for FY2021 stood at $287 million. These losses each financial year stretch as far as the company has been listed as a going concern, but then that might be in the evolving process.
The firm's total liabilities jumped from 2,223 million in FY2020 to 6,490 million in FY2021. Most of those liabilities can be chalked up to its now extremely leveraged balance sheet. The company has around $6.616 billion worth of long-term debt. This equates to an astonishing debt/equity ratio of 17.69. A reading above 2 is considered risky for most companies.
Adding to the pain for its fundamentals is that it will be difficult to secure future cash if it wants to turn the company around due to rising interest rates and its lack of success. Higher interest rates also make borrowing for its customers more expensive, thus hitting the company from several angles.
How will a recession change things?
Then there are more threats looming on the horizon. This time it's in the form of the oft-talked-about recession that we've only started to see glimpses of in certain pockets of the economy.
Unfortunately for Carvana, the used car market is often the first to feel the effects of an economic recession, as people become more reluctant to purchase large items such as cars. However, during a recession, people are often more likely to buy a used car over a new one because of the cost savings associated with the purchase. As a result of the increased demand, prices for used cars tend to go up during a recession.
On the supply side, people may be more likely to sell their used cars during a recession to free up some extra cash. This can lead to an increase in the supply of used cars, which could help to drive down prices.
Also, as people become more cautious with their spending, they may be more likely to invest in reliable used cars, which could mean that the quality of used cars is higher than it would be during a more prosperous economy.