05/18/2023, Charlotte, NC // PRODIGY: Feature Story //



Greater Life Chiropractic is pleased to share that Charlotte Life Magazine has named them one of the best chiropractors in Charlotte, NC. Led by Dr. Grant Lisetor, the clinic is dedicated to helping patients experience a healthier and happier lifestyle. Dr. Lisetor is highly trained and specializes in techniques such as Gonstead, Activator, and Diversified. This expertise and knowledge allows him to provide customized care for each patient. The clinic has received several reviews and positive testimonials from its customers, whether about its professional staff or its holistic approach to care and long-lasting results.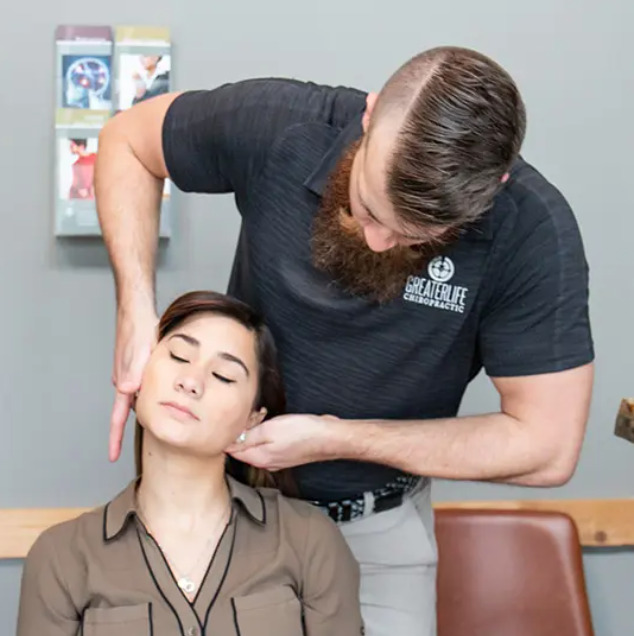 Charlotte Life Magazine has a special set of criteria in making their selection, and Greater Life Chiropractic checks all the boxes: patient reviews and testimonials, the chiropractor's expertise and qualifications, the services provided and techniques used, the clinic's commitment to educating the patients with an aim for prevention, and the chiropractor's contribution to the local community. It is no easy feat to appear on this list as the juries conduct extensive research, carefully consider every aspect of the criteria, and offer unbiased reviews.
Anyone suffering from chronic pains, headaches, sports injuries, sciatica pain, or any other discomfort should visit the best chiropractor in Charlotte, NC, at the Greater Life Chiropractic Clinic. Their chiropractors ensure that patients experience long-term relief. Their treatments are designed in a way that patients don't have to make several trips to the clinic. The care provided here is a natural approach to healthcare which is proven to be safe and effective in treating a wide range of ailments. The techniques not only help relieve existing symptoms but also address the underlying causes of such symptoms.
Greater Life Chiropractic is known for their customized and patient-centric care. With a state-of-the-art clinic and dedicated staff, they help patients heal in a comfortable and friendly atmosphere. They use the latest chiropractic tools and technology at the clinic to ensure that patients get the highest level of care.
Aside from providing effective pain relief and increased mobility in a variety of musculoskeletal issues and targeting treatments to address the root causes of discomfort, their team of the best chiropractors in Charlotte, NC, also offers manual therapies such as manipulation, stretching, exercising, massage, and many others to restore the normal joint motion while reducing pain. The clinic also provides educational workshops and resources to help patients improve their knowledge and prevent health issues.
To learn more, visit https://getgreaterlifechiropractic.com/chiropractor-charlotte-nc/
About Greater Life Chiropractic
Greater Life Chiropractic is a team of professional chiropractors in Charlotte, NC, committed to providing whole-body care, focusing on creating healthier and happier lifestyles for patients. They specialize in prenatal care, athletic recovery, and pediatric care.
###
Media Contact
Greater Life Chiropractic
Address: 624 Tyvola Rd. Ste. 100, Charlotte, NC 28217
Phone: 704-770-8436
Website: https://getgreaterlifechiropractic.com/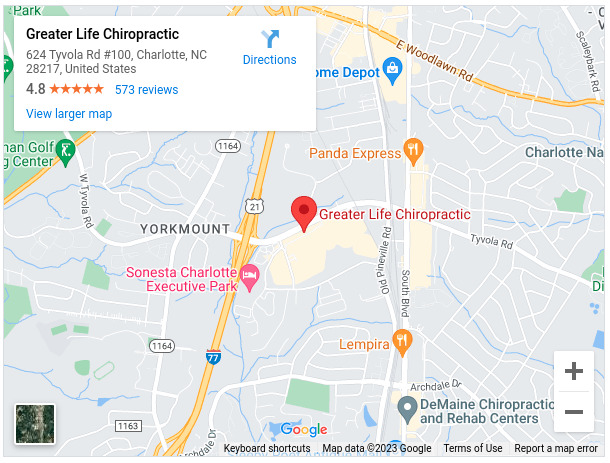 newsroom: news.38digitalmarket.com




Source: 38 Digital Market News

Release ID: 617303

Source published by Submit Press Release >> Charlotte Life Magazine Names Greater Life Chiropractic as One of the Best Chiropractors in Charlotte, NC