TORRANCE, Calif., Sept. 06, 2023 (GLOBE NEWSWIRE) -- Navitas Semiconductor (Nasdaq: NVTS), announced the world-wide launch of GaNSafe™, a new, high-performance wide bandgap power platform at a special customer, partner and press event today in Taiwan. Navitas has optimized its 4th-generation gallium nitride technology for demanding, high-power applications in data centers, solar / energy storage and EV markets, where efficiency, power density and robust & reliable operation are critical.

At the worldwide launch event at the Marriot Taipei, Navitas' David Carroll, Sr. VP Worldwide Sales, and Charles Bailley, Sr. Director Business Development will introduce Navitas and the new GaNSafe platform to an invited VIP audience of over 50 high-ranking customer attendees, plus industry partners and international media.
The new 4th-generation GaN power ICs are manufactured in Hsinchu, by long-term Navitas partner TSMC. Navitas is grateful to Dr. RY Su, Manager of GaN Power Technology at TSMC, who will make a special presentation on the future of GaN at the GaNSafe launch.
Navitas' GaNFast™ power ICs integrate gallium nitride (GaN) power and drive, with control, sensing, and protection to enable faster charging, higher power density, and greater energy savings, with over 100,000,000 units shipped, and an industry-first 20-year warranty. Now, the new GaNSafe platform has been engineered with additional, application-specific protection features, functions and new, high-power packaging to deliver enabling performance under grueling high-temperature, long-duration conditions.
The initial, high-power 650/800 V GaNSafe portfolio covers a range of RDS(ON) from 35 to 98 mΩ in a novel, robust, and cool-running surface-mount TOLL package, to address applications from 1,000 to 22,000 W. GaNSafe integrated features and functions include:
Protected, regulated, integrated gate-drive control, with zero gate-source loop inductance for reliable high-speed 2 MHz switching capability to maximize application power density.
High-speed short-circuit protection, with autonomous 'detect and protect' within 50 ns – 4x faster than competing discrete solutions.
Electrostatic discharge (ESD) protection of 2 kV, compared to zero for discrete GaN transistors.
650 V continuous, and 800 V transient voltage capability to aid survival during extraordinary application conditions.
Easy-to-use, complete, high-power, high-reliability, high-performance power IC with only 4 pins, to accelerate customer designs.
Programmable turn-on and turn-off speeds (dV/dt) to simplify EMI regulatory requirements.
Unlike discrete GaN transistor designs, with voltage spikes, undershoot and specification breaches, GaNSafe delivers an efficient, predictable, reliable system. GaNSafe's robust 4-pin TOLL package has achieved the tough IPC-9701 mechanical reliability standard, and delivers simple, strong, dependable performance as compared to multi-chip modules which require 3x as many connections, and have poor cooling capability.
Navitas' market-specific system design centers offer complete platform designs with benchmark efficiency, density and system cost using GaNSafe products to accelerate customer time-to-revenue and maximize chance of first-time-right designs. These system platforms include complete design collateral with fully-tested hardware, embedded software, schematics, bill-of-materials, layout, simulation and hardware test results. Examples of system platforms enabled by GaNSafe technology include:
Navitas' CRPS185 data center power platform, that delivers a full 3,200 W of power in only 1U (40 mm) x 73.5mm x 185 mm (544 cc), achieving 5.9 W/cc, or almost 100 W/in3 power density. This is a 40% size reduction vs, the equivalent legacy silicon approach and reaches over 96.5% efficiency at 30% load, and over 96% stretching from 20% to 60% load, creating a 'Titanium Plus' benchmark.
Navitas' 6.6 kW 3-in-1 bi-directional EV on-board charger (OBC) with 3 kW DC-DC. This 96%+ efficient unit has over 50% higher power density, and with efficiency over 95%, delivers up to 16% energy savings as compared to competing solutions.
"Our original GaNFast and GaNSense technologies have set the industry standard for mobile charging, establishing the first market with high-volume, mainstream GaN adoption to displace silicon," said Gene Sheridan, CEO and co-founder. "GaNSafe takes our technology to the next level, as the most protected, reliable and safe GaN devices in the industry, and now also targeting 1-22 kW power systems in AI-based data centers, EV, solar and energy storage systems. Customers can now achieve the full potential of GaN in these multi-billion dollar markets demanding the highest efficiency, density and reliability."
The GaNSafe portfolio is available immediately to qualified customers with mass production expected to begin in Q4 2023. 40 customer projects are already in progress with GaNSafe in data center, solar, energy storage and EV applications, contributing to Navitas' $1 billion customer pipeline.
About Navitas
Navitas Semiconductor (Nasdaq: NVTS) is the only pure-play, next-generation power-semiconductor company, founded in 2014. GaNFast™ power ICs integrate gallium nitride (GaN) power and drive, with control, sensing, and protection to enable faster charging, higher power density, and greater energy savings. Complementary GeneSiC™ power devices are optimized high-power, high-voltage, and high-reliability silicon carbide (SiC) solutions. Focus markets include EV, solar, energy storage, home appliance / industrial, data center, mobile and consumer. Over 185 Navitas patents are issued or pending. Over 100 million GaN and 12 million SiC units have been shipped, and with the industry's first and only 20-year GaNFast warranty. Navitas was the world's first semiconductor company to be CarbonNeutral®-certified.
Navitas Semiconductor, GaNFast, GeneSiC and the Navitas logo are trademarks or registered trademarks of Navitas Semiconductor Limited and affiliates. All other brands, product names and marks are or may be trademarks or registered trademarks used to identify products or services of their respective owners.


Contact:
Stephen Oliver, VP Corporate Marketing & Investor Relations, ir@navitassemi.com.
PR Image :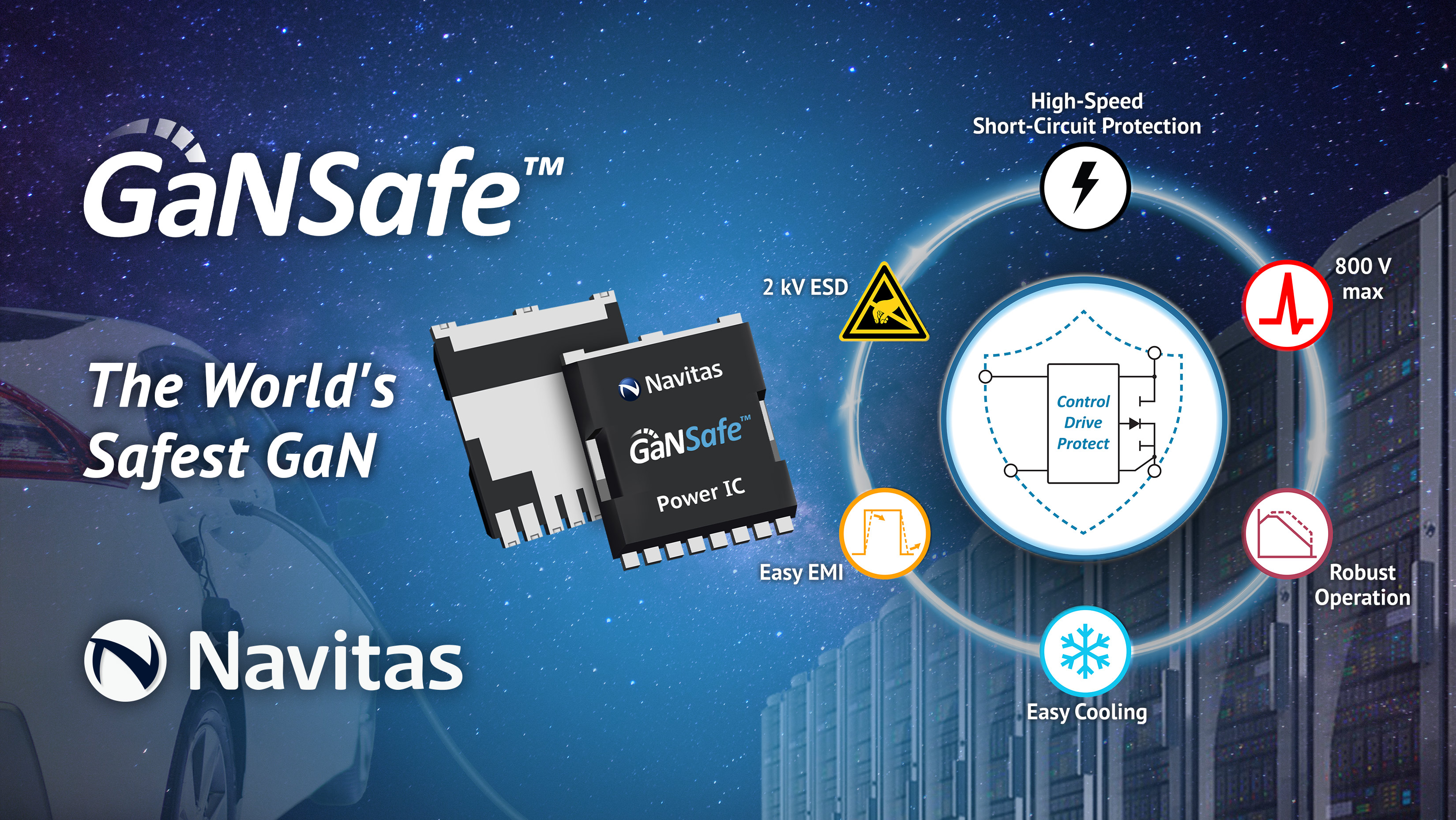 A photo accompanying this announcement is available at https://www.globenewswire.com/NewsRoom/AttachmentNg/1baea9d5-d832-437c-88c2-5d27abd8e1fe