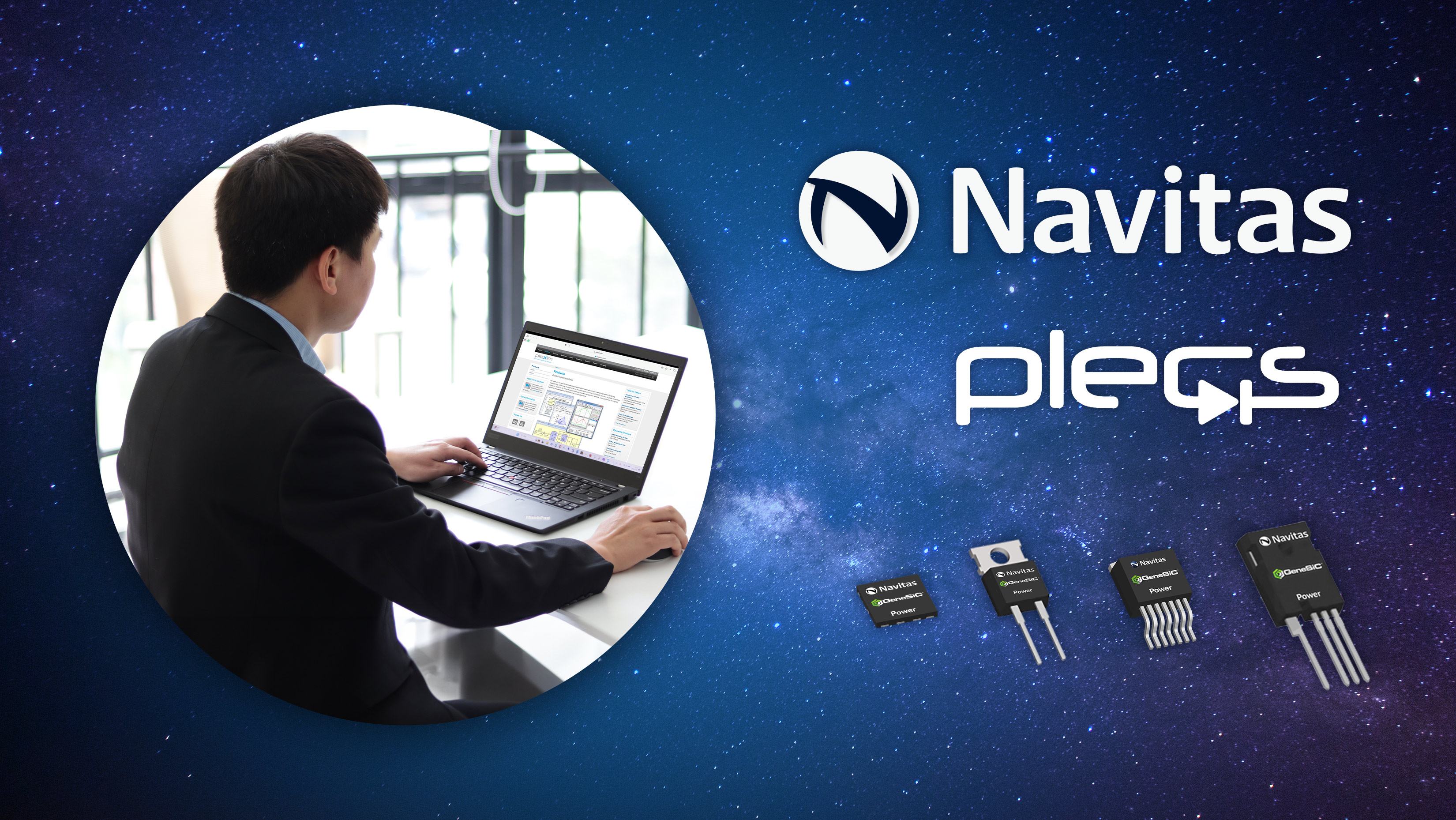 TORRANCE, Calif. and ZURICH, Switzerland, June 29, 2023 (GLOBE NEWSWIRE) -- Navitas Semiconductor (Nasdaq: NVTS), and Plexim GmbH announce a partnership to release GeneSiC G3™ SiC MOSFET and Gen 5 MPS diode PLECS thermal loss models for highly-accurate simulations of complete power electronics systems.

Power designers can simulate power and thermal losses in various soft- and hard-switching applications. Proprietary GeneSiC trench-assisted planar-gate MOSFET technology delivers the lowest RDS(ON) at high temperature and the highest efficiency at high speeds, and new MPS diodes with 'low-knee' characteristics drive unprecedented, industry-leading levels of performance, robustness and quality.
"Accurate, empirically-based simulation models maximize the chance of first-time-accurate designs, accelerating time-to-market and time-to-revenue," noted Dr. Ranbir Singh, Navitas EVP for the GeneSiC business line. "For the power designer, understanding the leading-edge performance of GeneSiC MOSFETs and MPS diodes with detailed device characteristics, plus power, efficiency and thermal analysis is a critical competitive advantage."
"The intuitive and highly-efficient PLECS lookup-table based approach to simulating thermal semiconductor losses in complex power electronic circuits is key," said Kristofer Eberle, Plexim, North America. "Unlike legacy modeling approaches that are not well-suited to new wide bandgap materials, PLECS uses a simplified, but accurate behavioral description to highlight the superior performance of the GeneSiC MOSFETs."
PLECS models for GeneSiC MOSFETs and MPS diodes are available today via genesicsemi.com.
About Plexim
Plexim provides design and testing tools for the power conversion industry. Its flagship product PLECS is the leading simulation software for power electronic systems and electrical drives used in applications including renewable energy, automotive, aerospace, industrial and traction drives, and power supplies. Plexim is located in Zurich and Cambridge, MA and has local distributors in Asian countries.
For more information, please visit https://www.plexim.com/company
About Navitas
Navitas Semiconductor (Nasdaq: NVTS) is the only pure-play, next-generation power-semiconductor company, founded in 2014. GaNFast™ power ICs integrate gallium nitride (GaN) power and drive, with control, sensing, and protection to enable faster charging, higher power density, and greater energy savings. Complementary GeneSiC™ power devices are optimized high-power, high-voltage, and high-reliability silicon carbide (SiC) solutions. Focus markets include EV, solar / energy storage, home appliance / industrial, data center, mobile and consumer. Over 185 Navitas patents are issued or pending. Over 75 million GaN and 10 million SiC units have been shipped, now with the industry's first and only GaN 20-year warranty. Navitas was the world's first semiconductor company to be CarbonNeutral®-certified.
Navitas, GaNFast, GaNSense, GeneSiC, and the Navitas logo are trademarks or registered trademarks of Navitas Semiconductor and subsidiaries. All other brands, product names, and marks are or may be trademarks or registered trademarks used to identify products or services of their respective owners.
Contact Information:
Kristofer Eberle, Director of Business Development: eberle@plexim.com
Stephen Oliver, VP Corporate Marketing & Investor Relations, ir@navitassemi.com
A photo accompanying this announcement is available at https://www.globenewswire.com/NewsRoom/AttachmentNg/11994a96-9bd7-4945-a960-6993e6cd8753