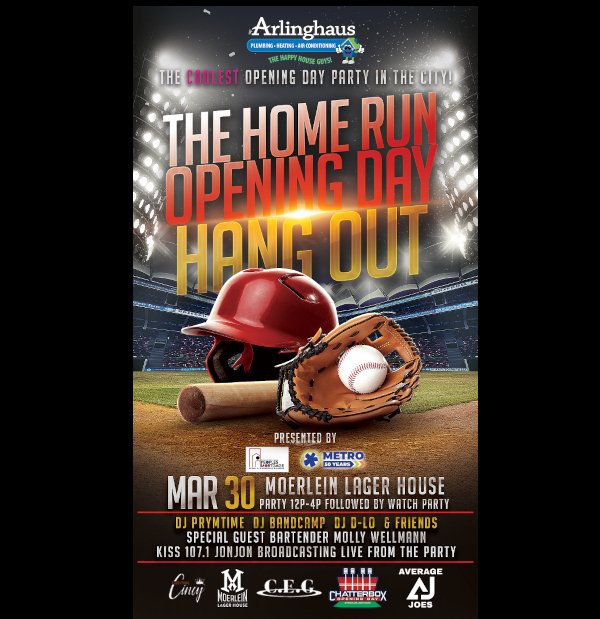 Moerlein Lager House, located adjacent to The Banks, is hosting a special event to kick off baseball's Opening Day celebrations in Cincinnati. "The Arlinghaus Home Run Opening Day Hang Out" will take place on Thursday, March 30th, from noon to 4pm on the Schmidlapp Event Lawn & Stage at Moerlein Lager House, followed by a Reds Opening Day Game Watch Party on a 17′ Jumbo Screen. The event is free and open to the public, so baseball fans and party-goers alike are invited to come out and enjoy the festivities.
The party promises to be an exciting one, with a full lineup of DJs, including DJ Prymtime, DJ Bandcamp, DJ D-Low & Friends, and special guest bartender Molly Wellmann. Pop-up bars throughout the event lawn & stage will be featuring special cocktails from Cincinnati's greatest mixologist, Molly Wellmann. There will also be special trivia for prizes from Chatterbox Sports, and celebrity appearances throughout the day. Kiss 107.1 JonJon will be broadcasting live for the event, adding to the already high-energy atmosphere.
Moerlein Lager House will be offering food and beverages throughout the event site, including a new Taco and Tequila stand, so guests can enjoy a variety of tasty treats while they take in the festivities.
"The Arlinghaus Home Run Opening Day Hang Out" is brought to you by Arlinghaus Plumbing Heating Air Conditioning, and is also presented by Peoples Mortgage and Metro. The event is supported by Everything Cincy, Moerlein Lager House, C.E.G., Average Joes, and Chatterbox Sports, all of whom have come together to make this celebration possible.
So whether you're a die-hard Reds fan or just looking for a fun way to kick off the baseball season, come out and join us for "The Arlinghaus Home Run Opening Day Hang Out" at Moerlein Lager House. With great music, delicious food and drinks, and plenty of excitement, it's sure to be a day to remember.
Location Info:
Moerlein Lager House
115 Joe Nuxhall Way, Cincinnati, OH 45202
+1-513-421-2337