New Delhi, India, Aug 25, 2023 - (ACN Newswire) - The energy transition in Indonesia must involve MSMEs, which play a significant role in Indonesia's economic growth. Thus, access to funding and technology is necessary for MSMEs to fully perform their roles as providers of community needs and job opportunities, enabling rural communities to increase their income.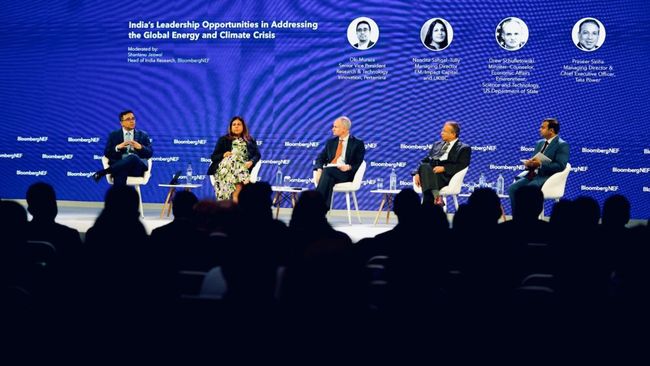 Oki Muraza, Senior Vice President, Research & Technology Innovation at PT Pertamina (L), during the Sustainability Summit B20 held in New Delhi, India (8/24). (Image: Pertamina)



In his presentation at the BNEF forum in New Delhi on August 24, 2023, Oki Muraza, Senior Vice President of Research & Technology Innovation of Pertamina, emphasized MSME involvement's importance in Indonesia's energy transition. He stated that community participation is vital in supplying the raw materials for low-carbon energy development. This process also creates job opportunities for the public while corporations benefit from carbon credits.

"The challenge lies in providing capital or funding and technology access to MSMEs, allowing them to effectively contribute to the energy transition and benefit both the community and corporations," said Oki.

As a developing country rich in natural resources, Indonesia encourages developed nations to provide funding to developing countries, enabling them to develop technology and its implementation with the assistance of countries that possess resources.

"Currently, there is a global economic gap between highly developed and developing nations. Highly developed countries have a GDP per capita of over USD 50,000, while developing countries like Indonesia have a GDP per capita of under USD 5,000. We hope this Capital Flow serves as a form of CBDR (Common but Differentiated Responsibilities)," added Oki.

Oki explained that by involving MSMEs in this energy transition, Indonesia aims to combine international aid, creating job opportunities for the public and benefiting companies in expediting the energy transition.

"We hope that the energy transition in Indonesia can serve as a role model for involving communities, generating employment opportunities, increasing rural incomes, and achieving a Nature-Based Solutions-guided energy transition," Oki stated.

Vice President of Corporate Communication of Pertamina, Fadjar Djoko Santoso, highlighted that MSMEs are the backbone of the national economy and a significant source of employment, underscoring their vital role in accelerating the energy transition.

"Pertamina has initiated the Desa Energi Berdikari program in 52 regions to provide access to renewable energy for MSMEs and communities, enabling them to become energy-independent," stated Fadjar.

Pertamina, as a leading company in the energy transition, is committed to supporting the Net Zero Emission 2060 target by continuously promoting programs that directly impact the Sustainable Development Goals (SDGs) achievement. All these efforts align with Environmental, Social & Governance (ESG) implementation across all Pertamina's business lines and operations.

Media Contact
Fadjar Djoko Santoso
Vice President of Corporate Communication
PT Pertamina (Persero)
M.: +62 813-2063-0765
E.: fadjar.santoso@pertamina.com

Source: PT Pertamina

Copyright 2023 ACN Newswire . All rights reserved.