Internet City, Dubai--(Newsfile Corp. - March 20, 2023) - Infinity Rocket Company is pleased to announce the sales start of the new Market Maker Tools for DEX. Infinity Rocket has been developing tech solutions for blockchain projects - the launchpad platform for start-ups along with market making trading bots since 2021.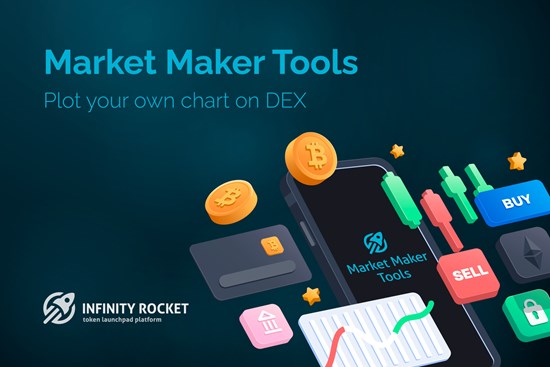 Infinity Rocket
To view an enhanced version of this graphic, please visit:
https://images.newsfilecorp.com/files/8831/158999_8d5d0bd544667aac_001full.jpg
The main aim after the token listing is increasing trading volumes and creating exchange charts, as well as attracting new investors.
The Program allows to automate the market maker process and manage dozens of wallets at the same time. Token owners will be able to shape the strategy or apply ready made token price changing scenarios on the exchange.
Introducing Infinity Rocket

Infinity Rocket Launchpad Platform is the multi-purpose platform that allows users to simplify the launch and promotion of any projects on the blockchain. Once connected to Infinity Rocket Platform, users will get a unique data asset, which enables real value creation through user generated events, lead captures, marketing promotions and much more. The platform provides promotional services for token launch. All the assistance is paid on the basis of a commission from the generated net profit.

Market Maker Tools for DEX - program solution allows you to create a large number of trading bots for performing market maker tasks: price holding, accumulation, distribution, providing necessary price impulse.

The team of Infinity Rocket has specialists from different spheres: IT, marketing, SEO, consulting, etc. With an international team of highly competent specialists in business and science, Infinity Rocket aims to support fundamental projects that enter the cryptocurrency world with the professional, fitted, and elastic marketing approach.
About IRT Token
Infinity Rocket Token (IRT) is the central part of Infinity Rocket Ecosystems. Based on BEP-20, IRT has a total supply of 200 million (i.e. 200,000,000) tokens, of which 50% will be burnt. The remaining 1 million tokens are distributed as follows: 30% is provided for exchange liquidity, 10% is allocated to founders and team, another 10% is allocated to advisors, 30% is reserved, and the rest 20% will be used for marketing.
Learn More about Infinity Rocket:

Market Maker Tools https://irocket.pro/market-maker-tools. Get a Trial.
Launchpad Platform: https://launchpad.irocket.pro
Official Website: https://irocket.pro
Telegram: https://t.me/irocketeng
Twitter: https://twitter.com/iRocketToken
Contact Details:
Vic Wild, CCO, Infinity Rocket
info@irocket.pro
To view the source version of this press release, please visit https://www.newsfilecorp.com/release/158999