--News Direct--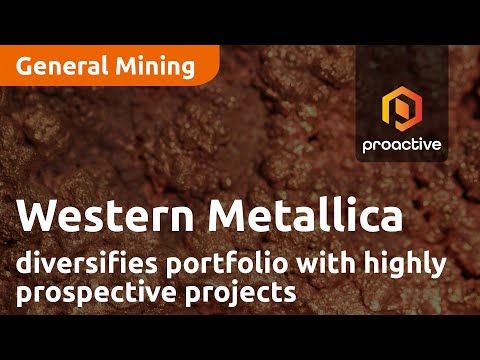 Western Metallica Resources CEO Gregory Duras joins Proactive's Stephen Gunnion with details of the company's acquisition of Consolidated Copper Corp, a private Canadian firm with two copper-molybdenum porphyry prospective projects in northern Peru.
The deal involved issuing 20 million shares and 5 million warrants to acquire two significant copper projects: Caña Brava and Turmalina. These projects showcase the potential for large porphyry-style copper systems with the ability to yield over 500 million tons of high-grade copper.
Duras said the move aligns with Western Metallica's transition to becoming a copper-focused company to capitalize on the growing demand for copper, especially in electric vehicle production.
Peru, as the world's second-largest copper producer, offers a favorable mining jurisdiction that has been improving transparency in permitting processes to foster growth.
The company's goal is to develop substantial copper resources in preparation for the projected rise in demand driven by electric vehicles and related technologies.
As Western Metallica progresses, it aims to contribute significantly to the evolving copper landscape.
Contact Details
Proactive Investors
+1 604-688-8158
na-editorial@proactiveinvestors.com
View source version on newsdirect.com: https://newsdirect.com/news/western-metallica-diversifies-portfolio-with-addition-of-highly-prospective-copper-projects-in-peru-648972053