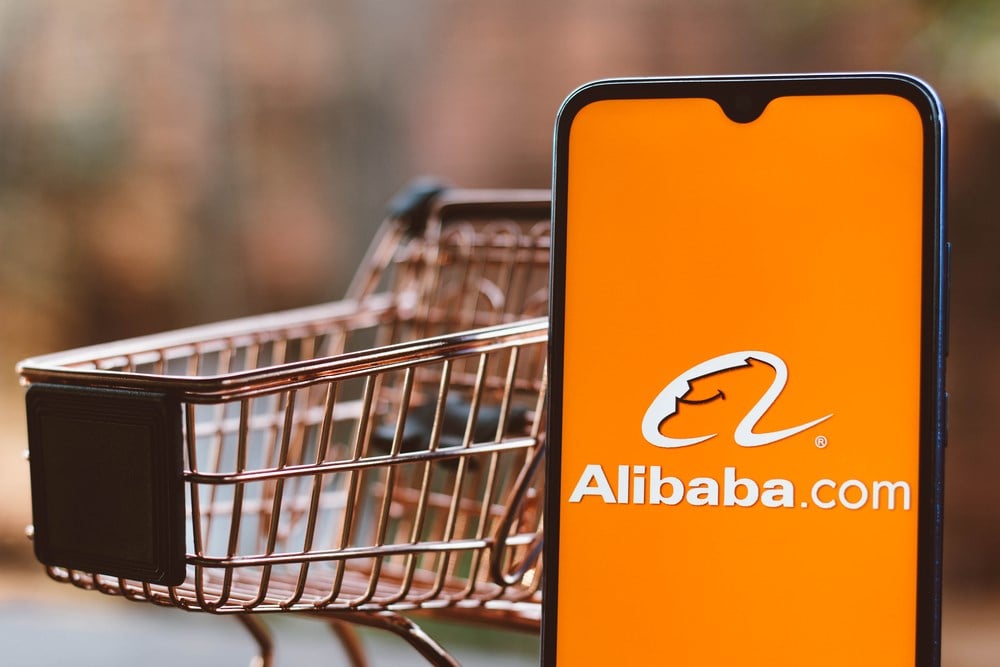 Chinese e-commerce giant Alibaba Group Holdings Ltd. (NASDAQ: BABA) announced in November 2022 that it would be spinning off six companies. Ali Baba has been referred to as the Amazon.com Inc. (NASDAQ: AMZN) of China. It is the second largest e-commerce company in China, behind Meituan. Alibaba stated that it was restructuring as a holding company focused on capital management. The company seeks to focus on its core business and enhance shareholder returns.
Complying with Regulators
However, regulatory scrutiny is also a significant factor. The company paid RMB18.23 billion or $2.8 billion to settle anti-trust violations to Chinese regulators in 2021. The spin-offs will help Ali Baba comply with Chinese regulators regarding anti-monopoly regulations. Several of the individual companies will be competing in the e-commerce platform space with PDD Holding Inc. (NASDAQ: PDD) and JD.com Inc. (NASDAQ: JD). The initial announcement sent shares higher to form a triangle top at $121.30 in January 2021. The company disclosed more details on its spin-off plans in its Q4 2022 earnings release causing shares to gap and crap. Alibaba will retain complete control of its current e-commerce business. Here are the details of the six companies it plans to spin off.
Alibaba Cloud
As one of the largest cloud providers in the world, Alibaba Cloud also referred to as Aliyun, provides cloud and virtualization services to over 200,000 companies of all sizes throughout 200 countries and regions. Some of its many services are storage, networking, serverless computing, big data, and machine learning artificial intelligence (AI). The service is secure and scalable. It generated  RMB186 billion in 2022. However, it faces challengers encroaching on its space, forcing it to cut prices on some of its cloud services by up to 50% to remain competitive. Internet giant Tencent Holdings (OTCMKTS: TCEHY) has announced price cuts of up to 40% for its cloud service. China Mobile announced 60% price cuts for cloud services for a limited time. The cloud business generates 9% of Alibaba's total revenues. Cloud Intelligence will be spun off as an independent public company as a dividend to shareholders in the next 12 months.
Ant Group
Alibaba had initially planned to spin off Ant Group in an IPO that regulators canceled within days of the IPO. It is a leading provider of financial services providing investing, wealth management, lending, payments and insurance services. It has over one billion users in China. Ant Group generated RMB 1.25 trillion of $190.5 billion in revenues in 2022. The company plans to be spun off as a fully independent company in calendar year 2023.
Lazada
Singapore-based Lazada is an e-commerce platform enabling sellers to sell products and services throughout Southeast Asia and its 600 million people. The company provides payment, delivery and support services. It generated RMB 120 billion or $18.6 billion in 2022.
Taobao and Small Business Group
Taobao is a Chinese marketplace started by Alibaba in 2003. It has over 600 registered users and 10 million active sellers. Tmall is a leading cross-border e-commerce platform with over 200 million users in China. Alibaba will retain complete control of Taobao and Tmall as 100% owned core holdings. It generated $25 billion in free cash flow in fiscal 2023 and will be a primary source of funds.
Cainiao Smart Logistics Group
This company provides supply chain, delivery and logistics services to Taobao, Tmall, Alibaba International Digital Commerce Business Group (AIDC) and third-party customers. The company is expected to generate $10 billion in 2023, up from the $7 billion it generated in 2022. Alibaba holds a 67% interest in the company. Its IPO is targeted to complete in 12 to 18 months.
Freshippo
Freshippo is a brick-and-mortar grocery chain retail business with an IPO expected in six to 12 months. It has over 300 high-tech stores throughout China and offers delivery services. The company is expected to double its revenues to $1 billion in 2023, driven by the growth in online grocery shopping in China.
Alibaba Fiscal Q4 2023 Earnings
On May 18, 2023, Alibaba reported its fiscal Q4 2023 earnings. The company reported earnings-per-share (EPS) of RMB 10.71 per share, beating consensus analyst estimates by RMB 1.24). Revenues climbed 2% year-over-year (YoY) to RMB 208.2 billion, falling short of RMB 209.29 billion.
Alibaba analyst ratings and price targets can be found on MarketBeat.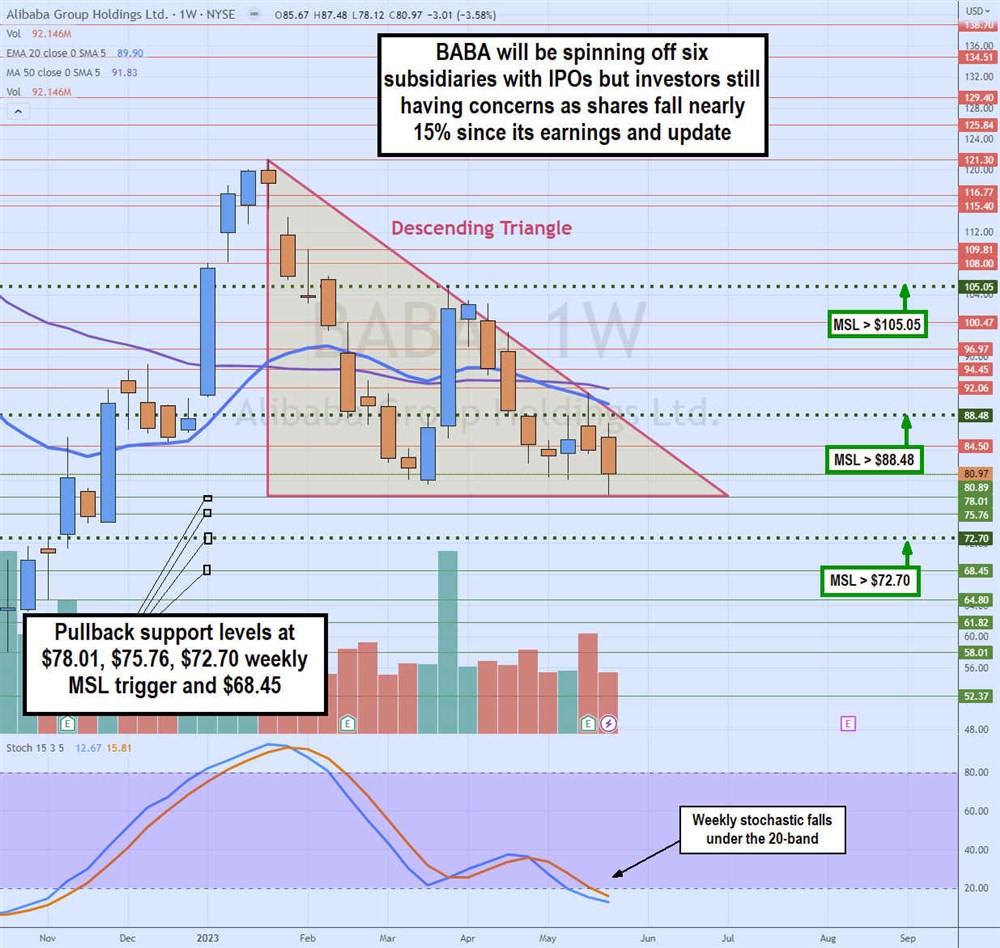 Weekly Descending Triangle
The weekly candlestick chart formed the weekly descending triangle pattern after peaking at $121.30 in January 2023. Shares continued to make lower highs on bounces and lower lows on drops. The flat bottom trendline is $78.01, which was recently tested in May 2023. Incidentally, three weekly market structure low (MSL) triggers are $72.70, $88.48 and $105.05. The weekly 20-period exponential moving average (EMA) has been falling at $89.90, followed by the weekly 50-period MA resistance at $91.83. The weekly stochastic has fallen below the oversold 20-band level. Pullback support levels are at $78.01, 85.76, 72.70 weekly market structure low (MSL) and $68.45