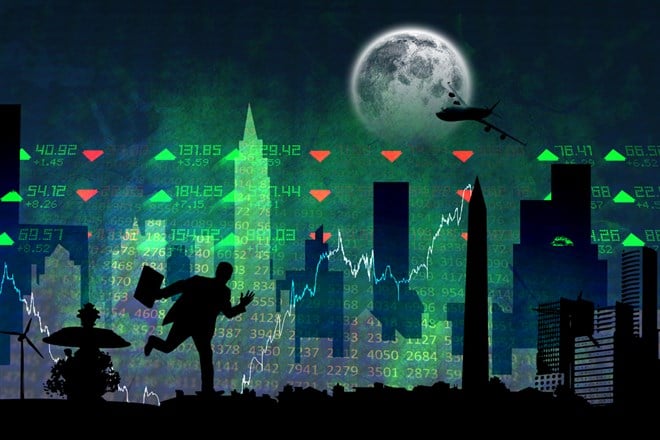 Upstart space explorer Intuitive Machines, Inc. (NASDAQ: LUNR) has completed three NASA lunar missions. None matched the exhilaration of the company's ride up the stock charts last week.
After the stock went public on Valentine's Day, the market soon fell in love. By lunchtime on February 22nd, a $9 stock was screaming above $100. At the peak, Intuitive Machines had skyrocketed 1,491% off its opening day low in just 6 trading days.
It must've been one of those epic short squeezes, right? Nope. Less than 0.2% of the float is held short. 
Intuitive Machines combined with a special purpose acquisition company (SPAC) named Inflection Point Acquisition Corp. to go public on the Nasdaq. At a nearly $1 billion valuation, the merger was completed in mid-February, unleashing Intuitive Machines to trade on its own under the 'LUNR' ticker (and warrants under the 'LUNRW' symbol). 
So in some ways, the move makes sense. Intuitive Machines is a shiny new toy. It is associated with one of the fastest growth industries around. 
But given the magnitude, there must be more to the story.
Why Did Intuitive Machines Stock Go Up?
Like the unexplored areas of our solar system, the extreme move in Intuitive Machines stock remains largely a mystery. Lofty financial targets, however, seem to be responsible. The company has projected that revenue will nearly triple to $300 million this year and top $700 million in 2024. Traders trying to get ahead of this potentially explosive growth (and simultaneously pumping up the stock in online discussion forums) likely contributed to the run.  
Beyond this, the stock appears to have benefitted from an attempted SPAC trading revival that aimed to match the frenzy of two years ago. The movement bid up blank check darlings like Lucid Group, Ginkgo Bioworks and Cazoo to absurd levels in 2021. With the group growing increasingly out of favor since buzz about SPACs being undervalued has gained momentum in recent weeks. This and the company's similarity to popular meme stock Virgin Galactic likely added fuel to this rocket.
Undoubtedly, part of the stock's allure is also its connection to Elon Musk's SpaceX. Intuitive Machines has said it plans to deploy cargo flights to the moon annually in conjunction with SpaceX Falcon 9 rocket launches. Given how obsessed investment communities like Reddit's WallStreetBets are with Musk, Intuitive Machines could remain on social media's radar for some time.
What Does Intuitive Machines Do?
Houston-based Intuitive Machines provides space exploration infrastructure and data to support lunar missions conducted by NASA and others. This includes small spacecraft and robots that navigate the moon's surface while gathering valuable information. 
NASA tagged the company last year as part of its Artemis program to use its Nova-C lunar-lander and "hopper" robot for upcoming missions. In June 2023, Intuitive Machines is expected to support NASA's landing on the lunar South Pole, marking the next chapter in moon exploration.
Unlike some space exploration peers, profitability may not be light years away. Management expects to be in the black within the next three years as the revenue and costs approach a critical mass. A $188 million contract backlog is encouraging  — and significant considering it represents approximately one-fourth the current market cap. 
By the end of this decade, Intuitive Machines forecasts that its addressable market will swell to $120 billion. Much of the growth is slated to come from the increasing demand for 'lunar services' (think: Intuitive Machines is to space exploration what Schlumberger is to oil & gas exploration). 
Is Intuitive Machines Stock a Good Investment?
Like most stocks that go parabolic, Intuitive Machines is best left to professional traders. Given how unhinged the security already is from fundamentals, investors could be left saying, 'Houston, we have a problem' by chasing this name. This is one for the speculators — experienced traders out to make a quick buck and deep-pocketed institutions.
Hedge fund managers have taken an interest in Intuitive Machines. In the third and fourth quarters of last year, hedge funds' holdings in the stock increased. In Q4, Greenwich-based investment group Aristeia Capital boosted its stake by more than 30%, reporting a $13.6 million position. Two other firms have filed 13F forms with the SEC indicating equity ownership.
Trading activity around Intuitive Machines reached a new high on February 24th, unusual for a normally subdued Friday session. Naturally, the meteoric rise has led to more people following the stock. We probably haven't seen the end of this newfound volatility play. 
The modern-day version of the Cold War Space Race has many implications for scientific discovery and satellite communications. Intuitive Machines traders appear to be embarking on an arms race of their own.