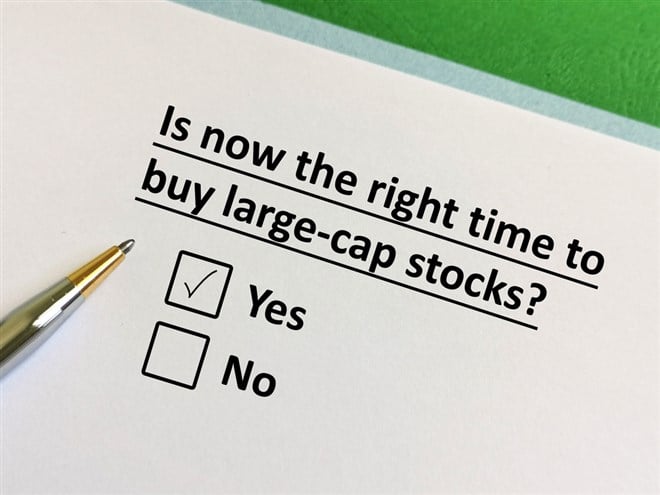 As the Mega Millions jackpot climbs back toward $1 billion, a big-time lottery winner could emerge this week.
In a gambling arena of far better odds — the U.S. stock market — investors are hoping $1 trillion market cap companies live up to their 'mega' name in the months ahead.
Following three years of impressive gains, 2022 was unkind to the market's largest stocks. A swirling cocktail of inflation, rising rates and geopolitical turmoil spared few winners and proved that even the wealthiest companies are prone to market downturns.
With corporate America's giants down 30%, 40% or more from their all-time highs and recession talk mounting, investors are faced with an intriguing choice: buy mega caps while prices are low…or wait for even lower prices?
Tread carefully. But don't wait too long.
What is the Key Factor for an Apple Stock Recovery? 
Apple Inc. (NASDAQ: AAPL) fell 27% in 2022, an unusually harsh descent for a stock that had only experienced 5% and 7% calendar year declines over the previous 13 years. 
Still the world's largest company by market cap ($2.1 trillion), Apple enters the year with a concerning headwind — a global slowdown in smartphone purchases. Cost inflation and supply chain challenges complicate matters and could continue to limit near-term earnings growth. 
A potential catalyst is Apple's Q4 earnings report. Better-than-expected holiday shopping sales could drive another consensus-beating performance and boost sentiment toward the stock. 
Yet there is another reason to feel optimistic about Apple's 2023 — China Covid restrictions are easing. Greater China sales have been flat of late, but Apple products remain immensely popular in the region. In October 2022, the iPhone reached its highest-ever monthly market share at 25%. With the Americas and India growing, an uptick in Chinese economic activity is key to a more wholesome Apple.
Did Microsoft Stock's Yearly Win Streak End in 2022?
Microsoft Corporation (NASDAQ: MSFT) dropped 29% in 2022, an abrupt end to a 10-year winning streak that culminated in a 51% 2021 surge. Except for UnitedHealth Group, which stretched its streak of green returns to 14 years, no other Dow Jones 30 component enjoyed a better run.
Now in unfamiliar territory, Microsoft will lean on the familiarity of its MS Windows and MS Office software — and better economic conditions — to spark a comeback.  
But it will also continue to head in a relatively new direction of focusing on commercial and cloud application businesses. Solutions for enterprises seeking to accelerate digital transformations in the post-Covid economy stand to reduce Microsoft's reliance on legacy products and wavering PC demand.
Microsoft will not have another would-be catalyst in Activision Blizzard to complement its popular Xbox gaming division. After the FTC filed a complaint last month to block the acquisition (and with EU/UK regulators still investigating), Microsoft could opt not to pursue the deal.
Nevertheless, Microsoft has a strong set of products tied to the consumer and enterprise markets and a huge, loyal customer base that should enable it to bounce back over time. A sector-leading balance sheet loaded with cash is more reason to consider a new position or cost average down.
Will Amazon's Challenges Continue in the New Year?
Amazon.com (NASDAQ: AMZN) was the hardest hit of the big 4 mega caps, surrendering nearly half its equity value in 2022. The e-commerce retailer has surprisingly struggled to attract buyers since its June 2022 20-for-1 split, with a higher valuation putting above-average selling pressure on the stock. Not even solid Q3 results and above-consensus Q4 guidance could stem the tide.
To win back investors, Amazon will have to demonstrate two things: 1) an improvement in online spending accompanied by growth in Prime memberships and 2) a return to accelerating growth in the AWS cloud infrastructure business, the company's key profit engine.
One thing that Amazon could continue to struggle with is a growing consumer preference for experiences over things. It will either have to roll out innovative services that satisfy this shift or hope Americans rediscover their pandemic appetites for online shopping. Since the latter seems unlikely, look for the AWS segment to finally get the attention it deserves and dictate more of the day-to-day stock movement. 
Is it Too Soon To Jump Back Into Alphabet Stock?
Alphabet Inc. (NASDAQ: GOOGL) slid nearly 40% last year amid a slowdown in online advertising. In the Q3 report, investors learned that the digital ad spending pause worsened ahead of the holiday season as advertisers adjusted to a cloudy economic forecast. 
If the U.S. economy goes into recession in early 2023, Alphabet's main revenue source could suffer even further. Until businesses regain confidence in the value of online advertising, the former Google's results are likely to be disappointing. The potential for consumers to reduce purchasing Google hardware in an inflationary, rising-rate environment could worsen matters. Not even growth at Google Cloud could save the day.
Meanwhile, Alphabet carries a bunch of antitrust lawsuits into the new year. U.S. and international regulators continue to scrutinize the search giant, and Congress is pondering potential action. 
There are too many hurdles to expect a swift rebound in Alphabet shares. Investors are better off revisiting this one in the second half and 'searching' for a more fundamentally sound mega-cap.