05/02/2023, Singapore, Singapore // PRODIGY: Feature Story //



Learn Campus, a revolutionary blockchain project that blends the power of education with blockchain technology to help people earn while they learn, has been introduced to the world. By allowing users to learn new skills, take online courses, and earn non-fungible tokens (NFTs) that can be traded on the open market, Learn Campus is making learning more profitable and accessible.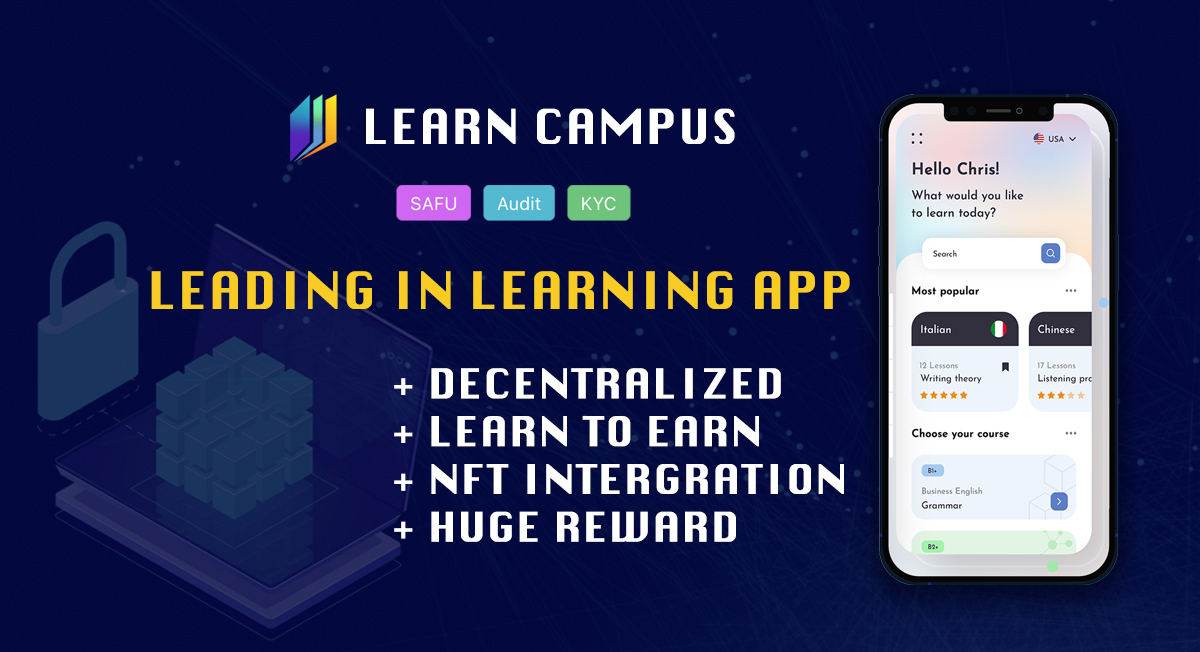 "We believe that education is the key to unlocking human potential, and by combining it with the power of blockchain technology, we can create a new paradigm where learning and earning go hand in hand", said the Founder of Learn Campus. "Our mission is to empower people to take control of their education and finances, and Learn Campus is just the beginning of that journey."
Learn Campus offers a Learn to Earn Mobile App with NFT Platform course that provides learners with the knowledge and tools to create and integrate NFTs into their mobile app, allowing them to monetize their app like never before. The course also teaches learners about blockchain technology, smart contracts, and the various marketplaces where they can sell their NFTs.
A Deep Dive into Learn Campus Ecosystem
The Learn Campus Mobile App with NFT Platform course is just the beginning of what Learn Campus has to offer. The project is also implementing a learning platform via the Learn Campus mobile app. By offering educational content on the app, Learn Campus can attract a wider audience and provide additional value to users beyond just the NFT marketplace. To incentivize users to engage with the learning platform, Learn Campus offers rewards such as LearnC tokens or access to exclusive NFT collections. The learning platform will offer a wide range of educational content, such as courses on blockchain technology, NFT creation, digital art, and more. Industry experts and influencers will also be invited to create content for the platform, further increasing its credibility and appeal to users.
Staking and Rewards
Learn Campus, a learn-to-earn platform, uses a Proof of Stake (PoS) mechanism for earning rewards. Staking LEARNC tokens on Binance Smart Chain enables users to earn rewards in return. On-Chain staking is possible with blockchain Proof of Stake protocols, while off-chain staking is available only on the Mobile App. Users can earn up to 160% APR by staking $LEARNC or LP $LEARNC/BNB.
Learn Campus also offers a referral program that incentivizes both the referrer and the referred with up to 20% in rewards. This feature promotes community and engagement around the app.
NFT Marketplace
Learn Campus has a unique NFT marketplace that offers low fees and fast transaction speeds, making NFT trading accessible to a wider audience. This positioning as a leader in the NFT marketplace industry is likely to attract a large and growing user base of artists and collectors. Artists looking to sell their work as NFTs or collectors looking to buy rare and unique tokens will find Learn Campus the perfect platform for them.
Content creators can use the NFT marketplace to sell their digital assets, such as artwork, music, videos, and more, while protecting their work and receiving proper credit and compensation. The platform's low fee structure and fast transaction speeds make it an attractive choice for both creators and buyers.
Governance
Learn Campus also offers a governance system that enables token holders to participate in governance decisions and even change the governance system itself. This feature incentivizes community engagement and gives token holders a say in the direction of the platform. By holding LearnC tokens, users will be able to participate in governance decisions, such as which new features to implement or which NFT collections to add to the marketplace. This not only helps to increase community engagement and involvement, but it also gives users a sense of ownership and control over the platform.
$LEARNC Tokenomics
​​The tokenomics of Learn Campus ($LEARNC) are designed to ensure the long-term success of the project. The name of the token is Learn Campus, and the symbol is LEARNC. The total supply of LearnC tokens is 1 billion, which is further divided the following way:
Presale / LP Locked 365 Days: 45%

Burning: 30%

CEX Listing: 8%

Ecosystem: 6%

Staking / Vault: 6%

Development: 5%
There is a 0% buy tax and a 4% sell tax, which includes a 2% buyback, 1% staking, and 1% marketing. The LP is locked for 5 years, development is locked for 2 years, and the ecosystem is locked for 2 years. CEX listing is locked for 1 year, and there will be a burn before launch.

Final Words

Learn Campus is an innovative project that has the potential to transform the way people learn and earn in the digital age. The project is committed to providing users with the tools and knowledge they need to succeed in the NFT market. By combining education and blockchain technology, Learn Campus is creating a revolutionary way for users to earn money while expanding their knowledge and skillsets.

To learn more about Learn Campus and ways to earn money while learning, visit the project's official website (https://learncampus.xyz/), or read the whitepaper.

Website | Twitter | Telegram | Medium | GitHub | YouTube

###

Learn Campus


contact@learncampus.xyz

Disclaimer:

The information provided in this release is not investment advice, financial advice, or trading advice. It is recommended that you practice due diligence (including consultation with a professional financial advisor) before investing or trading securities and cryptocurrency.






Source: Prodigy.press

Release ID: 599715

Source published by Submit Press Release >> Learn Campus, Groundbreaking Learn-to-Earn Project Revolutionizing the Education System, Launches Mobile App