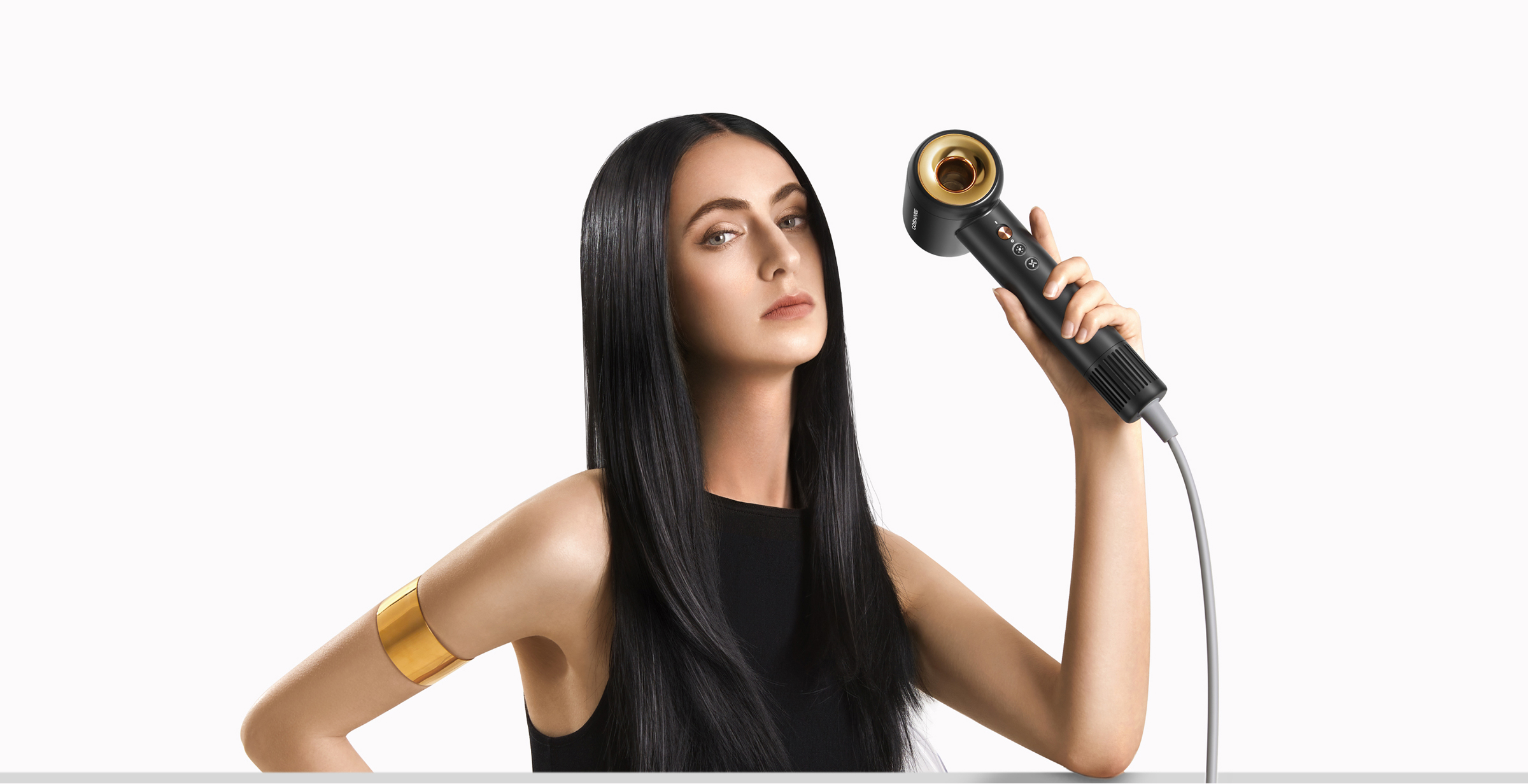 COSHARE Launches Revolutionary Hair Dryer with 500 Million Negative Ions, Intelligent Temperature Control, and Essential Oil Magnetic ShineRing for Enhanced Hair Quality.

COSHARE, a leading innovator in hair care technology, is thrilled to announce the launch of its groundbreaking hair dryer, designed to revolutionize the way we dry and style our hair.
Negative ions have long been recognized for their ability to neutralize positive ions, reducing frizz and promoting smoother, shinier hair. The
COSHARE Hair Dryer
harnesses the power of
500 million negative ions
, providing users with an unprecedented level of ionization to eliminate static, tame flyaways, and enhance overall hair texture. Say goodbye to unruly hair and hello to a sleek, salon-worthy look from the comfort of your own home.
Intelligent Temperature Control
is another remarkable feature of the
COSHARE SuperFlow1Hair Dryer
. This advanced technology ensures optimal heat levels, protecting hair from excessive heat damage. With multiple heat and speed settings, users can customize their drying experience according to their hair type and desired style. Achieve professional results without compromising the health of your hair.
Adding to its exceptional performance, the COSHARE Hair Dryer also includes an Essential Oil Magnetic ShineRing. By infusing essential oils into the airflow, this innovative feature enhances the drying experience, providing a spa-like sensation and leaving hair with a delicate, refreshing fragrance. Whether you prefer a English Pear & Freesia scent or a wild bluebell type scent, the Essential Oil Magnetic Ring allows for personalized and enjoyable hair care sessions.
"We are thrilled to introduce the COSHARE Hair Dryer, a game-changer in the world of hair care," said Max, Chief Technology Officer at COSHARE. "Our team of experts has meticulously designed this dryer to not only provide outstanding performance but also prioritize the health and quality of hair. With features like 500 Million Negative Ions, Intelligent Temperature Control, and the Essential Oil Magnetic ShineRing, we believe we have created a hair dryer that will transform the way people care for their hair."
The COSHARE SuperFlow1 Hair Dryer is ergonomically designed for comfort and ease of use, with a lightweight body and a user-friendly interface. It also features a long, tangle-free cord for maximum flexibility during styling sessions. The dryer's sleek and modern design adds a touch of elegance to any bathroom countertop, making it both a functional and stylish addition to your hair care routine.
COSHARE is committed to providing innovative and high-quality hair care solutions, and the launch of the COSHARE Hair Dryer showcases their dedication to meeting the evolving needs of consumers. By combining advanced technology with user-centric design, COSHARE empowers individuals to achieve beautiful, healthy hair without compromise.
About COSHARE:
COSHARE is a leading innovator in hair care technology, committed to providing high-quality and user-friendly products that enhance the health and beauty of hair. With a team of experts and a dedication to research and development, COSHARE continually strives to revolutionize the hair care industry and empower individuals to achieve their desired hairstyles without compromising on hair quality.
Media Contact
Company Name: Shenzhen Cooshark Innovation TechnologyCo., Ltd.
Email: Send Email
Phone: 1-978-231-9135
Country: United States
Website: http://coshareglobal.com/