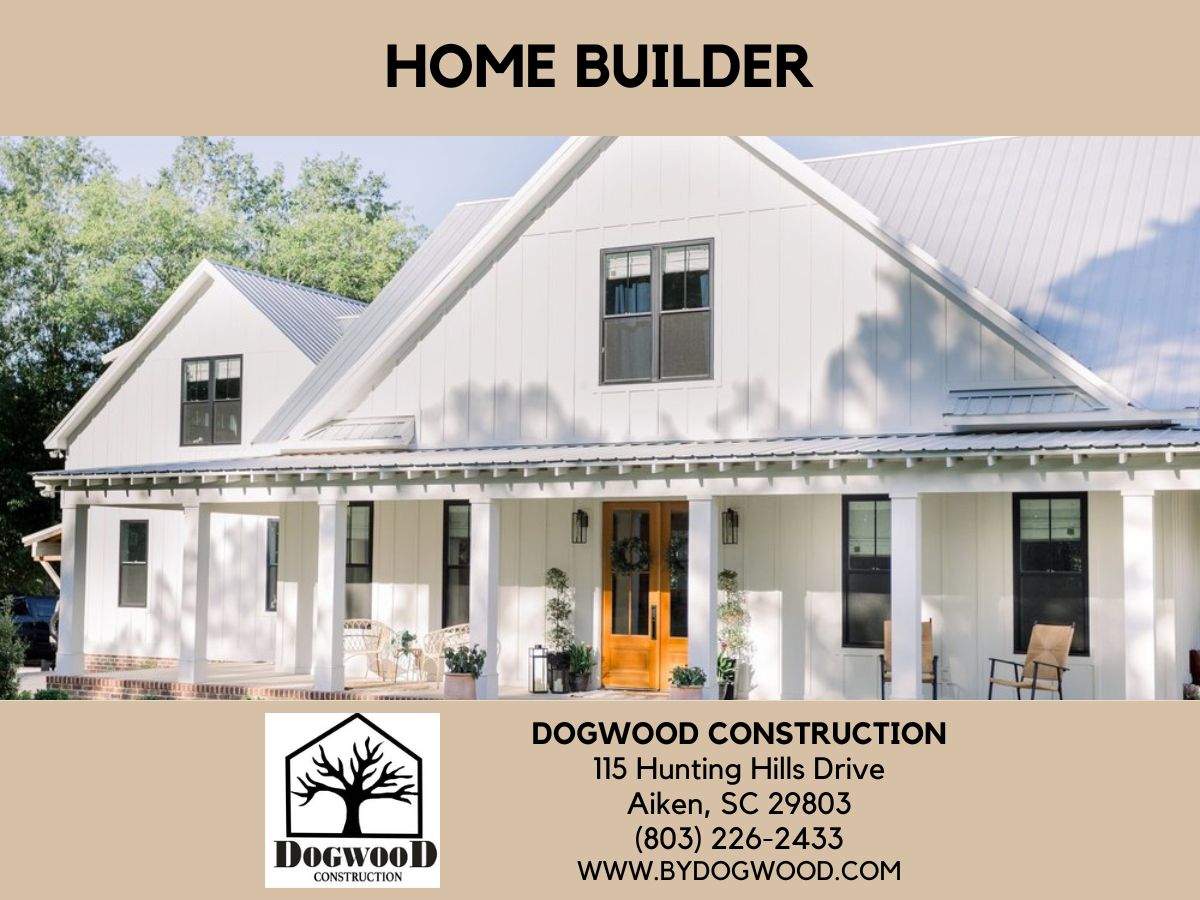 Dogwood Construction is an Aiken SC construction company that specializes in custom homes, barns and exterior buildings, as well as home renovations.
When you are planning to build a home, choosing the right home builder is vital. It can also be overwhelming. The home building experts at Dogwood Construction provide a step-by-step guide to help individuals choose the right home builder for their project.
Choosing a home builder is a critical decision that requires careful consideration. A home is a significant investment, and you want to make sure that it is built to your specifications and within your budget. With this in mind, it is essential to choose the right home builder to work with. The home building experts at Dogwood Construction released a comprehensive guide to help families choose the right home builder for their project.

Define Your Project Needs and Budget

Before you start looking for a home builder, it's important to outline your project needs and budget. Consider the size of your family, your lifestyle, and your future plans. Do you need a single-story or a two-story house? How many bedrooms and bathrooms do you need? Do you want an open floor plan or a traditional layout? These are some of the questions that you'll want to consider before you start your search for a home builder. You can also collect images that represent your desired aesthetic or custom elements you would like to incorporate in your future home. (After you begin the building process, your chosen builder can help you translate this information into a home that fits your needs, style and budget.)

Research Home Builders In Your Area

Once you have a clear understanding of your project needs and budget, it's time to start researching home builders in your area. We always suggest that you start by asking for recommendations from friends and family members who have recently built a home. Their personal experience shouldn't be all you rely on to make your decision, but may help you rule out certain builders or put another on your short list.

You also have a wealth of information available online. Performing a search for local builders online using geographic search terms such as "builders Aiken SC" will provide a great starting point. Review each builder's website and client reviews to learn more about their experience, aesthetic and customer service. Look for builders who have experience in building homes similar to your desired style and have a good reputation in the community.

Check Credentials and Experience

When you have a list of potential home builders, you need to check their credentials and experience. Make sure they are licensed, insured, and bonded. Check their portfolio to see their previous projects and ask for references from their past clients. They should also have a strong working relationship with subcontractors who are also qualified in their trade. A reputable home builder will be more than happy to provide you with this information.

Schedule a Consultation

Once you have narrowed down your list of potential home builders, you should schedule a consultation with each one. During the consultation, you will have the opportunity to discuss your project needs and budget, ask questions, and see if you have a good rapport with the prospective builder. A good home builder will listen to your needs and provide you with suggestions to help you achieve your goals. They will also be honest about the limitations of your budget and provide alternative options when possible.

Review the Contract

Before you sign a contract with a home builder, make sure you review it carefully. The contract should include a detailed description of the project, the timeline, the payment schedule, and the warranty. Make sure you understand all the terms and conditions before you sign on the dotted line. In addition, don't allow the builder to begin work prior to completing the paperwork.

Choosing a Builder in Aiken SC
Building a home is exciting and gives clients the opportunity to customize both the interior and exterior of their living space in ways that aren't possible with established properties. When individuals take the time to do their homework, they can find a reputable and reliable home builder who will work closely with them to build their dream home.

If you are seeking a local custom home builder in Aiken SC, consider Dogwood Construction. Their experienced team is led by a husband and wife team who act as general contractor and designer for each Dogwood home. As parents themselves, they realize that raising a family is all-consuming, and they are committed to providing a stress-free, family-friendly home building experience for every client.
For more information on Dogwood Construction, visit https://www.bydogwood.com/
Media Contact
Company Name: Dogwood Construction
Contact Person: David Hopkins
Email: Send Email
Phone: (803) 226-2433
Address:115 Hunting Hills Drive
City: Aiken
State: SC
Country: United States
Website: https://www.bydogwood.com/