"For 16 years since the establishment of the company, we have built a complete environmental solution that includes materials, intermediate goods, and air quality facilities. We plan to become a comprehensive environmental company that encompasses air quality and energy."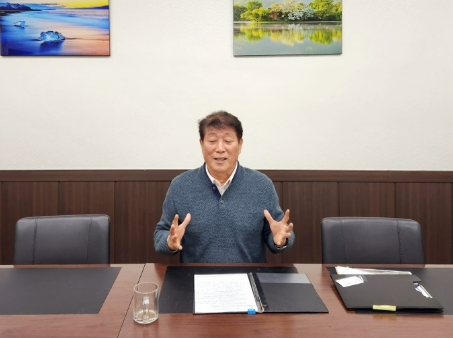 Hyuk-soo Jeon, CEO of Micro One, said in an interview with Newspim at Micro One's headquarters in Cheonan, Chungcheongnam-do on January 19, 2023, "We have been constantly thinking and researching innovative ways to reduce the emission concentration of fine dust at industrial sites and improve the dust collection process. I only dug it," he said.
Established in 2006, Micro One is an environment specialist that can manufacture domestic and industrial air filters, environmental facilities, and construction. Micro One has been in charge of numerous national research projects, such as air pollution reduction and treatment, due to the nature of the localization of materials. For about a decade from 2011, they have invested a total of 24.1 billion won through government research projects, acquired a total of 23 patents, and received 18 certificates issued by different institutions.
In 2012, through R&D and investment, the company succeeded in developing and mass-producing PTFE membrane (electrolyte membrane), which is the main source of revenue. PTFE membrane is known on the market as a key material for functional clothing under the trademark 'Gore-Tex'.
The company's CEO and representative, Jeon said, "PTFE, a fluororesin, is made into a thin 'film' through a very precise manufacturing process. It enables permeation and filtration of various substances."
The membrane filter developed by Micro One can reduce fine dust up to 1 micron (millionth of a meter), which is where the company derived its name. This shows how important the company's technology is. Industrial filters are at the level of 10 to 15 microns, but ePTFE membrane filters can reduce this by up to 1/15.
For more information about Micro One, visit http://micro-one.kr/?page_id=596&lang=en
Media Contact
Company Name: Micro One Co. Ltd.
Contact Person: Andy Hong
Email: Send Email
Country: South Korea
Website: http://micro-one.kr/?page_id=596&lang=en